Lassana Diarra becomes the heart of France's display of solidarity after former Arsenal and Chelsea midfielder's cousin killed in Paris attacks
Midfielder lost his cousin on Friday but is in the France squad to face England
Jack Pitt-Brooke
Tuesday 17 November 2015 08:31 Comments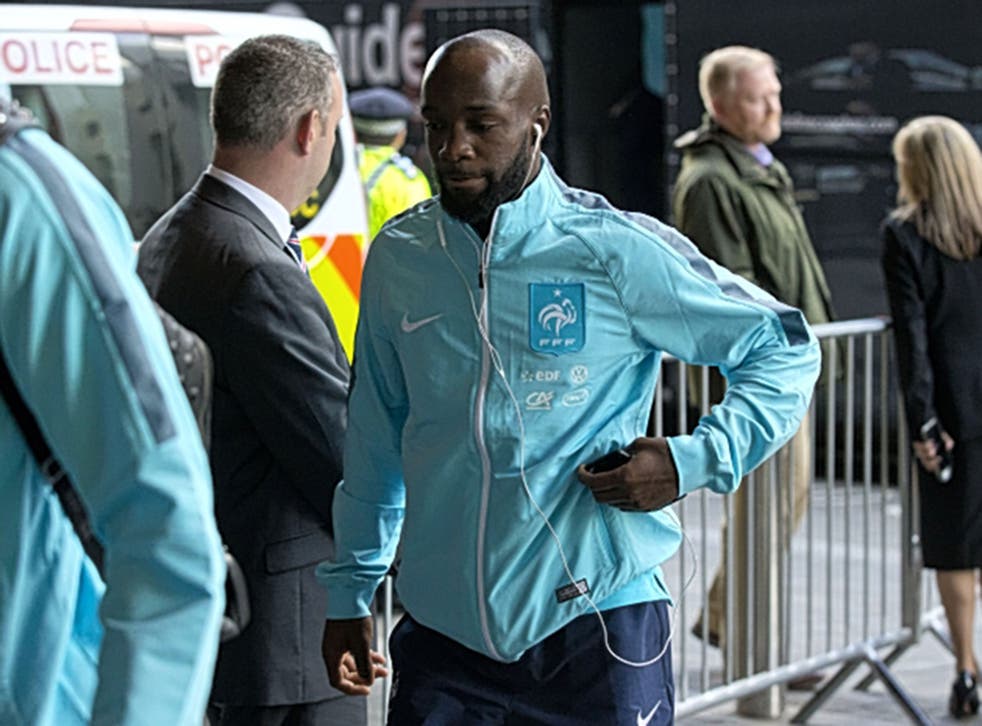 What should have been a week of celebration for Lassana Diarra has turned to tragedy. It may yet, though, become a source of pride. The France midfielder's cousin, Asta Diakite, was killed in Paris on Friday evening, and Diarra is part of the squad for tonight's game at Wembley, with a message of solidarity and unity that has inspired team-mates, supporters and beyond.
The significance of these games should merely have been that Diarra was trying to play his way back into the France squad after five long years out of it. He has been rebuilding his career at Marseilles after 16 months without even playing, and started the 4-0 friendly win against Armenia in Nice last month.
Diarra played well, and started again against Germany at the Stade de France on Friday. That was another chance for him to impress the coach and the fans, to represent his country and his family, to make his case for inclusion in Didier Deschamps' squad for Euro 2016.
But when the news dripped through of what had happened outside the ground and beyond, Diarra found out that his family's life had changed for ever. Diakite had been shot dead on Rue Bichat, in the 10th arrondissement of the capital.
"My cousin, Asta Diakite, was among the victims of one of the shootings, along with hundreds of other innocent French people," Diarra confirmed on Twitter. "She was like a big sister to me."
The world mourns Paris attacks - in pictures

Show all 25
What followed was a powerful statement of unity and solidarity for everyone in France. "In this climate of terror, it is important for all of us who represent our country and its diversity to stay united against a horror which has no colour, no religion. Stand together for love, respect and peace."
Diarra is from Paris and played junior football there before leaving for Nantes at 14. He is a practising Muslim and proud of his Malian heritage and of his career with the France team, which started with promise under Raymond Domenech in 2007 before his long spell out of the side.
Deschamps brought Diarra back into the France squad last month and at last night's emotional press conference at Wembley Stadium held Diarra up as an inspiration for what he has said in the build-up to tonight's match.
"Lass has been touched to his core by the loss of someone close to him," Deschamps said of Diarra. "He was determined to stay. He holds these values of solidarity. His presence is reassuring.
"Sport represents almost a union of diversity. As Diarra emotionally put it in his remarkable statement: sport has no colour, sport has no religion."
Regardless of whether Diarra takes the field this evening, his mere presence at Wembley, as a bereaved member of a squad representing a nation in mourning, is in itself a powerful act of defiance.
Diarra's selection is also testament to the character and personality of a player still determined to show what he can contribute after a difficult few years. While Diarra seemed to have peaked with his three and a half seasons at Real Madrid, his international career has lagged behind.
He made his France debut at the age of 22 when he was still fighting for a first-team place at Jose Mourinho's Chelsea. Diarra was taken to Euro 2008 but sat on the bench and, after 18 months trying to break through at Arsenal, he moved to Portsmouth. In one year at Fratton Park, Diarra showed his qualities as holding midfielder, prompting Real to sign him for £19m in 2009.
People flee Bataclan in Paris
This was the platform Diarra had been waiting for and he was set to be a part of Domenech's team at the 2010 World Cup. But during high-altitude training in the Alps, Diarra felt painful intestinal cramps. He was eventually diagnosed with a virus related to sick-cell anaemia and missed the World Cup.
Diarra's last game for France before his long absence was Laurent Blanc's first, a defeat in Norway in August 2010. Although Diarra flourished under Mourinho at Real, he was not prominent in Blanc's plans. When Blanc came to Madrid to see the midfielder before Euro 2012, Diarra could not make the meeting and so was not picked for the squad.
Later that summer Diarra left Spain for Anzhi Makhachkala in Russia. Deschamps replaced Blanc as France coach, and when he raised an eyebrow about Diarra's move to Dagestan, the player said that his international career was over.
When the money dried up Diarra moved to Lokomotiv Moscow, where he fell out badly with the club. He did not play a minute last season. All of which made his revival at Marseilles during this campaign so impressive, leading to Deschamps recalling him last month.
Diarra and his family, like many in France, are now in mourning, but his bravery and words have a power of their own.

Register for free to continue reading
Registration is a free and easy way to support our truly independent journalism
By registering, you will also enjoy limited access to Premium articles, exclusive newsletters, commenting, and virtual events with our leading journalists
Already have an account? sign in
Register for free to continue reading
Registration is a free and easy way to support our truly independent journalism
By registering, you will also enjoy limited access to Premium articles, exclusive newsletters, commenting, and virtual events with our leading journalists
Already have an account? sign in
Join our new commenting forum
Join thought-provoking conversations, follow other Independent readers and see their replies