Lassana Diarra: The heartbreaking story of the France international defying Isis
Diarra, a devout Muslim from an African family, lost his cousin during the Paris attacks
Michael E. Miller
Monday 16 November 2015 14:31 Comments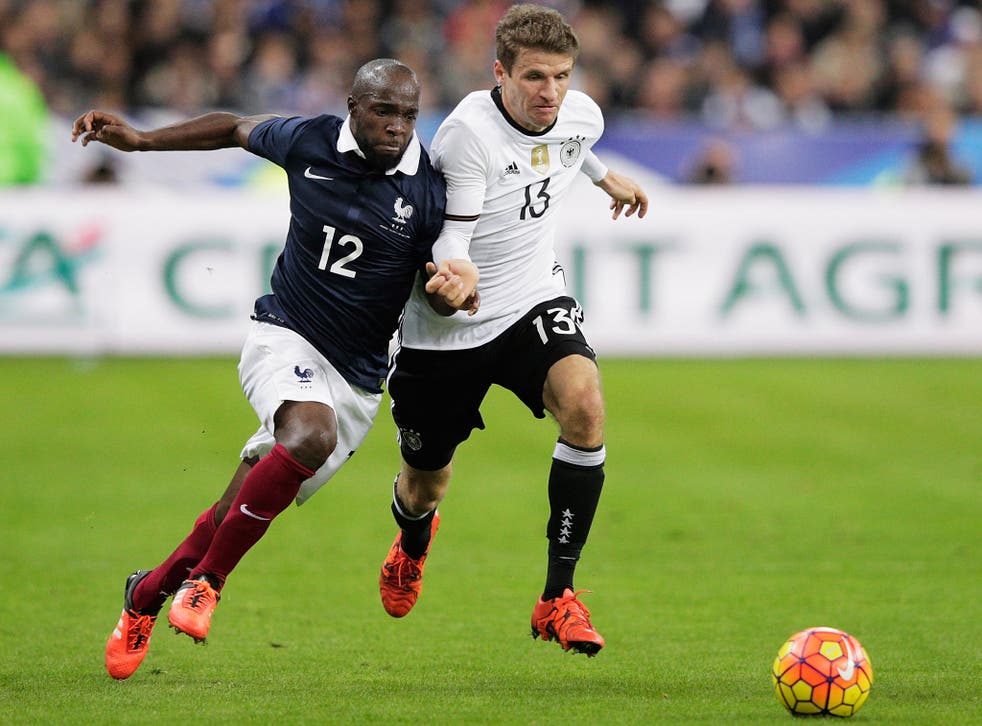 Lassana Diarra had waited more than five years for this moment. For the chance to don the French tricolour again. For the chance to play in the Stade de France, his country's cathedral of football.
For the chance to play once more in Paris, the city of his birth.
At just 30 years old, Diarra had already experienced sporting heaven and hell. He had risen from obscurity to the height of footballing fame, making a fortune playing for several of the top teams in the world. Then he had fallen hard, ending up without a team at all, forced to train with amateurs and contemplating retirement.
Now he was back. Back in the national team for a friendly against world champions Germany on Friday night. Back in the spotlight: starting in the center of the pitch in front of 75,000 fans.
The game started so well. Diarra, a short midfielder with a boyish face and shaved head, did what he does best. He played simply in attack and tackled stoutly in defence.
With nearly 22 minutes gone, Diarra corralled a loose ball and played it wide to a teammate. A moment later, he passed it the other way, motioning for another teammate to move the ball up the field.
Then the bomb went off.
A loud boom shook the Stade de France, sending a roar through the startled crowd. Most people thought it was fireworks.
In pictures: Paris attacks

Show all 25
Three minutes later: another boom, this time so loud the players looked up in surprise.
Still, the game went on.
Diarra didn't know it yet but Isis had just waged war on his home city. Men armed with Kalashnikovs and suicide vests had struck in coordinated attacks across Paris, killing at least 132 people.
Among the dead: Diarra's own cousin.
When Diarra learned of the massacre, the joy of a 2-0 victory immediately faded. His moment of triumph had morphed into a horrific tragedy, for both his country and his family.
"As you will have perhaps read, I have been personally affected by these atrocities," he wrote hours later on Twitter. "My cousin, Asta Diakite, was among the victims in one of the shootings that took place yesterday, like hundreds of other innocent French people. She was to me a rock, a support, a big sister."
For Diarra, the Paris attack wasn't just tragic; it was also ironic. He is a devout Muslim from an African family. Just a year ago, in fact, Diarra himself had been falsely accused of joining Isis. Now his cousin had been killed by that very group.
Yet, his inclusion on the national team also reflects French multiculturalism and tolerance — the very things Isis targeted on Friday.
And if Diarra's pain echoed that of his country, then so, too, has his defiance.
Despite losing his cousin on Friday, Diarra has vowed to play against England on Tuesday night.
"In this climate of terror, it is important for us all, who are representatives of our country and our diversity, to speak out and stay united in the face of a terror that has nothing to do with color or religion," he wrote in French on Twitter with the English hashtag #PrayForPeace.
Football in France has long assumed an out-sized symbolic importance.
"In contrast to nearly all European teams… the French team is and has long been a remarkably diverse group," writes Duke historian Laurent Dubois in his book "Soccer Empire: The World Cup and the Future of France." "It is a global team, a kind of transcultural republic on the field, whose players have roots in West, Central, and North Africa, the Caribbean, the far-flung Pacific territories, Armenia, and France's edges in the Basque country and Marseille. Like many other fans of the French team, I see in it the promise of solidarity, tolerance, community, and cooperation."
Football has often unified the country in a way nothing else could. In 1998, for instance, it was Zinedine Zidane, the son of an Algerian immigrant, who scored two goals in the final against Brazil to give France its only World Cup title — in Paris nonetheless.
Dubois writes of Zidane:
After he scored, he ran to the side of the pitch where his friends from his project in Marseille were in the stands. "We looked at each other," he remembered later, with "a profound look, as vast as the football fields that we ran around on as kids." Locked in an embrace for a long time with his friends, Zidane could smell "all those Marseille afternoons" as his friends shouted in his ear: "you're the kid from the cité, our buddy who scored those two goals." On the way back from the stadium – as deliriously happy French fans were flooding the streets for what would become several days of celebration, often chanting "Zidane President!" – he began thinking about "the murmurs that were rising up from the paths of the village where my father was born."
Looking back on that evening a few weeks later, he described his goals as a testament to the possibility of Algeria and France reconciled: "it was the son of a Kabyle [a Berber from north Algeria] that offered up the victory, but it was France that became champion of the world. In one goal by one person, two cultures became one."
It was this multiculturalism, as much as French President François Hollande's presence, that drew Isis to the Stade de France on Friday. One suicide bomber had a ticket to the game but his explosive vest was discovered by security guards, so he detonated himself outside the gates. Two other bombers blew themselves up nearby: one, as Dubois points out, on a street named after Jules Rimet, the French World War I veteran who invented the World Cup.
Paris attacks: Stade de France
In a statement released shortly after the attacks, Isis took credit for the stadium assault, lumping together "the match between the Crusader German and French teams" with the "profligate prostitution party" of a rock concert or people dining out for dinner. For whatever reason, the group had included football in its "ancient fury at the existence of Paris as a place of pleasure," as the New Yorker's Adam Gopnik dubbed the attacks.
Diarra wasn't the only French player personally affected: Antoine Griezmann, an attacker, panicked upon realizing that his sister was at the Eagles of Death Metal concert at the Bataclan theater that became a bloodbath. (She escaped unharmed.)
Diarra was, however, the only person on the field to lose a family member.
He didn't find out until after the game was over. His manager, Didier Deschamps, was told about the hell unfolding outside the stadium but decided not to tell his players at halftime, according to the New York Times. Deschamps's German counterpart, Joachim Löw, did the same.
By the final whistle, most of the crowd was aware of what had happened. Unsure of exiting the stadium, they instead poured onto the field, where confused players looked up at the news on the jumbotrons.
Shortly afterwards, Diarra learned that his cousin was dead.
It was a cruel blow for the 30-year-old on what should have been a triumphant return to his home city. Diarra had grown up in Paris before moving to Nantes as a teen. But his coaches there had thought him too small to become a professional, Diarra told Spanish newspaper AS. Instead, Diarra moved to second-tier Le Havre, where his hard tackling soon caught the eye of international scouts.
Diarra jumped from Le Havre to English giant Chelsea, then switched to rival Arsenal two years later. Five months later he moved to Portsmouth, then a year later it was a dream move to Real Madrid, the biggest club in the world. He spent four years at Madrid, winning the Spanish title and earning a starting place in the French national team.
His bad luck began in 2010. Just days before the World Cup Finals in South Africa, Diarra suffered a stomach illness that ruled him out of the tournament. He recovered, making a move to nouveau riche Russian club Anzhi Makhachkala in 2012 that earned him millions — and a reputation as a mercenarie.
His time in Russia came to a disastrous end, however, when the Frenchman got into a contractual dispute with his club. He refused to play and dropped out of the news.
Turkey: European G20 leaders hold minute of silence to honour Paris victims
But then Isis released a video featuring a masked fighter claiming to be a former Arsenal player and urging others to join in its holy war.
Diarra was forced to deny it was him, pointing out he had never set foot in Syria let alone joined Isis. (The Guardian later identified the masked fighter as a Portuguese man, Celso Rodrigues Da Costa.)
The bizarre case of mistaken identity only deepened Diarra's footballing fiasco. Without a club, he played in amateur five-a-side games in the Parisian suburb of Créteil, according to the Telegraph. Rival players singled out the millionaire former star for punishing tackles.
"It is extremely difficult not to exercise your profession when you love it so much," he told L'Equipe recently. "I'm still the same Lass Diarra. It is difficult to go knock on the door of an amateur club to go to keep fit."
Then, this summer, Diarra seemed to find salvation. Marseille, a top French team, plucked him from the playground and gave him one more shot at world-class football.
Diarra ran with it. After sitting on the bench his first game, the defensive midfielder scored in his first appearance for Marseille. He hasn't returned to the bench since.
And in October, Deschamps did something that just a year ago would have been unthinkable: he recalled Diarra to the French national team.
Diarra played in an Oct. 8 friendly: a 4-0 annihilation of Armenia in Nice. But it was Friday's friendly against Germany that marked Diarra's return — to his home city of Paris, and to the top of his sport.
"I have the chance to show my country that I'm for real," he told L'Equipe in an article published the day of the game. "Whether it's as a footballer or as a man … My motto is: 'If there is a club that believes in you, give it all you have.'"
On Friday, Diarra gave everything he had on the pitch — and then even more off of it.
It's still unclear how his cousin, Asta Diakite, died during the multiple attacks. But Diarra's own message is clear: not only that he is playing on Tuesday, but what he is playing for.
"Let's protect together love, respect and peace," he wrote on Twitter. "Thank you all for your updates and messages, take care of yourselves and those close to you, and those victims resting in peace."
© Washington Post
Register for free to continue reading
Registration is a free and easy way to support our truly independent journalism
By registering, you will also enjoy limited access to Premium articles, exclusive newsletters, commenting, and virtual events with our leading journalists
Already have an account? sign in
Join our new commenting forum
Join thought-provoking conversations, follow other Independent readers and see their replies