Next England manager: Laurent Blanc in the running as England consider former PSG manager to succeed Roy Hodgson
Gareth Southgate, currently England's Under-21s manager, is reluctant to take charge on an interim basis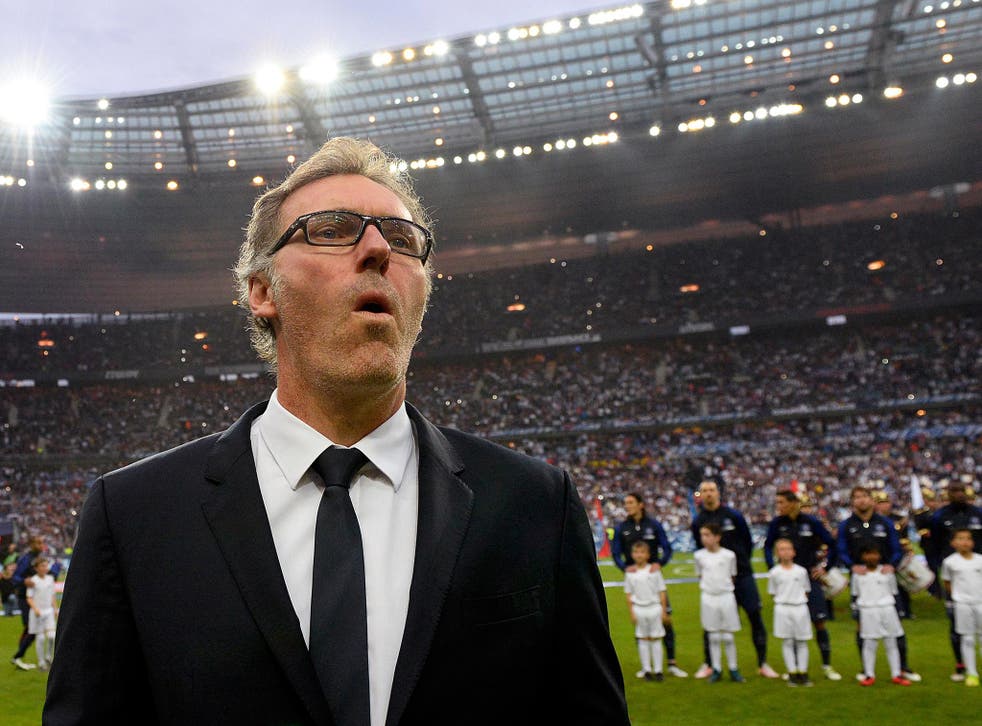 Gareth Southgate is ready to reject the chance to take charge of England on an interim basis, paving the way for Laurent Blanc and Arsene Wenger to become front-runners to succeed Roy Hodgson.
Southgate, 45, had been regarded as the ideal candidate by FA chief execute Martin Glenn to hold the fort as a caretaker manager until a permanent successor for Hodgson had been identified.
But the former Middlesbrough manager, already employed by the FA as Under 21 coach, is understood to be reluctant to step into the breach due to the risk of reputation damage from being involved with the position as a temporary manager.
Southgate had been sounded out in early May by the FA about the possibility of replacing Hodgson if Euro 2016 ended badly.
But the former England defender is now unlikely to accept the post, leaving Blanc and Wenger as the best qualified candidates.
Blanc will be considered when the FA's Association's three-man selection panel discusses contenders for the post later this week.
With Hodgson resigning his position moments after England's Euro 2016 exit at the hands of Iceland in Nice on Monday, Glenn has confirmed that he will form part of a three-man committee with technical director Dan Ashworth and vice-chairman David Gill to identify the man charged with taking England to the 2018 World Cup in Russia.
But while Ashworth was understood to favour Southgate's candidacy due to the positive message it would send to emerging English coaches as proof of the FA's commitment to making coaching qualifications accessible to a greater number, Glenn and Gill are determined to consider every possible option.
Wenger is the FA's ideal candidate, although senior figures are aware of the difficulties they may in attempting to prise him from the Emirates when his contract expires at the end of the coming season.
Former France manager Blanc is another contender, however, with the 50-year-old available for work after being dismissed by Paris Saint-Germain this week.
Blanc, who guided France to the quarter-finals of Euro 2012 following the team's mutiny under predecessor Raymond Domenech at the 2010 World Cup in South Africa, would fit the FA's requirement of having a familiarity with English football following his two-year spell at Manchester United between 2001-2003, when his influence on emerging players such as Rio Ferdinand was regarded as crucial by Sir Alex Ferguson in the development of his team.
Possible Roy Hodgson replacements

Show all 8
An English-speaker, Blanc is also admired by Gill, who witnessed his impact on Ferguson's squad during his time as United chief executive.
Southgate remains a strong candidate, despite his only experience of club management resulting in relegation with Middlesbrough in 2009.
Prior to taking the job at the Riverside Stadium in 2006, Southgate was forced to wait for the Premier League to sanction his appointment due to his lack of the necessary coaching qualifications at the time.
The vote was ultimately passed 19-1 in his and Middlesbrough's favour, with Gill casting the only vote against due to his belief that the requirement for managers and coaches to fully qualified should not be compromised.
Southgate, who has spent Euro 2016 composing technical reports for Uefa, is prepared to take on the England job, but is aware of the resistance he may face from the public due to his limited senior management experience.
The FA will also seek the advice of leading former players such as Steven Gerrard, Alan Shearer and Rio Ferdinand as to who to appoint, with the likelihood of a role being created for such a figure within the new management set-up.
Ferdinand, Gerrard, Jamie Carragher and Joe Cole have already worked with some of the England under-age teams and could fill the role vacated by Gary Neville, who worked as coach alongside Hodgson.
Join our new commenting forum
Join thought-provoking conversations, follow other Independent readers and see their replies