Lionel Messi burnishes legacy with hat-trick as Argentina come from behind to beat Ecuador and book World Cup place
Ecuador 1 Argentina 3: Despite going behind early, Jorge Sampaoli's team do enough to secure a spot at World Cup in Russia thanks to their prodigious no. 10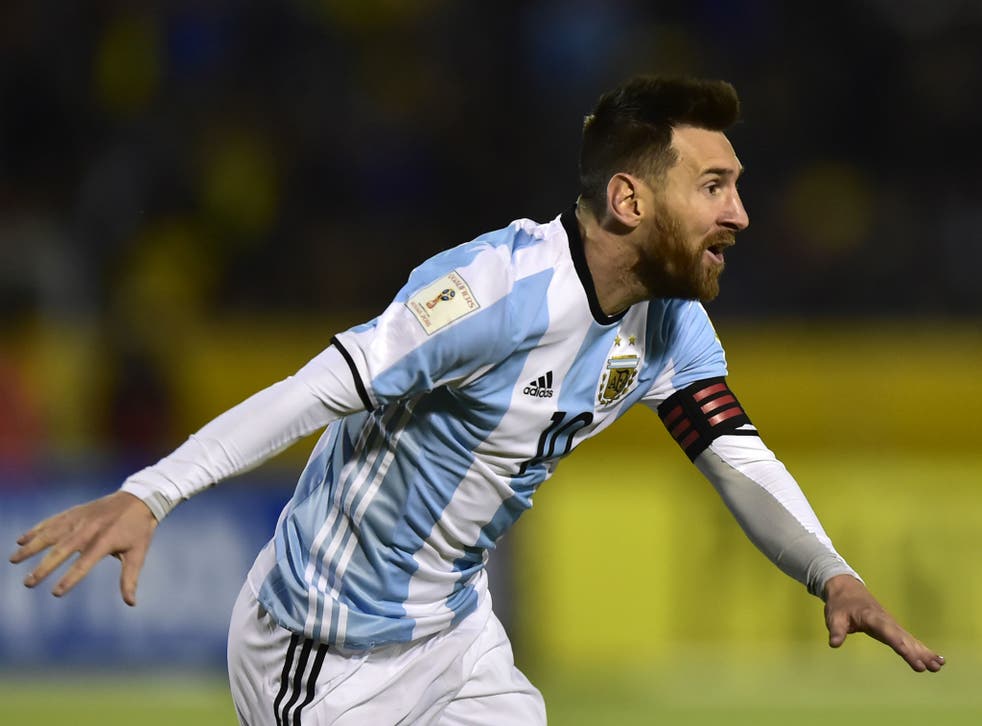 Divine intervention, a holy trinity of goals… on a night when a special saviour offered redemption and deliverance, it's simply impossible not to reach for old religious language, because it's now so easy to make the argument that Leo Messi is the greatest of all time.
That is still one of those eternal debates that will never be settled no matter how many times the few players in history at his level have done something like this, but there could be no debate about what happened in Quito, and what happened in this entire qualifying campaign for Argentina.
Messi dragged his team to the World Cup on his own, or at least as much as any individual ever can in a team game. He was this time really that deeply influential, that depended upon, as he hit the gold-standard achievement of a hat-trick of goals to bring Argentina from behind to beat Ecuador 3-1 and thereby from behind in the South American table to qualify directly.
In doing so, the great man did not just save his country. He also ensured that the national team's wretched performances beyond his individual striving did not drag down his legacy, did not deny him a place on football's greatest stage while still on his greatest level. Instead, their atrocious form only burnished that legacy, because he defied it. That form merely offered Messi another way to show his genius, using the multiple strands of that genius to live up to one of the various definitions of the word: to solve a complex puzzle, to get out of a hole.
Not even Diego Maradona had to do this, in a team under-performing like this. This was the Hand of God in a different way, and the way he did it was even more impressive than the bold bald fact that Messi scored a hat-trick to deliver his side to the World Cup.
There was first of all the problem that all of Argentina's worst fears seemed to be coming through, because fear had so afflicted the rest of the players beyond Messi and Javier Mascherano. Ecuador took advantage of the paralysing anxiety that had so gripped the side through a year when no one other than Messi scored, when they had scored just one goal in four qualifiers just as it was all coming to head, as Romario Ibarra gave the home side the lead after just 40 seconds.
Disaster. Potential desolation. That anxiety became something else, something worse.
2018 World Cup group-by-group guide

Show all 33
There was panic throughout the Argentina team, except Messi. He instead had the calmness to finish with the outside of his foot after just 11 minutes following a deliciously simple one-two with Angel Di Maria to make it 1-1.
That moment was all the more symbolic and significant because it was finally a move when one of Argentina's previously misfiring attackers had decided to return one of Messi's passes to him, when they followed his presence of mind. That was something that wasn't happening in previous, and Di Maria deserves credit there.
There was also something else happening. After so many games when it looked like Messi was trying to be too responsible in the use of his quality, too constrained, too much of a team player only to see that team misfire, it was as if he just decided to distill all that abundant talent and make it happen himself. He drove forward and hammered the ball into the roof of the net. In doing so, he also replicated another Argentine legend other than Maradona, and showed another ability. This was a finish reminiscent of Gabriel Batistuta.
To think some people previously blamed Messi.
At 2-1, it was still wasn't over, because Argentina weren't over their nerves. They were still ceding ground, still failing to keep the ball, still struggling to keep their heads.
Ecuador were still looking dangerous.
So, just when it looked like they were on the brink of a costly equaliser, Messi pushed himself past the limits again. He produced again, and this clinching crowning goal appropriately the finest of the lot.
On the hour, Messi surged forward and jinked to the left, before showing a higher level of vision to go with such victorious talent by spotting goalkeeper Maximo Banguera off his line and so distinctively lifting it over him. It was a truly original type of finish, from the sort of player that can just innovate like that.
Messi can also influence like that.
His country are in the World Cup because of him, and no player has ever been able to say that with such authority, with such genuine truth.
Over the last year, he was apparently the only player who could even score a goal for Argentina, and here the only player who was ever going to save them.
The wonder now is also whether he will save them and influence them in a different way.
There was clearly something more going on with this star-studded Argentina side than a lack of talent or form. It was as if the deflating effect of three successive major final defeats had led to a depression surrounding the team, that deepened into the mental block that seemed to afflict them in front of goal.
Something was broken, and it was as if they had even brought in the supposed managerial saviour in Jorge Sampaoli too late.
The saviour was already there in Messi and, having rescued them from what have been the final looming humiliation of failing to qualify, the tantalising proposition is that he will now release them; that they will have the calmer mindset to work with Sampaoli's clearly effective successful system.
Such dynamics have been seen before in international football on qualification, not least from this country in 1985.
The best, impressively, may yet be to come.
The bottom line, importantly for now, is that Messi has hit another peak to take Argentina to the World Cup.
Join our new commenting forum
Join thought-provoking conversations, follow other Independent readers and see their replies