Lionel Messi statue destroyed as vandals chop head off tribute to Barcelona and Argentina star
Authorities in Buenos Aires do not know who was behind the attack or what their motive was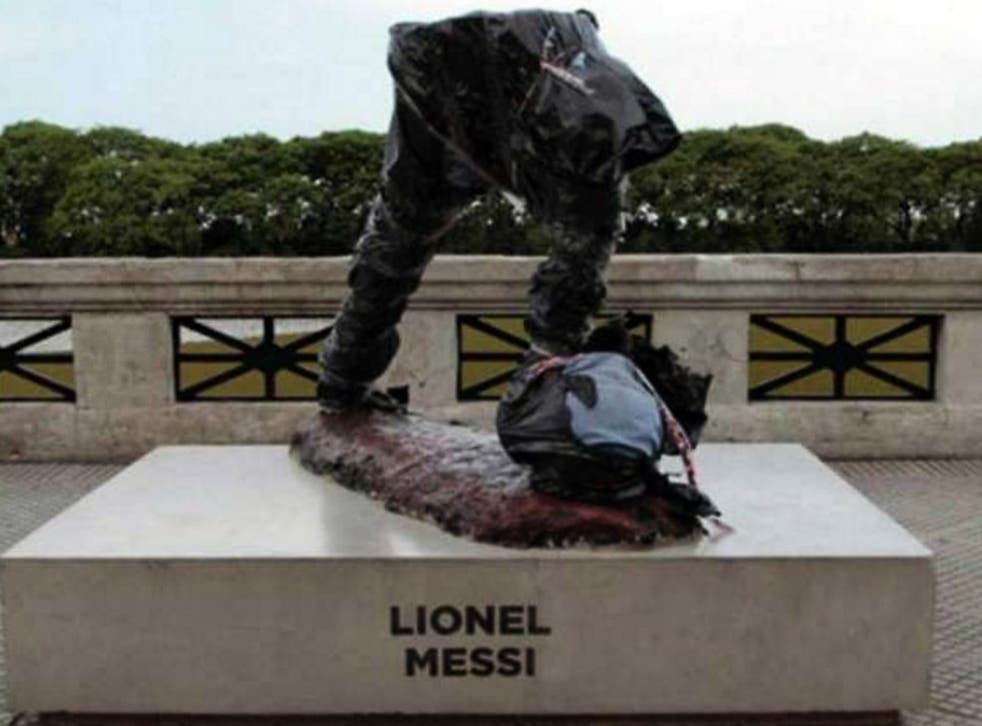 A statue of Barcelona forward Lionel Messi has been destroyed by vandals in the Argentine capital Buenos Aires.
Pictures of the sculpture after the attack show it cut in half from the waist up leaving behind a pair of legs dribbling a football.
Authorities in the city confirmed on Monday that repairs have begun but did not say who the perpetrators were or what their motive might have been.
"The statue of Lionel Messi... was victim of an act of vandalism," a city official was quoted as saying by La Nacion. "The City Government is already working on its repair."
The tribute was part of a series of sculptures of Argentina's sporting heroes on the Paseo de la Gloria (Walkway of Glory) along the banks of the Rio de la Plata.
It was erected last summer after Messi announced his short-lived retirement from international football and sits alongside statues of other greats such as Formula 1 world champion Juan Manuel Fangio and fellow footballer Diego Maradona.
Other statues on the Paseo de la Gloria have been vandalised in the past. La Nacion reports that a tribute to hockey player Luciana Aymar suffered a similar fate to Messi's and that one for tennis player Gabriela Sabatini was stolen.
To add insult to injury, Messi finished second behind long-time rival Cristiano Ronaldo in the best men's player category at the inaugural Best Fifa Awards on Monday night.
Join our new commenting forum
Join thought-provoking conversations, follow other Independent readers and see their replies