Harry Kane scores again but England's win against Lithuania fails to end World Cup qualifying campaign on a high
Lithuania 0 England 1: Once again Gareth Southgate's side failed to truly click into gear but promising debuts from Harry Maguire and Harry Winks at least offer some hope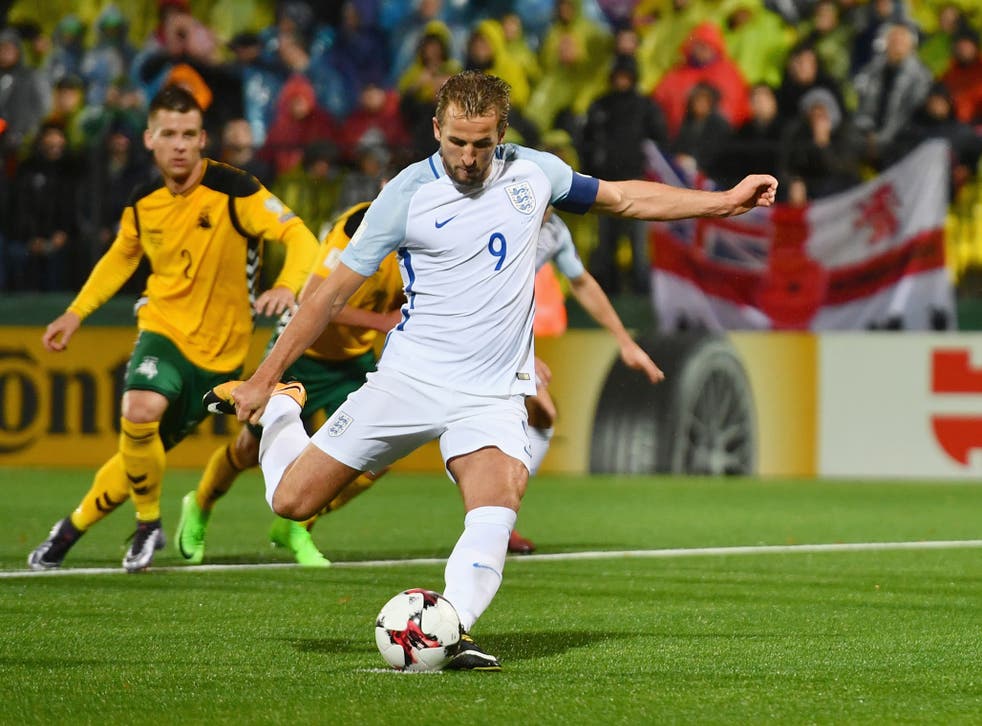 It wasn't quite the kind of attacking exhibition that Gareth Southgate wanted, but it was a win to close out the qualifying campaign, and had just enough signs of life to show that the "real work" the manager has desire for so long ahead of the World Cup has at least started.
Harry Maguire and - especially - Harry Winks also did well on their debuts, while the new 3-4-3 formation offered promise, but this 1-0 victory away to Lithuania was still settled by something that has already become pleasingly old hat and reassuringly routine: a Harry Kane goal.
The captain's 27th minute penalty after Dele Alli had been taken down was his seventh goal in six internationals, and his 12th for his country in all.
Leading the line, leading the way, and solving so many issues. Even if Southgate doesn't manage to put together the flowing attack that he has spoken, it makes such a difference when you have a guaranteed goalscorer like Kane.
There were at least signs of the fluency that the manager wants to develop in this team, and some greater creativity. England were finding their front three much more quickly than in recent games, and that offered the platform for Alli and Marcush Rashford to link up in lively fashion.
There were more than a few moments when the two, playing either side of Kane, interchanged at pace and thereby fired England's attacks with a real energy and menace. Both were also more than willing to add a flourish to their game, Alli lifting it over his marker, Rashford offering so many flicks.
England 23-man Nations League squad

Show all 23
One of the Manchester United star's jinking runs in from the right almost produced a fine goal, and one of Alli's from the other side ended up producing the only goal. He was hauled down in the box by Linas Klimavicius, and Kane stepped up to do the usual.
He was as accurate as ever, driving the penalty in off the post.
There were probably a few factors for the greater fluidity to England's play, from the fact this was a dead rubber against a weak side to Southgate's decision to go to three at the back, but it's hard not to think some of it was down to Winks. He was certainly using his platform well, and using the ball so well.
There was barely a misstep from the Tottenham Hotspur youngster, let alone a misplaced pass, as his vision and quality of delivery just ensured the ball got to the front three in a much more effective way. It wasn't just his passing either. At the start of the second half, he danced through the Lithuanian midfield, before bringing a strong save from Ernestas Setkus.
While it is obviously far too early to make any grand pronouncements about what he can bring to England and whether he should be brought to the World Cup, Southgate's side had been lacking precisely this kind of play in midfield. You wouldn't have thought this was a player who had made just four Premier League starts, even if that stat alone says something about the lack of options for this current England squad.
Maguire could meanwhile be satisfied with keeping a clean sheet on his debut, and was generally composed and solid, but it could still have been a much better first cap. It should have seen a first goal. After just five minutes, Aaron Cresswell curled in a fine cross, but Maguire somehow failed to make contact just yards from goal.
His defensive partner Michael Keane almost scored at the other end, Jack Butland having to do brilliantly in the second half to get down and push the ball away, after the Everton centre-half only sent a Lithuanian cross towards his own goal with a fair bit of power on it.
Lithuania were a danger throughout this, like when Darvydas Sernas flicked just wide or Fiodor Cernych had a good shot saved by Butland.
It further reflected how much work Southgate still has to do, and how this new system wasn't completely cohesive just yet. There were still gaps in it.
The gap in the scoreline remained the same, though, as England eased to a win.
Join our new commenting forum
Join thought-provoking conversations, follow other Independent readers and see their replies