Luis Suarez ban: PFA chief executive Gordon Taylor believes Suarez has taken a 'massive step backwards' following his record World Cup ban
Suarez was handed his third lengthy ban for biting an opponent after Fifa banned him from all forms of football for four months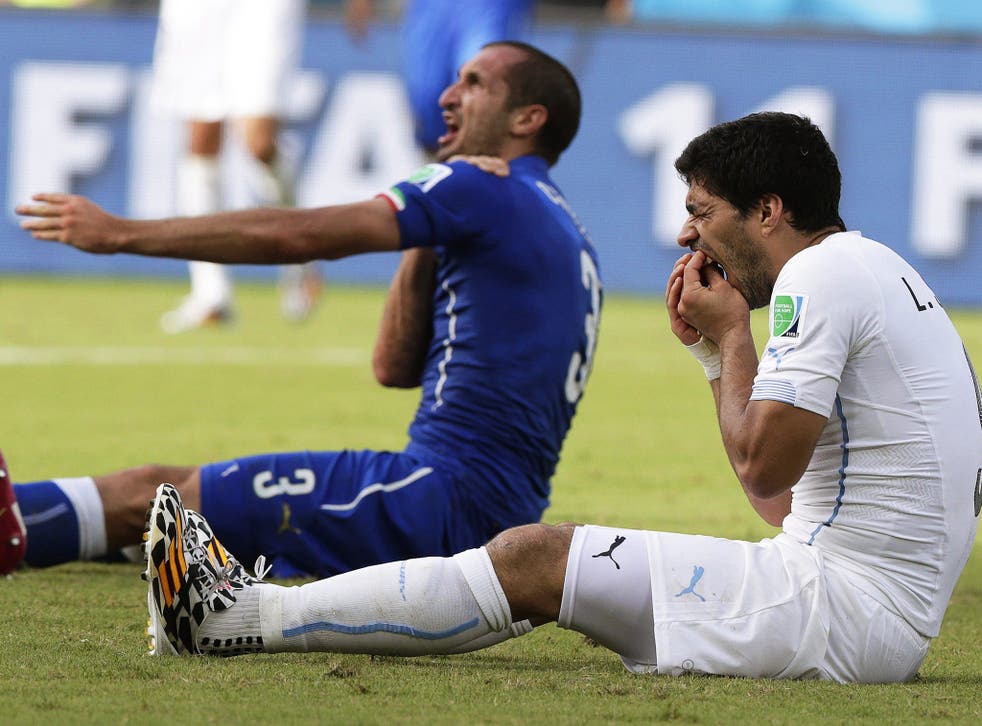 Professional Footballers' Association chief executive Gordon Taylor believes Luis Suarez has taken a "massive backward step" after the Uruguay striker was handed another long ban for biting an opponent.
Taylor also feels the sanction handed down by FIFA on Thursday should have included a counselling and treatment course for the Liverpool striker to help him with "a trait he has to get rid of".
FIFA punished Suarez with a nine-match suspension and a ban from playing for any team for four months after biting Italy defender Giorgio Chiellini during Tuesday's World Cup match.
It is the third time Suarez has been punished for biting opponents, having been banned for seven matches while playing for Ajax in 2010 and 10 matches when at Liverpool last year.
10 of the best Luis Suarez memes

Show all 10
Taylor told Sky Sports News: "We felt things had got back on track (following his ban with Liverpool), it was up there for everybody to see, but of course this is a massive backward step on the world stage.
"I feel FIFA should have led the way with regard to trying to make sure that this behaviour is just eradicated and insist on there being some serious counselling and treatment for Luis Suarez because there's no doubt he's one of the finest players in the world - but this is a trait he has to get rid of.
"It's just not good for him, for any of his club, his country or the game in general and I've not seen that issue addressed either.
"Of course it's not good when you've got somebody of such talent who spoils that talent by such behaviour and that's why I believe it needs looking at in a serious way and that treatment course needs to be part of any sanction I would suggest."
On whether he thinks Liverpool will stick by Suarez amid reports of interest from Spanish giants Barcelona and Real Madrid this summer, Taylor added: "They will have to make a decision.
"The size of the (reported) fee (from Barca and Madrid) is now a clear establishment for both the club and Luis Suarez, but no club wants to lose its very best players, particularly when they are one of the best in the world. But on the other hand neither do you want a player who is going to be suspended if he's got a trait in his character that can't be controlled."
Taylor, though, pointed out that the PFA has been successful in helping players deal with problems regarding mental health, frustration and anger in the past.
He added: "I would suggest we've been successful in about two out of three cases. So the odds would be in favour if that was addressed seriously, but of course Luis needs to accept that and be prepared to undertake that."
Suarez's Uruguay team-mate Jose Maria Gimenez took to Twitter to say "more united than ever" after the ban was announced.
The country's sports minister, Liliam Kechichian, tweeted: "We are hurt by this excessive sanction, now let's see how we can help this human being and whether, as a result of this, the group can show its class and its love for the Celeste."
Former England and Liverpool midfielder John Barnes was not surprised by the severity of the sanctions.
"It is a punishment I expected. I didn't know if it could impact on his club situation but it does," he told BBC Radio 5 Live.
"There are systems in place to deal with these issues and it is difficult setting precedents in these situations.
"From FIFA's perspective, nine games is a long time in international football.
"His World Cup is over and it could be another 18 months before he plays for Uruguay again. It has been dealt with. Will he do it again?
"We don't know - but all FIFA can do is enforce the rules of the articles they specify.
"Will Liverpool say they want to sell him or wait until the ban is over, only they can answer that question."
Another ex-Red Mark Lawrenson believes club owners Fenway Sports Group will have no option but to sell.
"He is now a persistent offender and I thought actually the ban would have been much harsher," the former defender told BBC Sport.
"What does Liverpool owner John Henry do now? I would think he wants to wash his hands of Luis Suarez.
"Henry will try and get the best possible deal for Liverpool. Somebody will buy him. It is football when all is considered."
Former Brazil striker Ronaldo was fully in support of FIFA's actions.
"Football has to be seen as it is. It's educational, social. We have to use football for the good of mankind, not for evil things," he told reporters in Brazil.
Uruguay captain Diego Lugano tweeted: "Indignation, impotence, I think that is what we all feel. We would all like a more just world, but this world simply does not exist.
"Those who decide will decide, while those that are strong will be strong. They don't judge us all by the same rules.
"A hug to Luis, who will rise again as he always has done, and especially to his family, as families always suffer the most in these times. Keep feeling proud of him, he deserves it.
"We will not stop at all. We'll keep going with humility, union, commitment, in recognition of our errors and with our heads always held high."
PA
Register for free to continue reading
Registration is a free and easy way to support our truly independent journalism
By registering, you will also enjoy limited access to Premium articles, exclusive newsletters, commenting, and virtual events with our leading journalists
Already have an account? sign in
Join our new commenting forum
Join thought-provoking conversations, follow other Independent readers and see their replies