Magical Neymar has Brazil believing that sixth World Cup success in 2014 may be possible
Luiz Felipe Scolari, the man who led them to their fifth World Cup triumph, is back to plot a sixth – and the signs look good for a home win in 2014
Jack Pitt-Brooke
Friday 11 October 2013 23:10 Comments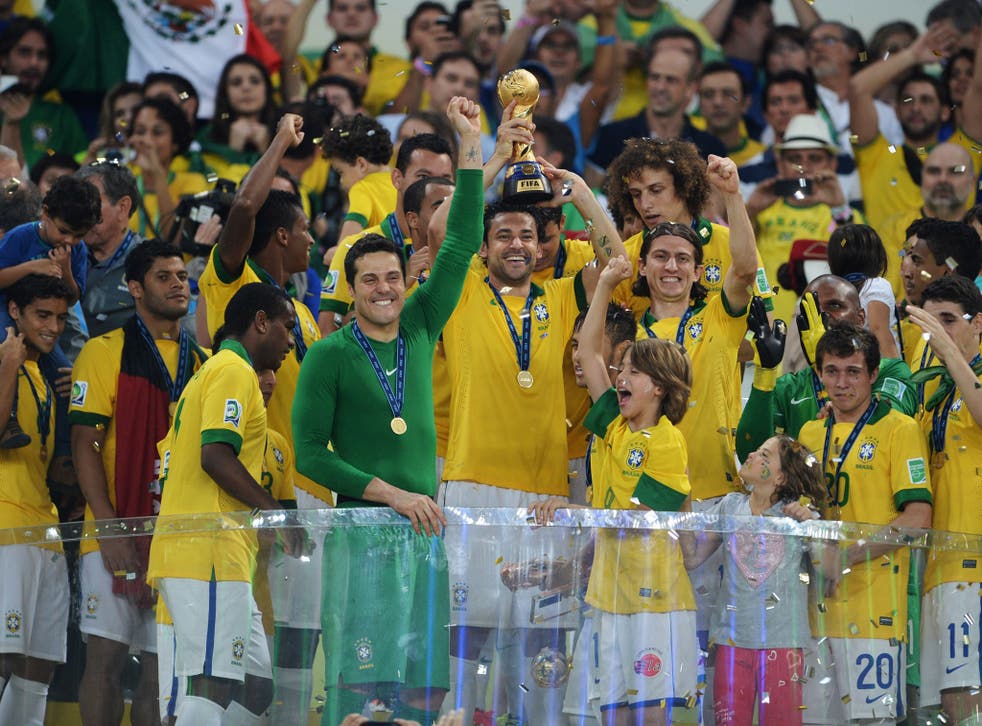 Flying across the world to south-east Asia for two cash-spinner friendlies might not sound like the ideal preparation for a World Cup, but Brazil need not be worried. Luiz Felipe Scolari's team play South Korea at lunch-time today before going to Beijing to take on Zambia next week. It sounds like a tiring distraction; the qualification process may be a risk but it is also rewarding in itself, providing months of competitive football to teams that need it. There is still a clear memory of France, world and European champions, arriving at the 2002 World Cup so undercooked that they were sent straight home.
But that will not happen to Brazil. Amid all the glamour friendlies – they have already played England twice this year – Brazil have been growing, competing and winning, capturing the Confederations Cup and starting to look like a team who might challenge in next summer's World Cup.
The timing has been perfect. Just before one of the biggest years in Brazil's footballing history, this has been their best for a while, maybe even since Scolari's first spell. Since he replaced Mano Menezes – after the dismal 2011 Copa America and 2012 Olympics campaigns – the improvement has been remarkable.
This is good news, surely, for the prospect of a Brazilian World Cup with such weak hosts is almost unimaginable, especially given the heavy pressure they are under, not just to deliver an unprecedented sixth World Cup, but to do so at home, in front of their own people.
The story of the Confederations Cup this summer was the story of the contrast between turmoil on the streets and triumph on the pitch – throughout which, the Brazil team somehow became even more important as a national rallying point.
Brazil fulfilled that role perfectly. The Confederations Cup is often sold as a dress rehearsal for the grounds and infrastructure, but Scolari's team needed the football too, after the disappointments of recent years.
The group stage was good enough, as they overcame Mexico and Japan before beating Italy 4-2 in a thriller. In the semi-finals, Brazil had Uruguay, 2010 World Cup semi-finalists and 2011 Copa America champions. With a performance of remarkable nerve and resilience they won 2-1, thanks to Paulinho's winner with four minutes left.
It set up the final against Spain, the greatest team of this or any other generation, the historical results machine, going for their fourth major international title in six years. But Brazil, with the raucous support of 73,000 inside the Maracana, routed them 3-0. It was a performance of brave, physical, precise and stylish football, with two goals from Fred and one from Neymar.
It was the greatest night for Brazilian football since – at the very least – the final of the 2007 Copa America, when they beat Argentina 3-0... if not the night in Yokohama 11 years ago when Ronaldo scored twice to win Brazil's fifth World Cup.
Brazil now have their best chance since to win their sixth. Scolari has turned a muddled, lazy, misdirected team into a very superior unit. As with his 2002 team, he has found the right balance between magic and realism, with a muscular experienced core but more than enough skill and pace to cut through most opponents.
The indispensable man, of course, is Neymar. He was the best player at the Confederations Cup, by a distance, scoring four goals – including a perfect volley against Japan and a free-kick against Italy – as well as some assists that were in themselves thrilling. He is a complete player – fast, strong, smart, skilful, balanced, aware and the rest – and with him cutting in from the left wing, anything is possible.
There might have been a fear that his move to Barcelona would disrupt him. It is a long way from Santos, certainly, and a very different style of football. It is still early days, of course, but Neymar seems to have integrated surprisingly quickly, working for the team, linking well with Lionel Messi, scoring and providing assists whether playing on the left or through the middle.
Of course, Brazil do not have Messi, but Neymar – who has been passed fit for action in Seoul today – blends perfectly with his Selecao team-mates too. Fred was one of the rediscoveries of the summer, leading the line with strength and selflessness, scoring five in the Confederations Cup. He is injured this week, meaning Scolari is likely to play Jo up front, the spectacular failure at Manchester City who has rebuilt his career at Atletico Mineiro and scored three in Brazil's two September friendlies. No man encapsulates Brazil's improvement more than him.
Hulk tends to start on the right – Scolari said he would pick him ahead of the safer Ramires today – while Oscar plays the same scampering, restless No 10 role he does for Chelsea.
At the heart of the midfield is Paulinho, Tottenham Hotspur's relentless box-to-boxer, whose attacking instincts Scolari has attempted to curb. He can start alongside Luiz Gustavo of Wolfsburg, Lazio's artful Hernanes or Liverpool's Lucas Leiva, back in the squad.
The engine of the whole team is the centre-back pair. David Luiz and Thiago Silva must be the world's best combination, each brilliant in his own right. Even with Thiago out of today's game, Scolari has European champion Dante to fall back on.
Throw in Marcelo and Dani Alves at full-back and it is a complete team. World Cups are hard to predict, not least eight months before they start, but no one could possibly doubt that Brazil have as good a chance as anyone. This time last year that was not the case.
Scolari last night warned South Korean fans not to expect too much samba skill today from his jet-lagged squad. "Since many were tired after a 30-hour flight, we practised one day in an indoor pool and spent another day doing a light workout," Scolari said. "We don't expect anything. Our players won't have the best conditions tomorrow."
Despite Scolari's concerns, his side are clear favourites to overcome the Koreans, who struggled through their World Cup qualifying campaign before booking a place in Brazil. Scolari, though, was cautious about the challenge the Koreans would pose under former captain Hong Myung-bo, who was appointed head coach in June.
"South Korea has been playing quite well," he said. "It is advancing to the World Cup for the eighth time now. The record shows it is a strong team."
South Korea lost 2-1 at home to Croatia last month and have slipped to 58th in the Fifa rankings.
Register for free to continue reading
Registration is a free and easy way to support our truly independent journalism
By registering, you will also enjoy limited access to Premium articles, exclusive newsletters, commenting, and virtual events with our leading journalists
Already have an account? sign in
Join our new commenting forum
Join thought-provoking conversations, follow other Independent readers and see their replies