Manchester United, Jose Mourinho and England: Marcus Rashford explains how he is just taking it all in his stride
Interview: England and Manchester United now rely on his decisive interventions, but for the youngster it's all just in a day's work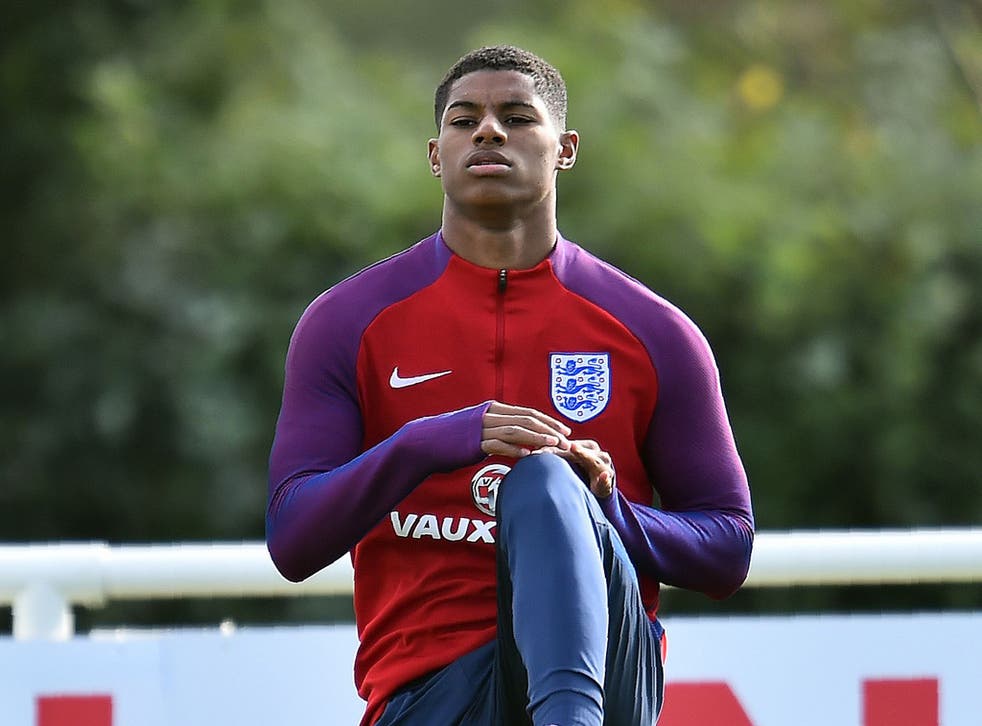 It is a rather simple illustration of why Marcus Rashford is the player he is, why he has found such remarkable career strides so… natural. Take his attitude to Euro 2016. For most teenagers who had only made their club debuts a few months before, a mere call-up to an international tournament would have been a landmark moment, something they'd always cherish, regardless of how it went. To just be involved would have been so exciting. Not for Rashford. The ultra-professional in him means he just can't look beyond the elimination to Iceland.
"I'll be honest with you, it is difficult to see it as a positive when you're losing because in those games you don't have the chance to get it back," Rashford explains with matter-of-factness at St George's Park. "If it's for your club and it's a league game, you have another game next week and you can kind of redeem yourself. It's not like that at tournament football and that's why it was so, so disappointing and hard to take.
"We went out before we'd expected to go out and before we obviously wanted to go out, so it was a disappointing end to the season for me."
His first ever season, let's not forget. That is why it didn't matter that Rashford was there even though it was something that no one would have expected - or, in truth, even thought of or imagined - mere months beforehand. Then again, the Manchester United star is not 'most teenagers'. He is one of the brightest young talents in European football, and that sort of mentality is one other reason why. Rashford has so far been so capable of maximising that talent because he is not overawed by any of it, because it comes so naturally to him.
It is telling that after such a remarkable rise, with only 19 months of proper professional football, all of this already all feels so normal for him; so routine.
"You just get to grips with it. The more we have to do it, you've just got to take it in your stride."
He puts some of that down to the grounding at United.
"I think obviously the coaching is very good, but they also try to turn you into good people as well as good players. I'd probably say it's about having a lot of respect for everyone regardless of who they are or what they're doing is probably like the baseline you have to have no matter what age you are. Just having that alone can get you a long way. It's the main message they give you. United are very good at nourishing abilities."
Marcus Rashford's Manchester United journey

Show all 8
"There are loads of different examples I can give you of ways they keep us grounded… If you are winning a game by a ridiculous scoreline, and then obviously as attackers you might start messing about if you've scored three goals or whatever. But the coaches would say your beating them but still show them respect. They drill that into you from a very very young age."
It is a further indication of how brief Rashford's brilliant career has been that he hasn't actually done much with the media. He hasn't really got to reveal much about himself, but then he still doesn't look completely comfortable yet talking about himself. He almost seems like Paul Scholes in his apparent willingness to simply get on with it on the pitch and ignore everything away from it. If he is anything but a normal young player on the pitch due to his ability and impact, however, he insists his life off the pitch it is nothing special.
"I just do normal stuff, to be honest. I play PlayStation, em, take the dogs for a walk… I've got a Cane Corso and a Frenchie."
He does admit his sudden new status has caused him to be a little more cautious with people around football.
"Probably the way you have to look after yourself, and look out for yourself as well, because everyone is always trying to get something off the back of you so you have to just take care of yourself.
"People are maybe trying to build themselves up off the back of you. Erm... you know, for me, it's not like that because I have friends around me. They've been my friends [for so long]. It can be anything, it can be your own friends, or even people's family members, it's difficult but what are you to know. Like I said, I have people around me that guide me and kind of keep me away from certain things. Sometimes as a young player, that's what's needed.
"Not for me, because I've not been through [a situation like that] yet… [but] you have to be smart and try not to put yourself in them situations, as much as you can."
Rashford praises the influence of his brothers and mother in such situations, but has also had plenty of examples to follow at United - like some of the coaches he worked with, given some of the careers they have had.
"Yeah, [Ryan] Giggs in the later stages, which is always a big help when you know you have them. The coaches that have been there and done it.
"He's always in connection with the club, whether it's him saying it or whether someone's telling you that he said something.
"I think players like him and people like him, they always have that connection with the club.
"For young players it's vital - he's come through and done it himself. It's important what he has to say."
[Paul] Scholes had a couple of training sessions, when he was doing his coaching badges, and they were fun and enjoyable. But where we learn the bread and butter is when we're very young, and people don't know them coaches… there's one called Shane, Paul McGuinness, which probably some of you know."
Rashford was at United as a kid with Cristiano Ronaldo - who he cites as the best player he's yet come up against, from August's Super Cup (below) against Real Madrid - and, while he would not have quite crossed paths with the Portuguese too much, it was impossible for someone as devoted to the craft as the young Mancunian not to try and pick something up; not to be influenced.
Manchester United vs Real Madrid player ratings

Show all 22
"You try to, especially when you're young, until you find your own identity. You try to emulate those players a lot and they're the things that make you into the player you are.
"Ronaldo, [Leo] Messi, Rooney, Neymar - everyone knows good football when you see it and that's what I like to watch as well.
"Teams defend a lot more now as a unit rather than man to man. There's different ways to take people on and different things you have to watch against different teams. It's hard to take a specific aspect but you can take things like mentality or characteristics.
One aspect seems to be free-kicks, given the distinctive style of Rashford's famous first set-piece goal against Celta Vigo in the Europa League in May was so similar to Ronaldo's 'knuckle-ball', but he explains it is not quite like that.
"No, it's actually a different technique. I can do it like he does it but I haven't done it yet."
The current Real star is not the only Ronaldo to have made an impression on him.
"Brazilian Ronaldo has had the biggest World Cups performances, I'd say. And his were among the most enjoyable to watch. There were a lot of top players who performed in the World Cup and went to another level."
That he mentions the original Ronaldo is all the more striking when you consider that the first World Cup he has proper memories of was as recent as 2010.
"It's going back. [Frank] Lampard, Germany - that's the one. I've watched the World Cup before that, but you don't really know what's what. But that's the one where you can properly analyse.
"I think I was on holiday [for 2014], maybe Dubai. With my brothers. I watched all of England games."
Now he's ready to star in them, to make an impact - to rectify what happened in 2016. He praises the atmosphere created by Gareth Southgate, and says "I think the set-up and the aim and vision of where we want to go is much better now than what it was."
"Around the hotel, everyone feels comfortable and relaxed to be themselves. That's something that I would say is different to last time. Everyone is being themselves and we're starting to understand each other more. At internationals, you don't get much time together to understand each other's personalities and what they like do outside. The more we understand each other, the better the results will be on the pitch.
"I think there's a lot of young players in this squad so it helps. It's not just you, whereas at club there's not as many young players that are playing every week.
"I think being around them and the rest of the squad, it helps you massively."
"Yeah. We've got our identity and the people around us, maybe when they start to understand what we're like as a team and group, it's difficult because we're only together for 10 days at a time and that's not much time for us ourselves to find that identity, but we are doing our best to do this and go there with a real plan and intensity to try and win the tournament.
"I think it's important. We are realistic, even with how we are playing against these teams in the qualifiers.
"But then we have to build our own plan once we get to the World Cup to try and win it."
You get the feeling that it is only winning that would ever make Rashford really happy with such an experience. Then again, that attitude is precisely one of the reasons he'll be there already enjoying his second tournament in the first place.
Register for free to continue reading
Registration is a free and easy way to support our truly independent journalism
By registering, you will also enjoy limited access to Premium articles, exclusive newsletters, commenting, and virtual events with our leading journalists
Already have an account? sign in
Register for free to continue reading
Registration is a free and easy way to support our truly independent journalism
By registering, you will also enjoy limited access to Premium articles, exclusive newsletters, commenting, and virtual events with our leading journalists
Already have an account? sign in
Join our new commenting forum
Join thought-provoking conversations, follow other Independent readers and see their replies