How Manchester United vs Real Madrid and Ronaldo YouTube clips inspired Marcus Rashford's career
The 20 year-old has been likened to Ronaldo by the Brazilian legend himself
Jack Pitt-Brooke
Sunday 12 November 2017 15:28 Comments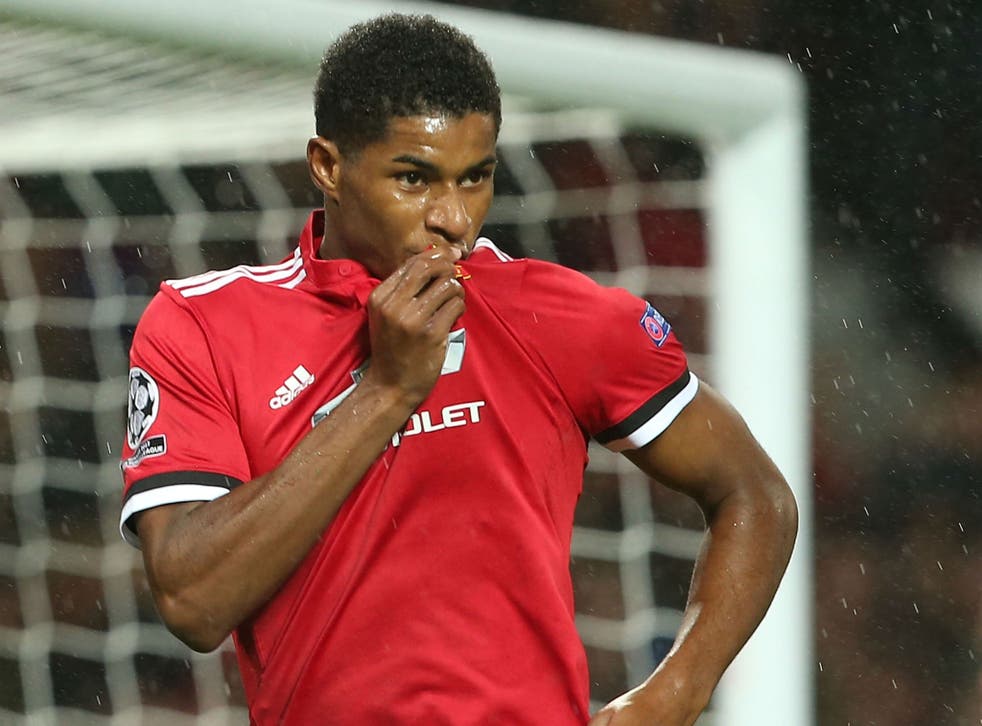 Marcus Rashford was five years old when his older brother Dwaine took him to see Ronaldo, the original one, play at Old Trafford, for his first ever football match. It was April 2003 and Ronaldo was playing for Real Madrid against Manchester United in the Champions League quarter-finals. The Rashford family are big United fans but they were big Ronaldo fans too, or at least Dwaine was, which meant Marcus was too.
They were not disappointed. Ronaldo, not quite at his Barcelona peak, but still coming off the back of dominating the 2002 World Cup, scored a brilliant hat-trick. United won the game 4-3, but Real went through to the semis on aggregate. It was one of the greatest individual performances by a foreign star in England.
And on the five-year-old Marcus Rashford, attending his first ever game, it could not have made a deeper impression. "It was my first ever game that I saw live," he recalls. "I will always remember it."
England 23-man Nations League squad

Show all 23
That was the start, but certainly not the end, of young Rashford's Ronaldo obsession. "I used to watch a lot of him growing up," he says. "All of his games. And I've seen a few bits from him from quite a while back, all the clips on YouTube."
Why does this matter, almost 15 years on from that famous hat-trick? Because Rashford has grown into a player who has earned comparisons with Ronaldo, most importantly from el fenomeno himself.
Ronaldo said in the summer that Rashford's speed, skill and bravery reminded him of his own explosive teenage years and to Rashford, there could be no higher praise.
"He was obviously a top player who won a lot of things in his career," he said. "So when you know he's saying good things about you then it really stands out."
It does not sound simple to model your game on the most naturally gifted player of his generation, an all-time great who had it within himself to be the greatest. But Rashford said that watching those clips of Ronaldo shredding defences, he saw things he could learn from. "I think you [learn] naturally," he said. "When you're young you watch clips of the best players in the world and try and emulate them, so it just tends to happen naturally."
More than anything physical or technical, it is the freedom Ronaldo played with, the audacity and imagination and risk-taking, that most stood out to Rashford. That is what sets the most dangerous strikers apart and why Rashford has an obviously special quality of his own.
"He always played free" Rashford added. "No matter where he was playing, he played free and went out there and expressed himself. When you do that, that's when you play your best football."
That is how the best Brazilians tend to play, and another great, Ronaldinho, has been just as complimentary about Rashford. The two met at a Nike event in the summer and Rashford was just as pleased.
"He was also a top, top player," Rashford says. "Those sort of players are rare, but Brazil had two of them. He's a really nice guy and obviously had a fantastic career."
Those are players Rashford admires the most, and while they have retired, Brazil have a replacement of sorts in Neymar. Which is why Rashford is so looking forward to facing them at Wembley on Tuesday night.
"Who doesn't enjoy watching the type of football they play? When they're at their best it is unbelievable football to watch."
Register for free to continue reading
Registration is a free and easy way to support our truly independent journalism
By registering, you will also enjoy limited access to Premium articles, exclusive newsletters, commenting, and virtual events with our leading journalists
Already have an account? sign in
Join our new commenting forum
Join thought-provoking conversations, follow other Independent readers and see their replies