Marcus Rashford: England youngster gives Sam Allardyce 'food for thought', says Gareth Southgate
The Manchester United striker fired in a debut treble as the Young Lions routed Norway 6-1 to move a step closer to Euro 2017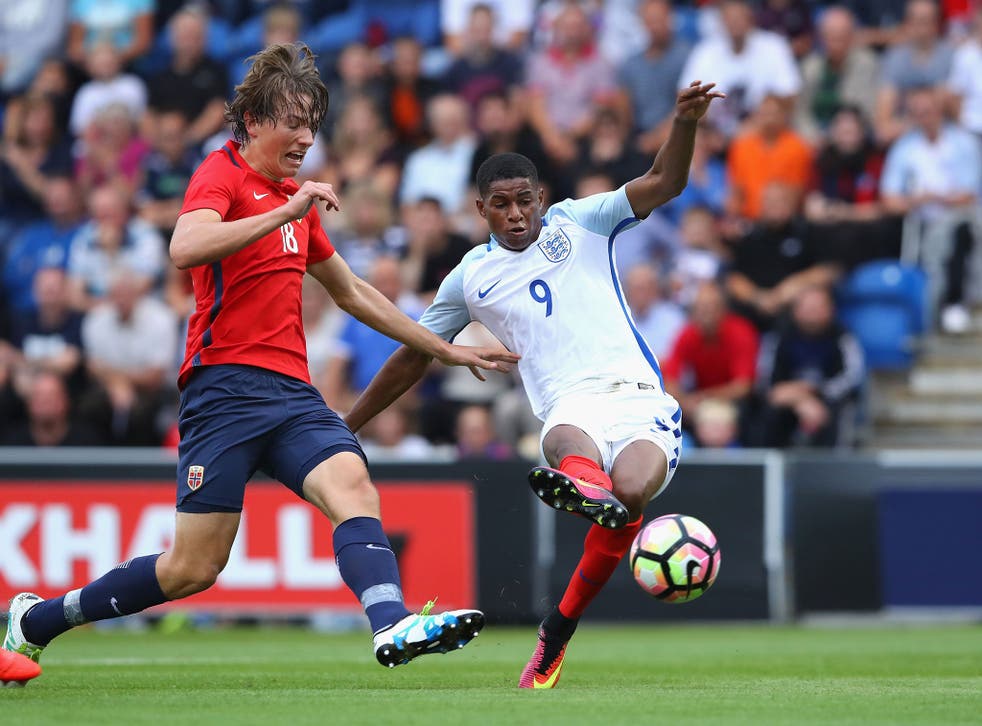 England Under-21 boss Gareth Southgate hailed hat-trick hero Marcus Rashford and admitted he will have given Sam Allardyce a selection headache.
The Manchester United striker fired in a debut treble as the Young Lions routed Norway 6-1 to move a step closer to Euro 2017.
England boss Allardyce watched from the stands in Colchester on Tuesday as Rashford scored twice before completing his hat-trick with a cool second-half penalty.
Rashford was left out of Allardyce's first senior squad for their 1-0 win in Slovakia on Sunday after playing at Euro 2016 and scoring on his debut against Australia in May.
England host Malta and go to Slovenia in their next World Cup qualifiers next month when the Under-21s head to Kazakhstan and welcome Bosnia needing just a win to reach Euro 2017 and Southgate knows Rashford will be in Allardyce's thoughts.
"I'll speak to Sam in the next couple of days, I'm sure it's given him food for thought. But he'll be pleased with some of the performances of his players on Sunday (a 1-0 win in Slovakia)," he said.
"What we saw all week (from Rashford) we saw tonight so I wasn't surprised in any way. I don't think anyone can rubbish the experience, the key is if they come down, they get to play and put on a show like that.
"I couldn't have been happier with the way he approached everything. The Under-21 group is tight-knit and they are welcoming to newcomers but they have high expectations for them to work the way we work. If they don't match that the group will sort them out quickly.
"You could see he was very comfortable in the environment and that is credit to everyone involved. It's important to us that players express themselves and play to the best of their ability. I don't know if that was his best but if there is more to come then that is very exciting."
Rashford was substituted late on and Southgate admitted he could not resist a little joke with the 18-year-old as he came off.
He added: "I just said, 'You've enjoyed your week haven't you?' I was tempted to say, 'It was nice working with you!"'
Nathaniel Chalobah, Ruben Loftus-Cheek and Lewis Baker were also on target and England are now two points clear in Group 9 needing one win to reach next year's tournament in Poland.
Rashford added to BT Sport: "It means a lot (that Allardyce was here). It's the England seniors, there is a new manager and they are doing well. Everyone is working hard to get into that side, so it was important that he was here to see our development."
Join our new commenting forum
Join thought-provoking conversations, follow other Independent readers and see their replies