The making of Michael O'Neill - the man who took Northern Ireland from the wilderness to the verge of the World Cup
In the space of seven years, the unheralded manager from County Armagh has transformed Northern Ireland into one of the top 20 teams in the world
Michael Walker
Wednesday 08 November 2017 11:07 Comments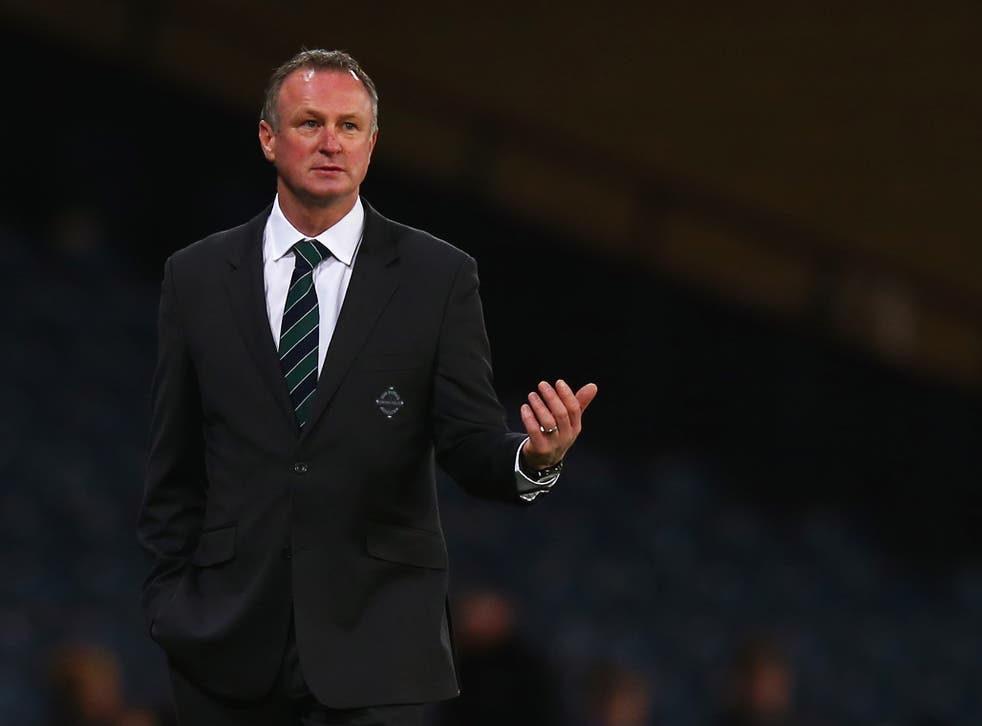 Michael O'Neill's managerial career could hardly have started in less glamourous surroundings or in worse circumstances: April 2006, Brechin City versus St. Johnstone, Scottish First Division. The attendance at Glebe Park? 876.
O'Neill had taken charge of a Brechin team that had won one of its previous 31 league games, but which amazingly had not been relegated - officially. After a 2-0 win for St. Johnstone, though, Brechin were down. It was official.
It meant that on the first day of O'Neill's management, he had suffered not just defeat, but relegation. He was 36.
"The pay was all right and I got a car," O'Neill says now of his curious decision to take over in such a predicament.
Eleven-and-a-half years on and he has Northern Ireland in a World Cup play-off against Switzerland. O'Neill has already overseen Northern Ireland's presence in the European Championships for the first time and a rise in the Fifa rankings from 129th to 20th.
He has outperformed his resources by some distance, taking a fragmented, losing collection of players and turning them into a formidable unit. Some faces have changed along the way since O'Neill's first international match 5½ years ago, but many have remained the same. O'Neill has changed their style, attitude and ultimately, their outcomes.
"A culture of standards," is Aaron Hughes's description of the Irish environment O'Neill has created and some of it goes back to those first hours and days at Glebe Park.
2018 World Cup group-by-group guide

Show all 33
"Brechin was a great grounding," O'Neill says of his two years there.
Having spent time at Sporting Lisbon as part of his Pro Licence, this was different. This was managing in the raw, making decisions on contracts that may not have looked complicated, but which were. As O'Neill says: "I'd to take a knife to the squad and if you think it's difficult with a player earning plenty, it's more difficult with a lad who's relying on £200 a week."
O'Neill's understanding of players did not curtail him letting some go, but he appreciated their problems and sympathised. He says he was never particularly close to any of his managers during an up-down 20-year playing career, but it is something he has addressed as a manager.
There were, for example, personal touches in the bedrooms of the Northern Ireland team hotel near Lyon at Euro 2016; in the main, the Irish players call him Michael. They know O'Neill identifies with them.
He does so through the prism of his own playing career. It had a curious trajectory: at 15 O'Neill was playing men's Irish League football while still at school; at 18, in 1987, he was bought by Newcastle United and transferred to school on Tyneside while sharing a first-team dressing-room with Paul Gascoigne and outscoring him.
By 20 O'Neill had experienced relegation and had become Dundee United's record transfer. Then came run-ins with United's fearsome manager Jim McClean, injuries, then a revival at Hibernian.
But after 1996, aged 28, O'Neill rattled through nine more clubs ranging from Coventry City, then in the Premier League, to Portland Timbers, to Glentoran in the Irish League and finally two games for Ayr United back in Scotland.
"I do have regret," O'Neill says of his playing days. "You look at the peaks and wonder why it didn't stay at that level. Ultimately you have to look at yourself."
Five operations on his groin did not help. But O'Neill reviews his playing career with mixed feelings and, he says: "I suppose the regret has helped me as a manager, dealing with players. I see signs of it in players. Football disappears very quickly, you've got to hold onto it."
O'Neill's Northern Ireland career, started at 18 under Billy Bingham, was over at 27 under Bryan Hamilton. This came as a shock to the player, who thought he would reach 50 caps, not 31. It is a part of the reason why he has pushed the likes of two 37 year-olds, Gareth McAuley and Aaron Hughes, to remain with the Irish squad.
Both started O'Neill's first international as manager – against Norway at home in February 2012 – and both will go to Russia as 38 year-olds if Switzerland are overcome.
There was some relief in Belfast when Northern Ireland drew the Swiss rather than Italy or Croatia, yet Switzerland are ranked above both, 11th in the world. Defeating them would rank alongside lifting the Irish from Pot 5 in the Euro 2016 draw to group winners.
That requires exceptional organisational and motivational skills that O'Neill, 48, first revealed way back at Brechin City. In their second match, three days after relegation, the demoted players travelled to Dundee, the biggest club in the division, and won.
It was a little unregarded statement of O'Neill's intent, and his ability. That over-achievement has been replicated in work at Shamrock Rovers in the League of Ireland – O'Neill took a part-time team into the group stage of the Europa League – and with Northern Ireland. The pattern is of over-achievement.
The Irish had won two of their previous 24 games when he succeeded Nigel Worthington. They would, infamously, win only one of their first 18 under O'Neill.
But he is not daunted by statistics. Academic, O'Neill was unable to complete his A-Levels once he joined Newcastle as a teenager, but seven years later, he sat the Open University Maths exam in his own time – the night before a Northern Ireland match he was playing in.
He observed Northern Ireland's losing culture and examined the nature of the defeats. He saw ill-discipline, red cards, suspensions and, as he says, "when I lose players, I am bringing in replacements from League One."
Understandably a lot has been made of resources available and there was a day last season when Manchester City were facing Tottenham in a much-hyped Premier League match and O'Neill was at Hartlepool versus Stevenage in League Two.
So Irish discipline was addressed and improved significantly. This led to greater continuity of personnel and once a breakthrough victory had been registered – Hungary away in the first Euro 2016 qualifier – there was belief and momentum.
Arguably O'Neill's greatest task has been to maintain it, to not let players consider Euro 2016 to be the peak, but to go again. Where he goes next is another question – the Scottish FA are looking longingly.
The Swiss can be influential in that. They have Xherdan Shaqiri, just as Wales had Gareth Bale at Euro 2016 and Poland had Robert Lewandowski. Germany were thronged with stars. Northern Ireland have no such individual. But they have their tireless manager.
As O'Neill says: "Our work-ethic is our match-winner."
Register for free to continue reading
Registration is a free and easy way to support our truly independent journalism
By registering, you will also enjoy limited access to Premium articles, exclusive newsletters, commenting, and virtual events with our leading journalists
Already have an account? sign in
Join our new commenting forum
Join thought-provoking conversations, follow other Independent readers and see their replies