Sam Allardyce: Naive, indiscreet and crude, but England manager has not done enough to warrant his dismissal
While Allardyce has been foolish and somewhat reckless, he does not deserve to be sacked, writes Mark Ogden
Mark Ogden
Chief Football Correspondent
Tuesday 27 September 2016 10:27 Comments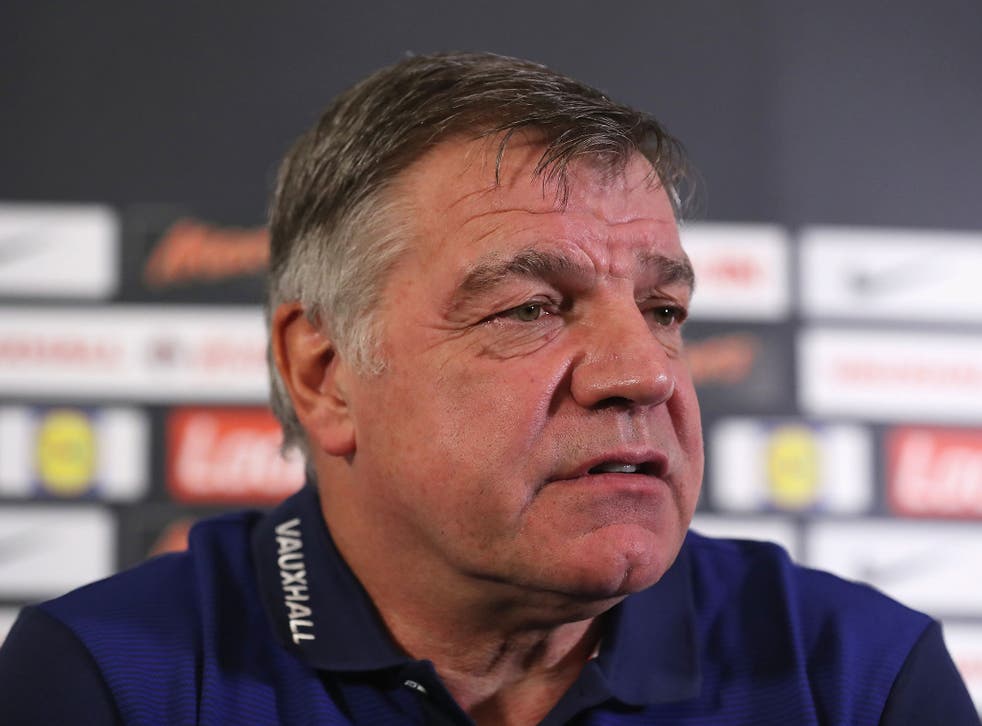 It would have been an interesting conversation had it ever taken place.
Sam Allardyce, England manager, asking his Football Association bosses whether he would be free to negotiate a £400,000-a-year deal, alongside his £3m FA salary, to advise a group of businessmen about investment in football through third-party ownership and player representation.
'Say it again, Sam,' would probably be the first, bemused response from chief executive Martin Glenn before telling the 61-year-old that he was being naïve to even imagine that the proposal would stand up to scrutiny.
Sam Allardyce England manager could face FA investigation
Naivety runs through every second of the Daily Telegraph sting which shows Allardyce discussing all of the above, as well as making indiscreet comments about his predecessor Roy Hodgson, former England coach Gary Neville, the FA's decision to rebuild Wembley and even the Duke of Cambridge and Prince Harry.
But while Allardyce has been naïve and foolish, perhaps even reckless, he has not compromised himself to the point of being at risk of the sack.
Glenn Hoddle was finished as England manager the moment he claimed, in January 1999, that the disabled were being 'punished for sins in a former life.'
There was no way back from that one for Hoddle, whose repugnant views quite rightly cost him his job.
Allardyce has come nowhere close to matching Hoddle's indiscretion and those calling for his head are merely jumping on a bandwagon of mock outrage.
Break down Allardyce's 'crime-sheet' and assess where he has put his job at risk, beyond the reputation damage to himself and his employers which may yet lead to a parting of the ways.
If it comes to that, it will be a matter of honour, or dishonour in this case, but in terms of breaking the rules or gross misconduct? Well, you will have to keep looking.
First of all, throughout his secretly-filmed conversations, Allardyce insisted that he must run the consultancy role past the FA before accepting the £400,000-a-year for a number of speaking engagements.
Sam Allardyce career in pictures

Show all 21
So there is no suggestion of Allardyce conspiring to top up his £3m-a-year salary without the FA's knowledge and permission.
No agreement was struck by Allardyce and when the conversation turned to 'bungs' -- illegal payments to players, agents, managers, whoever -- the England manager insisted 'You daren't even think about it.'
Third party ownership?
Allardyce is correct when he admits that it is an issue which the game's authorities have yet to properly address and eradicate, but if his advice at 'getting around' the rules extends to offering the example of how West Ham signed the Ecuadorean winger Enner Valencia, then that would only appear to be a case of explaining how clubs in the Premier League have circumvented the regulations.
West Ham bought out Valencia's third-party owners before registering him as their player in 2014, just as Manchester City did when paying £42m for Porto defender Eliaquim Mangala in the same summer and Manchester United when signing Marcos Rojo from Sporting Lisbon.
Premier League clubs have signed third-party owned players on a regular basis, but they cannot be registered with the league until owned entirely by the club, which is what happened in the cases of Valencia, Mangala and Rojo.
Allardyce has clearly been drawn into sensitive areas, but he has not strayed into the territory of advocating rule-breaking.
As for the opinions on Hodgson, Neville and Wembley, many observers and supporters would agree with Allardyce's views.
The same applies to his comments on the mental fragility of England's players -- comments which he has made on the record at least twice since being appointed as manager, so Allardyce is hardly 'outing' his players with that one.
Not that the players will care less about Allardyce's remarks and his current predicament.
All they will care about, and the same will apply to those supporters desperate to see a winning England team, is what happens on the pitch and, so far, Allardyce has avoided embarrassment there.
Yes, he has made a prat of himself, he has given the FA a problem that they really do not need.
But put most football players or managers in that situation -- a restaurant with alcohol being served -- and they will quickly give their views and opinions on subjects and personalities which would not usually be aired in public.
Until football is populated by Oxbridge graduates schooled in the arts of politics and saying nothing of interest -- even they slip up at times -- then the likes of Allardyce will always say more than they should.
But has he done enough to lose his job? Not at all.
Register for free to continue reading
Registration is a free and easy way to support our truly independent journalism
By registering, you will also enjoy limited access to Premium articles, exclusive newsletters, commenting, and virtual events with our leading journalists
Already have an account? sign in
Join our new commenting forum
Join thought-provoking conversations, follow other Independent readers and see their replies