Why it is ultimately irrelevant whether or not Wales defender Neil Taylor is 'that kind of player'
The phrase, the one you always hear in awful instances like this, is notorious and throws up a wider debate about the very nature of tackling in the game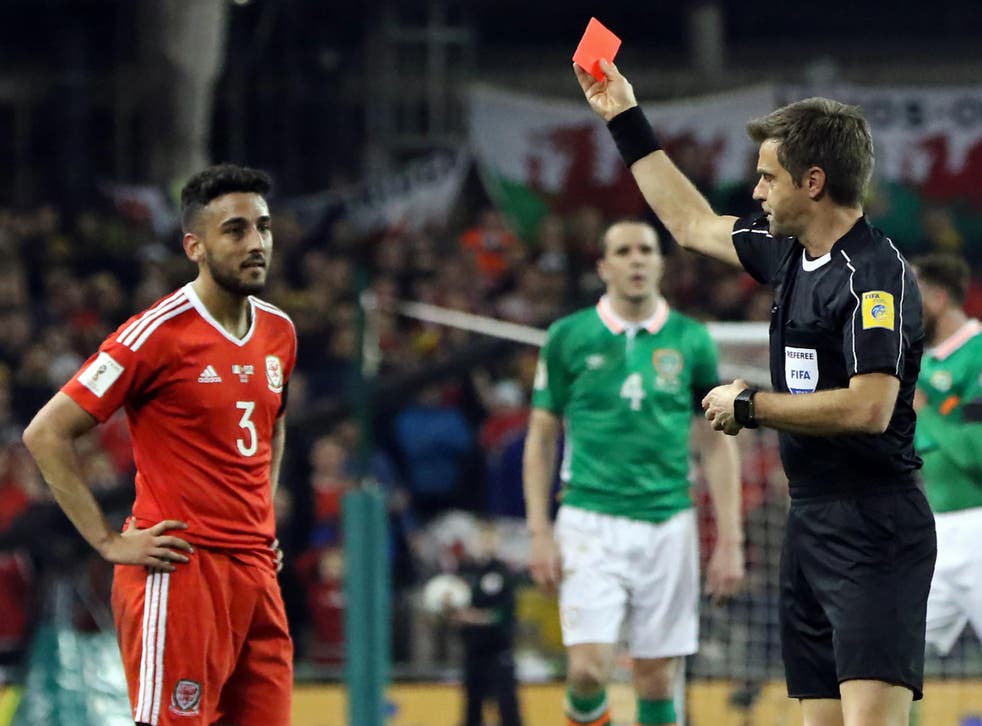 It was barely an hour after a hugely controversial and lamentable second's action on the Lansdowne Road pitch, and Chris Coleman was still striving to find the right words. He was also striving to not give too much away, however, and was struggling. You could sense the frustration as the Welsh manager wanted to be diplomatic about the horror Neil Taylor tackle that led to Seamus Coleman's horror injury, but also generally defend his players, given the growing argument that it was the escalating aggression of the game that led to that dreadful moment.
The irony was that, despite trying all of that in an evidently pained way, Coleman had already enraged so many with what he probably thought were his most innocent words of the lot. He had already said that phrase, the one you always hear in awful instances like this, with injuries like this.
"He's not that type of player," the Welsh manager said, before repeating it another six times.
It is amazing that a single phrase can at once be the most standard of stock cliches that every manager reaches for, and also something that fires emotions like nothing else.
That is also somewhat inevitable, however, and it is probably precisely the lack of thought that goes into the words that helps raises such anger. They have been said so often that they just sound empty, and therefore shouldn't be said at all.
There's also the bigger issue that, as one player's career potentially lies in ruins with his leg lying badly broken, one of the managers seems to be far more concerned with keeping the reputation of the other player intact. He's not that type of player but he's just committed that type of foul. It is as if the manager just isn't giving due consideration to the nature of the challenge, and can come across as insensitive.
For a moment, though, put yourself in Chris Coleman's position. He comes into the dressing room and sees a "devastated" and clearly remorseful Taylor, who wants to seek out Seamus Coleman and apologise. One thing is clear to the Welsh manager, and to those who know the 28-year-old full-back well. It would not be like Taylor to intend to injure Coleman, nor even to intend to "do" him, to use football speak.
The laws of the game may not say anything about intent when it comes to punishing bad challenges, but that's not what Chris Coleman is attempting to argue. He's merely seeing that the character of his player could be publicly questioned, and wants to defend him. He wants it out there that any presumed malice is not in his personality, and that is understandable.
That's essentially what the notorious phrase means. It's not about excusing the foul, but fairly clarifying that there is no extra level to it. Again, intent may not matter when it comes to the rules, but it does matter to those involved.
Similarly, none of this is to say that Taylor should not be harshly punished, nor that his challenge was not reckless. It really does not look good.
Even that, however, throws up a wider debate about the very nature of tackling in the game.
With many challenges like this in general - but not necessarily Taylor's - it is very difficult to say what actually is reckless, because it is so easy for the dynamic of football to make a run-of-the-mill tackle utterly ruinous. A little slow or a little late, or a little movement from the other player, and there's suddenly a massive difference as well as massive consequences.
Consider, after all, the fundamentals of what is actually happening. It is a very fast and free-flowing game where the actual laws on what constitutes fair tackling are hugely open-ended, but tackling is an essential and inherent part of the game. A lot of football, then, sees legs clattering into each other at high speed.
It is why, when people start to discuss such situations, all the usual analogies that come out like "murder", "hitting someone on the street" and "speeding in a car" are utterly ludicrous. In everyday life, you don't normally get into situations that can so easily spill into something else. In football, you do. Contact and collision are core parts of a relentlessly fast game, and that within relatively vague rules.
A ball can be "there to be got" only for a sudden unexpected movement to see a leg got instead. A clean movement can suddenly look filthy, or very quickly become 'that type of tackle'.
Even with Taylor's challenge, you could feasibly play Devil's Advocate. Rather than Coleman actually being in possession at the time, it was a loose ball, there to be claimed. Taylor was not then going in to tackle Coleman, but to retrieve it, and only saw the Irish full-back very late. It could be argued that was why his leg was positioned as high as it was, as he was attempting to hook a ball that was in play… only for an opposition player to unfortunately come into the picture so quickly.
Again, that is all playing Devil's Advocate, but the wider point is how easy it is for the contact nature of the game to throw up controversial and highly consequential moments and how difficult it can be to tell the difference. One source close to the Irish squad felt few would blame Taylor, because they know how easily something like that can happen.
The likelihood is that the Aston Villa player was hugely reckless, and it actually doesn't help his case that the referee had not properly sanctioned Gareth Bale or Jon Walters before him, because that added to the feeling that the game was getting more and more out of hand.
He will be punished for that, and rightly so.
It doesn't mean there is any malice, or that a challenge with lasting consequences should leave a lasting stain on his character.
That distinction is important, especially in a sport like this.
It's just that Chris Coleman could perhaps have put it in a more distinctive and considerate way.
Register for free to continue reading
Registration is a free and easy way to support our truly independent journalism
By registering, you will also enjoy limited access to Premium articles, exclusive newsletters, commenting, and virtual events with our leading journalists
Already have an account? sign in
Register for free to continue reading
Registration is a free and easy way to support our truly independent journalism
By registering, you will also enjoy limited access to Premium articles, exclusive newsletters, commenting, and virtual events with our leading journalists
Already have an account? sign in
Join our new commenting forum
Join thought-provoking conversations, follow other Independent readers and see their replies