Netherlands vs Mexico World Cup 2014 preview: The history and huevos of Miguel Herrera
Charismatic coach has hauled Mexico up from the depths and aims to make up for past World Cup pain against Dutch
Jack Pitt-Brooke
Sunday 29 June 2014 13:21 Comments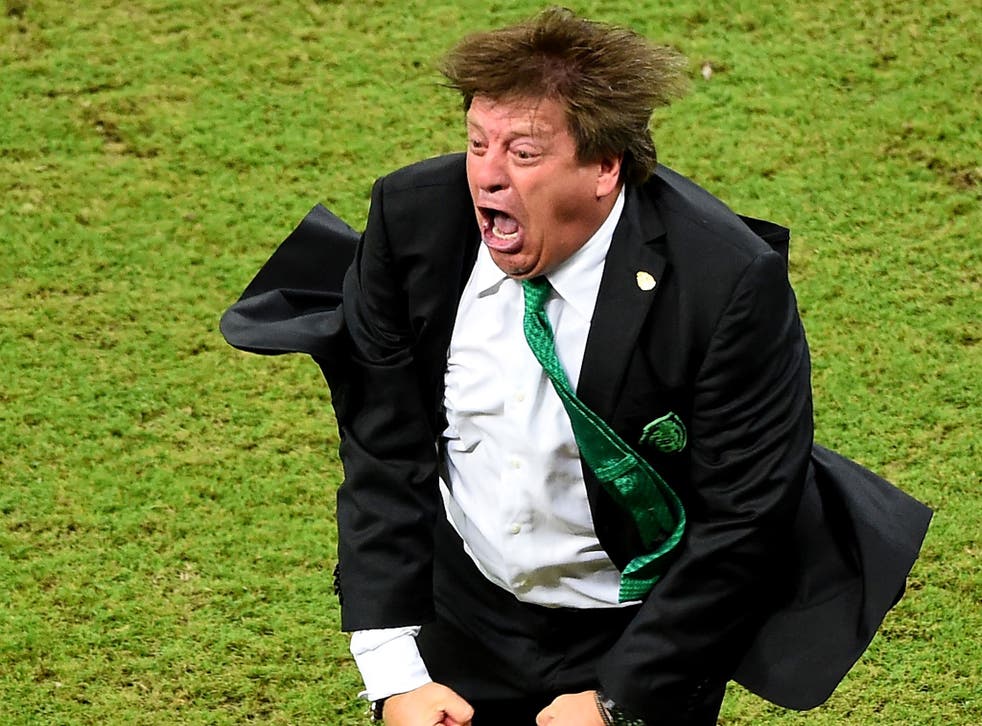 It takes charisma, nous, brains and what Latin Americans call huevos to go head-to-head with Louis van Gaal in a World Cup knockout match, and Mexico coach Miguel Herrera is perfectly equipped for it.
Herrera has become one of the most recognisable figures of the World Cup so far, a suited, mulleted volcano of energy and emotion in the technical area and beyond. He is the star of Mexico's otherwise starless side and the man who has dragged them up out of the mire and into tomorrow's fixture.
Mexico were handed a difficult group but came within two goals of topping it. Herrera masterminded a 1-0 win over Cameroon that was more one-sided than it looks, before shutting down Brazil 0-0 and routing Croatia 3-1 in Recife. With the support of 50,000 travelling fans, Mexico could reach their first quarter-final beyond home soil with a win tomorrow against the Netherlands in Fortaleza.
At the final whistle of the Croatia game, Herrera celebrated with his right-back Paul Aguilar and goalkeeper Guillermo Ochoa – whom he brought back from exile – with so much violent enthusiasm that it is already an internet sensation. Herrera, nicknamed El Piojo, the louse, tweeted to his 732,000 followers – itself a sign of his popularity and his accessibility – "I celebrate without restraint".
The players clearly adore Herrera for his passion, honesty and enthusiasm. This is the fourth World Cup in which Rafael Marquez has captained Mexico but he describes it as the best group he has ever worked with. "From the beginning with Miguel, he proposed important things for us," Marquez said after the Croatia game. "The important phrase we use in the group is 'to make history'. We are all united on this team, the players and the staff. We work with solidarity and happiness."
Miguel Herrera's best facial expressions

Show all 10
Herrera took charge at the end of a disastrous 2013, their fourth coach that year, after Mexico finished fourth – behind Costa Rica and Honduras – in the Concacaf final qualification group.
His first task, as he tried to inspire and unite a group of disillusioned players, was to face New Zealand in the intercontinental play-off. Herrera picked a squad of exclusively Liga MX-based players, and won 9-3 on aggregate.
Mexico, in fact, nearly did not even reach the play-off. Panama could have beaten the United States in their last game to deny them that, but the US won 3-2 in Panama City thanks to two goals in stoppage time. Herrera was asked whether Mexico owed the US for that late favour. "They owe us more," he joked, "for California."
Being at this tournament and representing his country means the world to Herrera. As a player he was a limited but furiously competitive stocky right-back, who fought his way into the Mexico team in qualification for the 1994 World Cup in the US. In a qualification tie against Honduras at the Azteca in April 1993, Herrera had to deal with left-winger Dolmo Flores.
The first time the players clashed, Herrera headbutted Flores and received a slap in return. The next time, Herrera kicked Flores up in the air and was sent off. Coach Miguel Mejia Baron did not believe he could trust Herrera and did not take him to the US.
That painful memory has never left Herrera, nor has the temper that caused it. "Obviously, it was a hard blow, but I have learnt that if you don't get up from the falls then obviously you aren't made to triumph," said Herrera, who has made a point of treating his players with the honesty and warmth he felt he never received. "Winners know how to pull themselves up off the mat."
At the end of his playing career he started to coach, working across Mexico before arriving in 2011 at Club America, one of the giants of Mexico City. He brought his brand of football, a 5-3-2 system that is solid at the back but insatiable on the break, defending and attacking as one, inspired by legendary Argentinian coach Ricardo La Volpe. It worked at America, who won the Clausura title in 2013, their first for eight years. His celebrations that night, in the rain in the Azteca, are themselves worth looking up on YouTube.
After it was announced that Herrera would take the job with the national team, he took Club America to one last final, against Leon for the Apertura title in December. He lost 5-1, though, and was furious that he was denied the perfect exit. Sent off from the touchline in the final minutes of the second leg, he raged about referees afterwards and stormed out of his press conference.
There was no perfect goodbye to Club America but the six months since could not have gone any better.
Register for free to continue reading
Registration is a free and easy way to support our truly independent journalism
By registering, you will also enjoy limited access to Premium articles, exclusive newsletters, commenting, and virtual events with our leading journalists
Already have an account? sign in
Join our new commenting forum
Join thought-provoking conversations, follow other Independent readers and see their replies