New manager can come in 'a few days' before Euros
Brooking insists Fabio's replacement may be 'parachuted in' on eve of tournament
Glenn Moore
,
Ian Herbert
Thursday 01 March 2012 01:00 Comments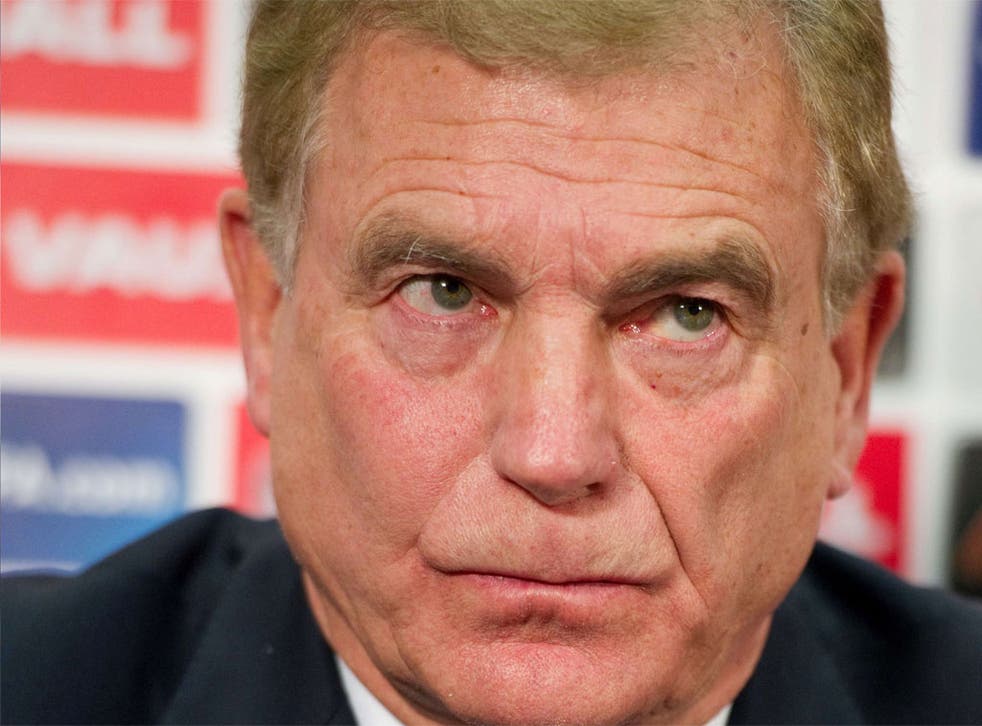 Trevor Brooking, one of the four Football Association officials who will pick the next England manager, last night said he believed somebody could be "parachuted in a few days before" the European Championship.
The FA's director of football development indicated that "sensitivities" around the appointment meant that option may be necessary – which appears to confirm that the FA have identified a manager currently employed elsewhere, almost certainly Harry Redknapp of Tottenham Hotspur.
"Everything will be in place [regarding preparation for the tournament]," Brooking said. "The backroom staff is very good. Whoever comes in will be really happy with that. The issue is the timing, that is why we don't think we are in any rush. I think you could get somebody parachuted in a few days before it, though I'm sure there are some people in our group who don't want that."
Adrian Bevington, Club England managing director, said on Tuesday that the FA had not spoken to any candidate. However, Brooking said the quartet – himself, Bevington, FA chairman David Bernstein and FA general secretary Alex Horne, were "ahead" on discussions about who their preferred choice is.
Brooking said: "We've been concentrating on the Holland game [which England, managed by Stuart Pearce, last night lost 3-2.] Now we'll sit down in the next few days and see what the timeframe is. We will take our time. I don't see anything happening soon. We obviously want to be aware of all the sensitivities before taking it forward. There are sensitivities."
Last night, after his young English side pulled back a two-goal deficit, with goals from Gary Cahill and Ashley Young in the last five minutes – only to concede to Arjen Robben's second, Pearce said that he had proposed to the FA that he should take England to the finals in Poland and Ukraine, before the permanent management role is handed to someone else. "When I put myself forward to the employers [I said] that I would have the experience to take the team to the finals. That wouldn't be daunting to me at all," Pearce said. "After that period, I don't have the experience for this job. I've really enjoyed this week and would enjoy the summer, but I'd only be buying the FA some time if they've not got someone in time. The full-time manager of England is somebody else. It's certainly not me."
Pearce said he had selected Scott Parker over Steven Gerrard as his captain because he felt the Tottenham player "would grow with the role. He's well respected in the group. He's an extremely unselfish player. All those things in the mix, he was an ideal man to captain the team."
He said of last night's audition for the temporary role he seeks: "I don't see it as a big night for me. I'm not auditioning for anything. I'm used to managing and being around squads. The staff and players have been focused and their attitude has been excellent. You can't guarantee results but I couldn't have asked for more. This won't affect my mentality in any way: I'll be the same man tomorrow as I was this morning."
Gerrard left the field after with a tight hamstring after 33 minutes, 12 minutes earlier than his scheduled exit. He apologised to Pearce as he left. Manchester United's Chris Smalling split his head open in a clash with Klaas Jan Huntelaar as he put the Netherlands 2-0 up. Huntelaar was treated in hospital for his own head injury. Fraizer Campbell appeared as a late substitute just as his daughter, Isla Rose, was being born.
Register for free to continue reading
Registration is a free and easy way to support our truly independent journalism
By registering, you will also enjoy limited access to Premium articles, exclusive newsletters, commenting, and virtual events with our leading journalists
Already have an account? sign in
Join our new commenting forum
Join thought-provoking conversations, follow other Independent readers and see their replies