Next England manager: FA to interview Jurgen Klinsmann but Sam Allardyce is England job front runner
There is a growing sense that Allardyce is the FA's man, with his Wearside employers already placing Burnley's Sean Dyche on their contingency list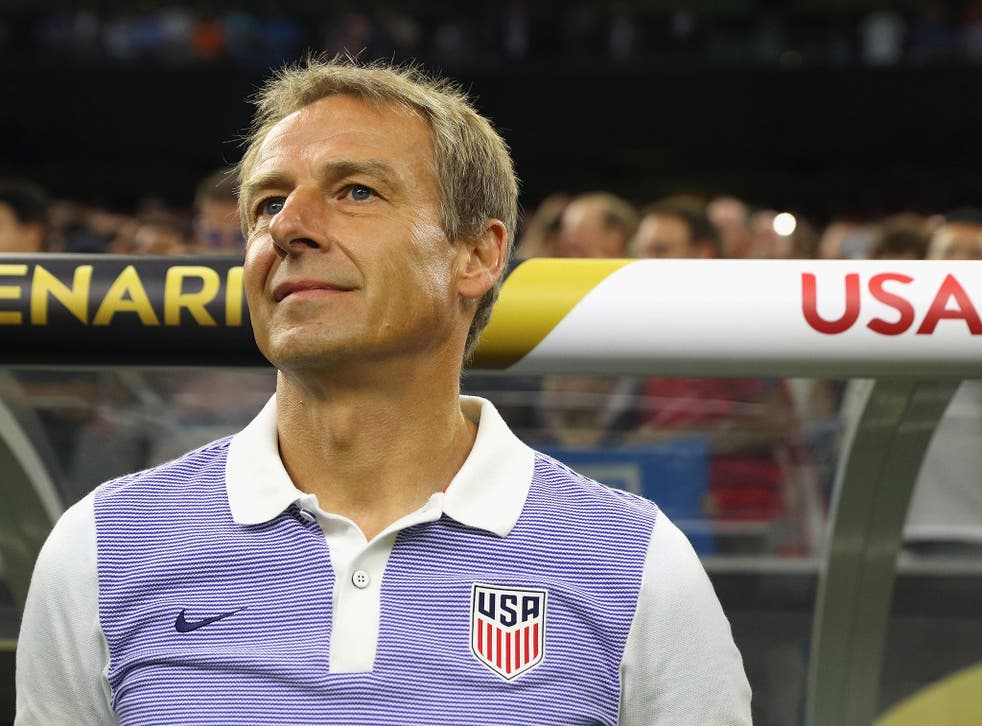 The Football Association will interview Jurgen Klinsmann for the England manager's job and are seriously considering him as a successor to Roy Hodgson, though the Sunderland manager Sam Allardyce remains the front runner to get the position he was denied ten years ago.
With the governing body being accused by Sunderland on Wednesday of 'damaging' their pre-season preparations and urged to "bring about a swift resolution to this matter," it is thought Klinsmann may be interviewed in the next 48 hours.
But there was a growing sense that Allardyce is the FA's man, with his Wearside employers already placing Burnley's Sean Dyche on their contingency list of possible successors if the 61-year-old is handed the national post.
Klinsmann brings substantial experience of handling superstar bracket players like those within the England ranks, having presided over a German national side that played expansive football to a third place finish at the 2006 World Cup. He was sacked after a season at Bayern Munich as results were not good enough but been at the helm of the United States national side since 2011.
But Allardyce's more collaborative approach to management is thought to be a factor which weighs in his favour and the idea of a potential future successor, such as Gareth Southgate or Gary Neville, working as his assistant will certainly strengthen his standing. Klinsmann would potentially bring a very different approach and has a record of clearing out staff and appointing his own staff when moving into new managerial positions
Allardyce has long coveted the national job and was deeply disappointed when he lost out in a two-way contest with Steve McClaren, a decade ago. He made his interest transparently clear by returning on Tuesday from Sunderland's pre-season training camp in Austria and being available for interview at the home of FA board member David Gill. Sunderland confirmed on Wednesday that the FA had asked their permission to approach him.
Possible Roy Hodgson replacements

Show all 8
Despite Allardyce's keen interest, there is likely to have been some jocularity at his meeting with the governing body about his attempts to provide a Power Point presentation when he was interviewed in 2006. The FA then told him back then that there were no Power Point facilities at the interview venue in Oxfordshire and that he would have to print off hard copies of the presentation. "So much for the progressive FA," he reflected later.
Allardyce's pitch for the job in 2006 also included a secure communications system which would allow players to download their programme for international get-togethers while still at their clubs. The system, similar to one developed for player at Bolton, where Allardyce was manager at the time, was to include information on opponents, travel plans, facilities in the country they would be travelling. "The idea was that when they arrived, they were familiar with what tey had to do and there would be no surprises," Allardyce later reflected. He also wanted input into the complete FA structure, from the senior team through the under 21s to the younger age groups.
In their statement, Sunderland said: "Sam is very much key to our plans. After what was an extremely challenging season, we are keen to see a period of stability, both on and off the field, and we want him to remain as manager of our football club.
"The on-going speculation over Sam's position is extremely damaging to Sunderland AFC, particularly at this crucial time of the season and we urge the FA to respect the disruption that this process is causing and bring about a swift resolution to the matter."
Register for free to continue reading
Registration is a free and easy way to support our truly independent journalism
By registering, you will also enjoy limited access to Premium articles, exclusive newsletters, commenting, and virtual events with our leading journalists
Already have an account? sign in
Register for free to continue reading
Registration is a free and easy way to support our truly independent journalism
By registering, you will also enjoy limited access to Premium articles, exclusive newsletters, commenting, and virtual events with our leading journalists
Already have an account? sign in
Join our new commenting forum
Join thought-provoking conversations, follow other Independent readers and see their replies