Pathetic England plumb new depths in Eriksson's self-inflicted shambles
Northern Ireland 1 England
Sam Wallace
Thursday 08 September 2005 00:00 Comments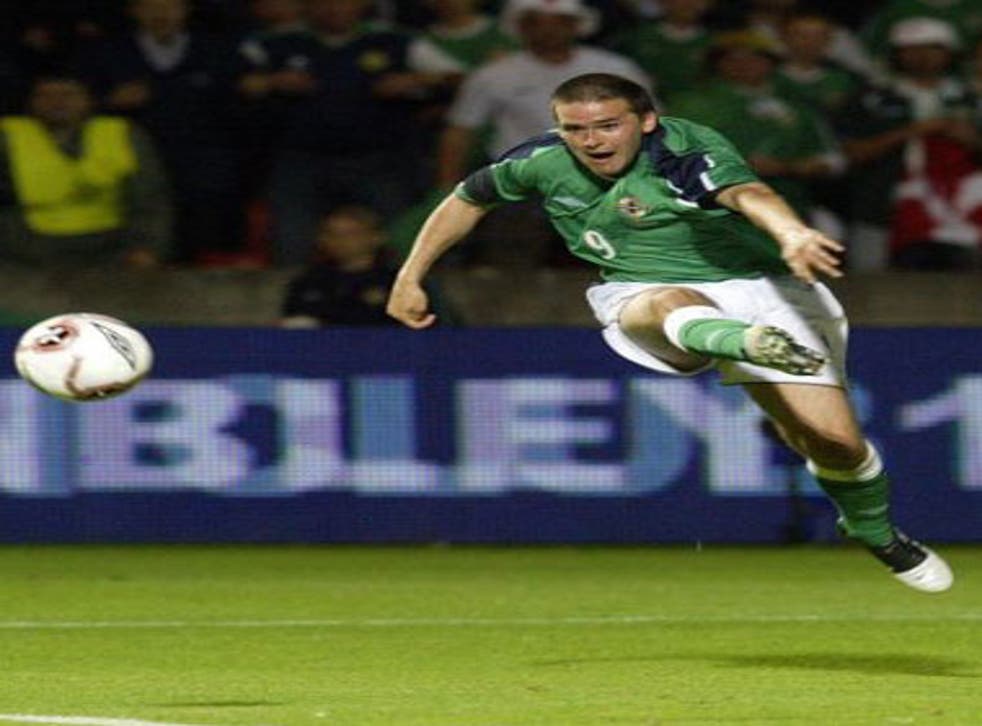 What Windsor Park will remember, on the occasion of their first victory over England in Belfast in 78 years, was David Healy's 74th-minute goal; what the English will recall were the inadequacies we feared lurked beneath Eriksson's methods being dragged into the open and confirmed as ghastly reality. Never has the pressure on the Swede been so intolerable, never has his policy of management by consensus failed so dreadfully, never has an England side been so humiliated since a shock 1-0 loss to the United States 55 years ago.
It can never be the same for Eriksson again. Defeat against a team ranked equal 116th in the world, lower than Turkmenistan, brings a focus and a scrutiny to the Swede's modus operandi as never before. He now takes his place in the national team's great historical cycle of soaring hope and crushing disappointment. There can be no unquestionable loyalty to the great stewards of his regime ­ David Beckham, Michael Owen, Steven Gerrard and Frank Lampard ­ in the face of such a devastating defeat.
The problems that England have wrestled with for so long returned with a vengeance that took the breath away. The 4-5-1 formation was abandoned within an hour and 4-4-2 offered no more solace. Wayne Rooney's temper almost saw him sent off in the first half and Eriksson admitted that he almost substituted him at half-time. Lampard and Gerrard passed each other like strangers on a railway station platform and Rio Ferdinand was a poor imitation of an international defender.
There was, of course, another side to this story. "It's amazing what you can do if you believe," said Northern Ireland's manager, Lawrie Sanchez, and there was no doubt at all which of these two teams believed in their leader. Healy, a former Manchester United trainee whose Old Trafford dreams disintegrated as Beckham's took shape, was outstanding. So, too, James Quinn, a striker who English football judges good enough only for Peterborough, and Aaron Hughes, an inspirational captain of a formidable team.
To qualify for the World Cup next summer, England must beat Austria and Poland at Old Trafford but first they must contemplate what defeat to Northern Ireland represents. And they must do so without Rooney in the game against Austria after the 19-year-old picked up a booking that will earn him a suspension. However they reach Germany next summer, they will do so with this result shadowing every statement of belief, every affirmation of faith in their manager.
Sanchez's men quickly generated the hostility lacking in a ground holding just 14,000; every tackle was designed to sting in the game's first five minutes. The tactic of aggression was one that ground away slowly at the England players' patience and there was no surprise at whose temper frayed first.
Out on the left, where Rooney had been given little mercy by Birmingham's Damien Johnson, the teenage striker's cool went under a challenge from Keith Gillespie and he lashed out with an arm. Even Beckham and Ferdinand, trying desperately to calm their team-mate, were greeted with expletives.
It could so easily have been more damaging when Rooney, still boiling, chased down Chris Baird and was lucky not to have his night's football curtailed within the first half. By then, the merits of the 4-5-1 formation was in severe doubt as the early assault on the home end started to run desperately short of originality and penetration.
With a stroke of luck that saw Beckham's 28th-minute free-kick clip a post, Sanchez's side did rather more than hold out England. By the end of the half they were posing questions to the away defence.
Eriksson's team had a quantity of possession befitting a side with five in midfield and every one of them an accomplished passer of the ball. In the opening stages Beckham's passes out over the head of the beleaguered left-back Tony Capaldi to Shaun Wright-Phillips looked to be England's most dangerous attacking strategy.
Yet in that role in front of his defence there can be no question that he cramps the style of Lampard and Gerrard. The Liverpool captain's best moment came at the end of the half when he cut back a ball to Owen who, with his back to goal, improvised with an overhead kick that was struck straight at Maik Taylor.
Only a shot from Lampard threatened before Northern Ireland scored. It came from Steven Davis' ball down the right which Healy ran on to, played onside by Ferdinand. Steadying himself in the England penalty area the Leeds striker struck a rising shot past Paul Robinson into the top corner.
Chaos in the England formation. Jermain Defoe was sent on to add to the attack. So, too, Owen Hargreaves, although it was hard to see why. The best chance fell to Warren Feeney who struck it wide ­ and four minutes of added time seemed only to prolong the agony of England rather than that of the home side.
NORTHERN IRELAND (4-4-2): Taylor (Birmingham City); Baird (Southampton), Craigan (Motherwell), Hughes (Aston Villa), Capaldi (Plymouth Argyle); Gillespie (Sheffield United), Davis (Aston Villa), Johnson (Birmingham City), Elliott (Hull City); Healy (Leeds), Quinn (Peterborough). Substitutes: Feeney (Luton) for Quinn, 77; Sproule (Hibernian) for Healy, 88; Duff (Burnley) for Elliott, 90.
ENGLAND (4-5-1): Robinson (Tottenham); Young (Charlton), Carragher (Liverpool), Ferdinand (Manchester United), A Cole (Arsenal); Wright-Phillips (Chelsea), Gerrard (Liverpool), Beckham (Real Madrid), Lampard (Chelsea), Rooney (Manchester United); Owen (Newcastle). Substitutes: J Cole (Chelsea) for Wright-Phillips, 53; Defoe (Tottenham) for Gerrard, 75; Hargreaves (Bayern Munich) for Lampard, 80.
Referee: M Busacca (Switzerland).
Man-for-man marking
NORTHERN IRELAND
MAIK TAYLOR
Assured display. Held nerve to save overhead kick from Owen and got fingertips to Lampard screamer. 8/10
CHRIS BAIRD
Spent much of his time trying to thwart Rooney's runs, mostly with neat effect. 7
AARON HUGHES
Made some important interceptions, denying Owen and Wright-Phillips first-half chances. 6
STEPHEN CRAIGAN
Kept tabs on lone striker Owen to deny him space and time. 6
TONY CAPALDI
Performed solidly in the face of Wright-Phillips, who was at least diverted. 6
KEITH GILLESPIE
Played his part in a "defence first" strategy, but that limited his ability to be useful out wide. 6
STEVE DAVIS
Gave away a free kick on 27 minutes but steadied to harry, hustle and probe. 7
DAMIAN JOHNSON
More effective closing down than trying to go forward under reciprocal pressure. 7
STUART ELLIOTT
The Hull frontman craved the ball, ran miles in search of it, and was rewarded eventually with chances. 7
DAVID HEALY
Tough early challenges set the tone for a display of necessary muscle capped by a superb goal. 8
JAMES QUINN
Tough early approach and tackles galore gave way to more upfield adventure as game wore on. 7
SUBSTITUTES
Feeney: Late sub who had two close chances.
Sproule: Came on for final couple of minutes.
Duff: Came on in added time.
ENGLAND
PAUL ROBINSON
Authoritative for most part. Could do nothing to stop Healy goal. 6/10
LUKE YOUNG
Won the early aerial battles when England were dominant but struggled later. 5
JAMIE CARRAGHER
Untroubled early, so spent more time upfield than at the back, where he did a routine job, nervy later. 5
RIO FERDINAND
Lack of early opposition pressure gave him time and space to be calm, but complacency set in later. 4
ASHLEY COLE
Plenty of early involvement but faded later. 4
DAVID BECKHAM
Sprayed multiple incisive passes in first half. Less in second, intensifying positional debate further. 5
FRANK LAMPARD
Recovered from early knock to play a distribution role. But three midfielders trying to do so did not help. 5
STEVEN GERRARD
Gave as good as he got but also suffered from duplication of central duties. 5
SHAUN WRIGHT-PHILLIPS
Home side did well to limit clear openings. 6
WAYNE ROONEY
Lost his temper as frustration at lack of progress marred sporadic positives. Calmed later. 5
MICHAEL OWEN
Found small pockets of space in packed opposition area. But had shots blocked. 5
SUBSTITUTES
JOE COLE On for Wright-Phillips after 53 minutes to provide central link to Owen. No end product. 5
OWEN HARGREAVES Tried with be creative to little effect.
Nick Harris
Register for free to continue reading
Registration is a free and easy way to support our truly independent journalism
By registering, you will also enjoy limited access to Premium articles, exclusive newsletters, commenting, and virtual events with our leading journalists
Already have an account? sign in
Join our new commenting forum
Join thought-provoking conversations, follow other Independent readers and see their replies