Phil Neville insists he got England job as he was best candidate and urges Manchester United to form women's team
He wants his former club Manchester United to establish a women's team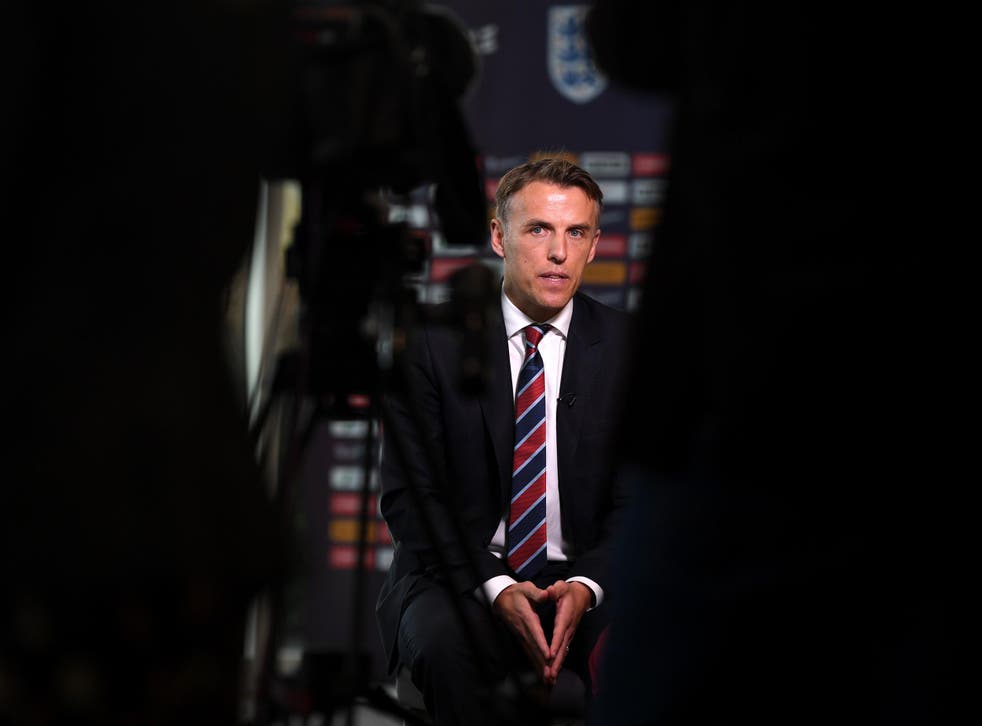 New England Women's head coach Phil Neville believes he was the best candidate available for the role vacated by Mark Sampson, despite reservations about his lack of experience, and refuted claims that he saw the job as a "stepping-stone."
The former Manchester United defender, who was confirmed as Sampson's successor last week, entered the role under a cloud following concerns as to whether he met the FA's criteria for the job, as well as controversial tweets being unearthed that contained comments perceived as sexist and jokes about domestic violence.
Facing the media for the first time, Neville was quick to apologise for the social media comments, stating that he was "disappointed in himself," and only had himself to blame.
"It is disappointing, but I have to look at myself in the mirror. It's nobody else's fault, and that's why I felt it was important to apologise. It's not a reflection of my character, my beliefs. It (one of the tweets) related to a competition between me and my wife on the table tennis table or basketball, but even those words were terrible, so I apologise."
Neville said he came off Twitter following a tweet in English and Spanish to say goodbye. He outlined he felt he should not be on social media when in a head coach role, which contributed to the closure of his account. The FA confirmed his social media was checked while going through the process, but certain tweets were not picked up.
Another area of scrutiny that Neville has faced is his lack of experience, not just in the women's game, but as a head coach. Respected, well-qualified coaches that applied for the job, were not even interviewed. While others, well known to be on the FA's shortlist, dropped out of the running due to other opportunities arising.
Neville revealed he had to go through a seven-hour presentation for the FA board outlining his vision for the national team, grassroots football and other areas, while a further three hours was spent assessing his tactical and technical knowledge.
On those questioning Neville's credentials, he said: "Sue Campbell (Director of Women's Football) didn't walk into the room and say 'here's the keys to the castle,' it was a thorough interview process. I think I'm the best qualified person for this job, I've played at elite level and I've worked with the Manchester United and Valencia players - under scrutiny, pressure.
"I've seen some journalists say it's only a stepping-stone, I've never used the word stepping-stone. Anything other than this would be a step down."
One thing Neville didn't do was sugar-coat his lack of knowledge of women's football. He was asked to name the top scorer in the FA Women's Super League, and despite questioning whether it was Izzy Christiansen, the right answer, he wasn't sure enough to confirm.
He accepted that he would need time to get to know his players and learn about the game, but that he would be surrounding himself with the right people to support. The hope is his coaching staff will be in place by the end of the week and defender Casey Stoney is expected to be named on it.
Neville, whose son is in the Valencia academy, will be moving back to England from Spain on Wednesday to dedicate his time to his new role and ensure he is able to get to as many FA WSL games as possible.
One club he won't have to visit at present is Manchester United, who have come under fire in the past for not having a professional women's team. The club has a centre of excellence for young girls, but once they get to the stage where they want to play professionally, they have to move to the likes of rivals Manchester City, Liverpool or Everton to live out their ambitions.
Neville outlined his desire for his former club to have a women's team, and said he would be encouraging them to join the professional ranks, and believes they should be challenging the likes of City, Chelsea and Arsenal.
"I believe they are in the process of doing that (having a women's team). A club like Manchester United should be leaders, pioneers."
England's new coach has just shy of four weeks to absorb as much information as possible before his team heads stateside for matches with France, Germany and the USA - three of the top six ranked teams in the world.
He confirmed that Manchester City's Steph Houghton will remain captain of the team, and that she has already been notified. He also confirmed that he has spoken to players, on an individual basis and as a team, while in La Manga last week.
The aim now is to prove that he is the right candidate for the job, and wasn't approached because of the Neville name and his ability to raise the profile of the women's game - again something he refuted.
The three matches in the SheBelieves Cup will give an early indication as to Neville's style and whether he is able to outsmart those who know the women's game inside out.
Ultimately, the three matches don't matter in terms of results as they are friendlies, but with a World Cup in France next year, Neville knows that he is already under pressure to succeed. A repeat of World Cup 2015, where England finished third, would be, in his eyes, failure.
"I want to finish first, I want to win every game at SheBelieves, and that mentality is the only mentality that will make us succeed. It was the mentality at Manchester United, the mentality at Everton, and the mentality at Valencia. You have to win football games.
"We've got world class players. There are not many managers who can get a job with a genuine chance of winning a World Cup. Third will not be good enough."
Join our new commenting forum
Join thought-provoking conversations, follow other Independent readers and see their replies