Poland vs Portugal match report: Lewandowski finally gets off the mark, but Poles are sent home after shootout
Poland 1 Portugal 1 (Portugal win 5-3 on penalties): Poles lose out despite star striker hitting his first goal of Euro 2016 and Cristiano Ronaldo having a quiet night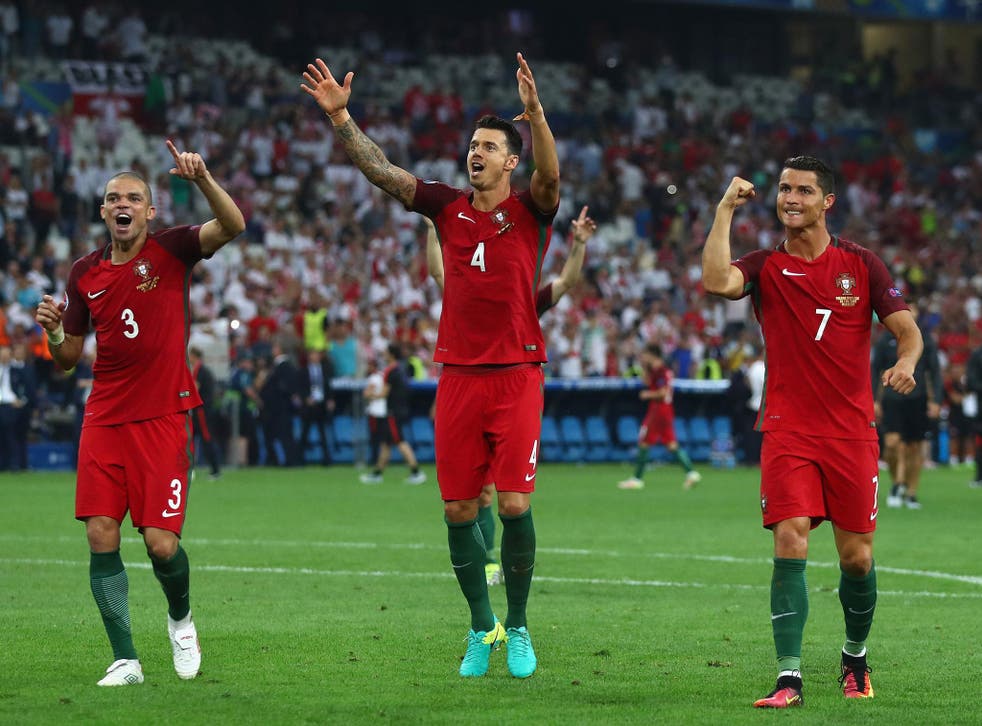 Portugal, the team that have failed to win any of their games in normal time, will face either Wales or Belgium in the semi-finals of Euro 2016 after overcoming Poland on penalties.
When Rui Patricio saved from Jakub Blaszczykowsi, Cristiano Ronaldo punched the air. Four years ago, in Donetsk, Portugal had been eliminated in a penalty shootout against Spain in which Ronaldo, as the fifth penalty taker did not get to take a kick.
This time he went first in front of his own fans and scored. For Poland this was their second, successive shoot-out having scored all five penalties to beat Switzerland. However, once Blaszczykowski failed it just required Ricardo Quaresma to score and his penalty, into the roof of Lukasz Fabianski's net, brooked no argument.
Portugal, whose defence, superbly organised by Pepe, had largely kept Poland at bay after Robert Lewandowski's early opener, ought to have won the game in normal time.
But Ronaldo was misfiring. He ran onto a lovely, lofted ball from Joao Moutinho and, not for the first time in this quarter-final, failed to connect with anything at all.
In an increasingly broken-up second half, his was not the only error. Shortly before, Pepe had tried to pass to Ronaldo, Artur Jedrzejczyk struck out a leg and almost deflected it past his own goalkeeper. As the ball skidded wide of Fabianski's post, the defender who plays his football in far-off Krasnodar in southern Russia, blew air from his cheeks and gave a deep sigh of relief. Extra-time was simply a countdown to the penalty shoot-out that had increasingly looked the summit of both teams' ambitions.
Now that England have been eliminated with their usual speed from a major tournament, the question is who of the last eight to support. Poland have as good a claim as anyone. Polish is Britain's second language – the country has nearly a quarter of a million more who speak Polish than Welsh. The plumbers, engineers and electricians who had been alarmed by Brexit needed some cheering up and, before two minutes were up, they would have been on their feet.
Lewandowski has been the central figure of Poland's advance through Euro 2016, not because of the goals he has scored but those he has missed. His manager, Adam Nawalka, had been forced to talk about how hard Lewandowski had worked for the rest of his team but as Kamil Grosicki took advantage of Cedric Soares's misjudgement and delivered a low pull-back for his captain, there would now be goals to discuss. Lewandowski met it with his instep and struck it so well that it was past Rui Patricio before he had moved to save it.
This should not have been a terribly good game. Both sides had been fortunate to win their round-of-16 matches while Poland had reached the quarter-finals by scoring three goals. Suddenly, confidence seemed to spark from them, just as it did with England when Alan Shearer broke his drought during Euro 96. There were some lovely, sharp moves involving Lewandowski, Grosicki and Arkadiusz Milik which just failed to produce a second goal.
Naturally, Portugal looked to Ronaldo and the danger was that he would feel the responsibility too deeply and try to do everything himself. He had never scored from a free-kick in a major tournament and now from 35 yards he took predictable aim and drove the ball straight into the wall.
He might, however, have won a penalty. When he challenged Ronaldo for a high ball in the area, Michal Pazdan appeared to push the Portugal captain in the back. Ronaldo went over and, when he realised the penalty would not be given, he slammed his fists into the turf.
Then, when struck by a high challenge from Grzegorz Krychowiak, Ronaldo was on the ground once more, although this time the pain was physical rather than mental. After the interval, he shot into the side netting and then swung at the ball and missed completely, his boot connecting with the night's thick, humid air.
The game was swung Portugal's way by the teenager who will probably replace Ronaldo as the nation's finest footballer. Renato Sanches, born in Lisbon but with parents hailing from the Atlantic islands of Sao Tome and Cape Verde, was good enough for Bayern Munich to pay £28m for his services when he was just 17 and had completed a single season of first-team football for Benfica. Since Benfica had paid £600 and 25 footballs for Sanches, this represented a reasonable return on their investment.
Now, he showed why. The equaliser was set up by a fabulous back-heel from Nani, who has had a very good tournament. Sanches took one touch and then crashed the ball past Fabianski. This was a match that was supposed to have decided what Ronaldo's international legacy would be, although it might have been a night when a torch was passed from one generation to another.
Poland (4-4-2): Fabianski; Piszczek, Glik, Pazdan, Jedrzejczyk; Blaszczykowski, Krychowiak, Maczynski, Grosicki; Milik, Lewandowski.
Portugal (4-1-3-2): Rui Patricio; Cedric Soares, Pepe, Fonte, Eliseu; Carvalho; Joao Mario, Sanches, Silva; Nani, Ronaldo.
Referee Felix Brych (Germany)
Join our new commenting forum
Join thought-provoking conversations, follow other Independent readers and see their replies