Poland vs Portugal preview: Time for Cristiano Ronaldo and Robert Lewandowski to rise to the occasion
They are their respective teams' only world-class players, but both have struggled in France so far this summer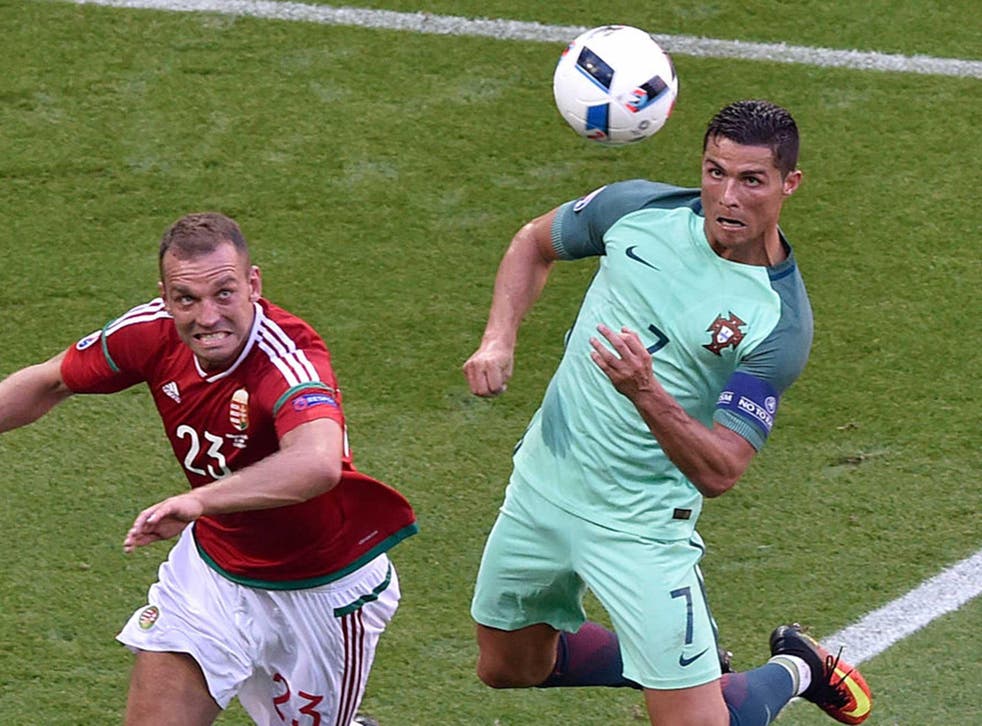 The Wikipedia entry on the rivalry between Lionel Messi and Cristiano Ronaldo runs to 5,700 words. Put another way that is almost double the coverage given to the Wall Street Crash, the event that triggered the Great Depression and the rise of Adolf Hitler.
Now, however, the careers of the men who have shared the Ballon D'Or for the last eight years have diverged. After clipping his penalty over the bar in the final of the Copa America, Messi is no longer an international footballer. Ronaldo, two years older, is still standing.
Their international careers demonstrate the validity of Sir Alex Ferguson's remark that while Ronaldo could play for any team in the world, Messi could only play for Barcelona. In Munich, a decade ago, Ronaldo was playing France in a World Cup semi-final. It had been billed as Portugal v France but to those in the Allianz Arena there appeared only one possible way Portugal would reach the final.
Ronaldo, who had scored the penalty that had eliminated England in the quarter-final, attempted everything he knew to break down France's defence. It was not enough but he was then 21 years old.
In Sao Paulo two years ago, Messi led Argentina's attack against the Netherlands in another World Cup semi-final but it was an occasion that, like the final that followed it, appeared to pass him by. There was not the furious assault that Ronaldo delivered in what is still probably the game of these European Championships, the 3-3 draw with Hungary.
But for his two goals, one a fabulous back-heel delivered at pace, Portugal would have been eliminated. "It is what Cristiano is all about," said his manager, Fernando Santos. "He had to score those goals because he is a winner."
When Portugal faced Croatia, who were a vastly better side, Ronaldo was restricted to 19 touches of the ball in normal time. The game was 70 minutes old before he touched the ball in the Croatian penalty area.
However, as in this year's European Cup final, where he played anonymously for Real Madrid but still scored the winning penalty against Atletico, Ronaldo had the final word. It was his shot, the first on target of the match, that was parried high for Ricardo Quaresma to head home from a couple of feet.
Now there is Poland in the Stade Velodrome in the first of the quarter-finals. Poland, like Portugal, are slightly fortunate to have made it this far. Like Croatia in the round of 16, Switzerland had the queasy experience of being the better team and losing.
Fondest memories of the European Championship
Poland, like Portugal, have a single, world-class footballer. However, Robert Lewandowski, one of the pre-tournament favourites to win the Golden Boot, has not actually managed a shot on target. Lewandowski is not backing his desire to leave Bayern Munich for Real Madrid with the kind of displays that would make Real drive up their offer to irresistible levels.
His manager, Adam Nawalka, has grown weary of being asked about Lewandowski's form. Like Terry Venables whenever Alan Shearer's lack of goals was questioned before Euro 96, Nawalka talks about his contribution to the team, the way he creates space for others. He cannot talk about Lewandowski's goals because there have not been any.
The top 20 most searched-for players at Euro 2016

Show all 20
Lewandowski has been the tournament's most fouled footballer, an accolade Ronaldo would be familiar with. "Because Robert is one of the best strikers in the world he is double and sometimes triple marked," said Nawalka, whose career unlike so many in Polish football, has been played out almost entirely in his native land. "Every attempt to tackle him is on the edge of a foul, they are trying to eliminate him at any cost. Although he is physically coping with it very well, the referees need to react quickly with yellow and red cards." That statement was directed squarely at Pepe.
Poland vs Portugal: Tale of the tape
Poland are based in La Baule, an elegant seaside resort on the French Atlantic coast that England used as their base during the 1998 World Cup. It says something about football's differing attitudes that Lewandowski's strike partner, Arkadiusz Milik, was completely taken aback when a reporter from Polish television suggested he and his team-mates were on the "brink of immortality". Ronaldo would have known precisely what the questioner was getting at.
When Poland qualified for the European Championship, Milik was asked who he wanted to play. The 22-year-old, who has worked closely with Dennis Bergkamp since arriving at Ajax, said Portugal as it would mean facing Ronaldo: "Because he is the world's best example of what you can achieve through hard work."
Register for free to continue reading
Registration is a free and easy way to support our truly independent journalism
By registering, you will also enjoy limited access to Premium articles, exclusive newsletters, commenting, and virtual events with our leading journalists
Already have an account? sign in
Join our new commenting forum
Join thought-provoking conversations, follow other Independent readers and see their replies