Poles apologise for violence to Russians
'Slavic comradeship' on the streets of Warsaw before final group matches
George Brown
Saturday 16 June 2012 21:19 Comments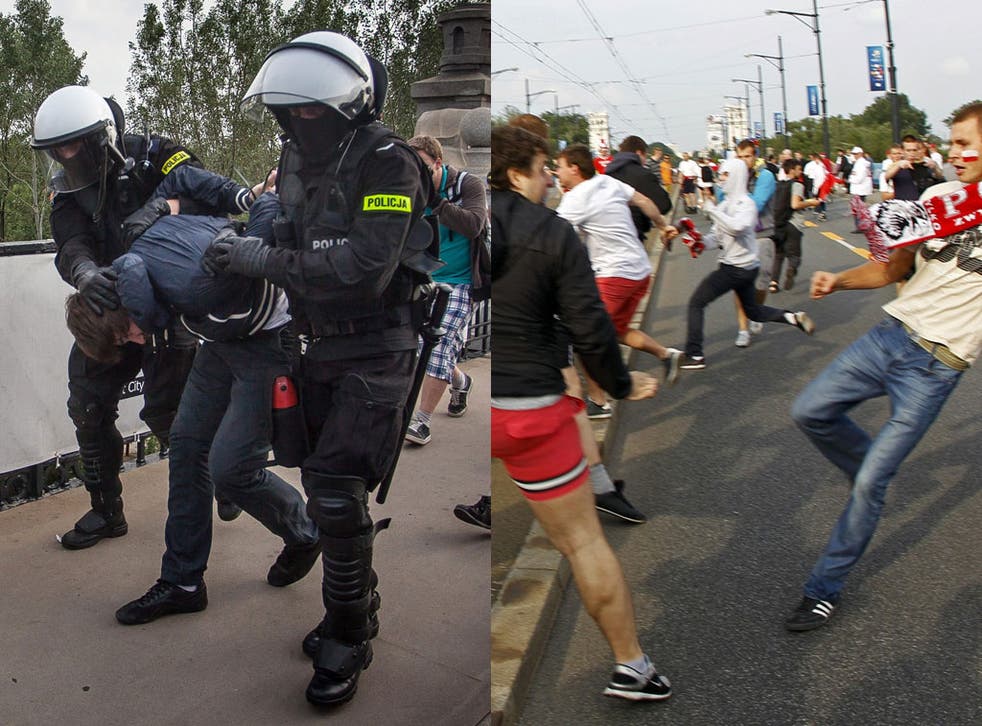 A young Polish man approached three Russians on a street in Warsaw yesterday and apologised.
"We are really sorry," Marek Wolski told them. "We are ashamed."
It's a scene that has played out repeatedly since Polish hooligans attacked Russians on the streets of Warsaw on Tuesday ahead of an emotionally charged match between their national teams – one that pitted historic foes against each other.
Officials feared there could be more trouble yesterday with some 20,000 Russians expected to see their team play Greece in Warsaw's National Stadium.
Tuesday's violence got a lot of attention and the risk of more trouble is real given the existence of thugs – or "cretins", as Poland's justice minister called them on Friday.
Polish and Russian authorities have since sought to play down tensions between the two countries, but relations have been made fraught by centuries of conflict and the Soviet domination of Poland for more than four decades after the Second World War.
But the reality is that encounters between Poles and Russians are often warm despite that historical emnity. That Slavic comradeship was on display yesterday on Warsaw's streets hours before Russia played Greece and Poland took on the Czech Republic in Wroclaw in the final Group A matches.
Poles and Russians could be seen drinking together at outdoor cafes. One couple walked down a street pushing a baby carriage, him in a Polish team jersey, her wrapped in a Russian flag. It almost made the large number of police all over the place seem redundant.
"We have a lot in common," said Wolski, a 30-year-old lawyer. "We like the same music, we drink a lot like the Russians do, and we like to party together."
The Russians he approached on the street said it wasn't the first such apology they had received.
"About 30 to 40 Poles have come up to us in the past three days – Poles between the ages of 30 and 70 – and said they want to apologise for those 100 bastards who made Poland look bad," said Artem Borodin, a 28-year-old from Moscow.
Borodin and his friends said they witnessed some of Tuesday's violence first hand, crouching behind a police car when Polish thugs with batons began kicking and hitting Russians who were marching to the stadium.
But they also witnessed kindness. "Police were sitting in their cars not reacting and it was normal Poles who went to the police and asked them to intervene," he said.
Tuesday's clashes led to a few dozen injuries and more than 200 arrests.
After Wolski made his apology, he shook hands with the Russians and bade them farewell. He said he was furious at "Polish criminals" that made his country look bad across the world.
On one of Warsaw's most popular streets, Nowy Swiat, another young Polish man and three Russian fans were enjoying cold beers at an outdoor cafe. Grzegorz Bajer had met the Russians in Wroclaw last week when Russia played their opening match against the Czech Republic.
"We liked each other so I made the trip to Warsaw to meet them again," said Bajer, a 28-year-old financial adviser in between jobs.
"Normal Polish people do not have bad feeling toward Russians," he added. "History is in the past. Now is the present and the future."
Meanwhile, Warsaw bars and restaurants are marvelling at Russian fans' expenditure during Euro 2012, selling them litres of vodka and champagne and traditional Polish pork dishes.
"The Russians know how to party and they spend a lot. They seem to be having a lot of fun in Warsaw," said Adrian, a waiter at a restaurant in the city centre.
"They mostly order Polish cuisine, but, let's be honest, they do not pay any attention to the prices and they order the most expensive alcohol in significant quantities," said Stanislaw Korzynski, head waiter at another restaurant close to the historic old town.
Waiting staff are also delighted. "Russians tend to spend 25 to 50 per cent more than the rest of our clients and give very high tips," said waitress Ania.
Even the city's Greek restaurants are feeling the benefit of the thousands of Russian fans. "They are not sparing with either their euros or their zlotys," said Arkadiusz Danielewski, the manager of a Greek restaurant.
Register for free to continue reading
Registration is a free and easy way to support our truly independent journalism
By registering, you will also enjoy limited access to Premium articles, exclusive newsletters, commenting, and virtual events with our leading journalists
Already have an account? sign in
Join our new commenting forum
Join thought-provoking conversations, follow other Independent readers and see their replies