Portugal vs Iceland match report: Birkir Bjarnason earns newcomers surprise draw on debut
Portugal 1 Iceland 1: Cristiano Ronaldo frustrated as Nani opener is cancelled out by Bjarnason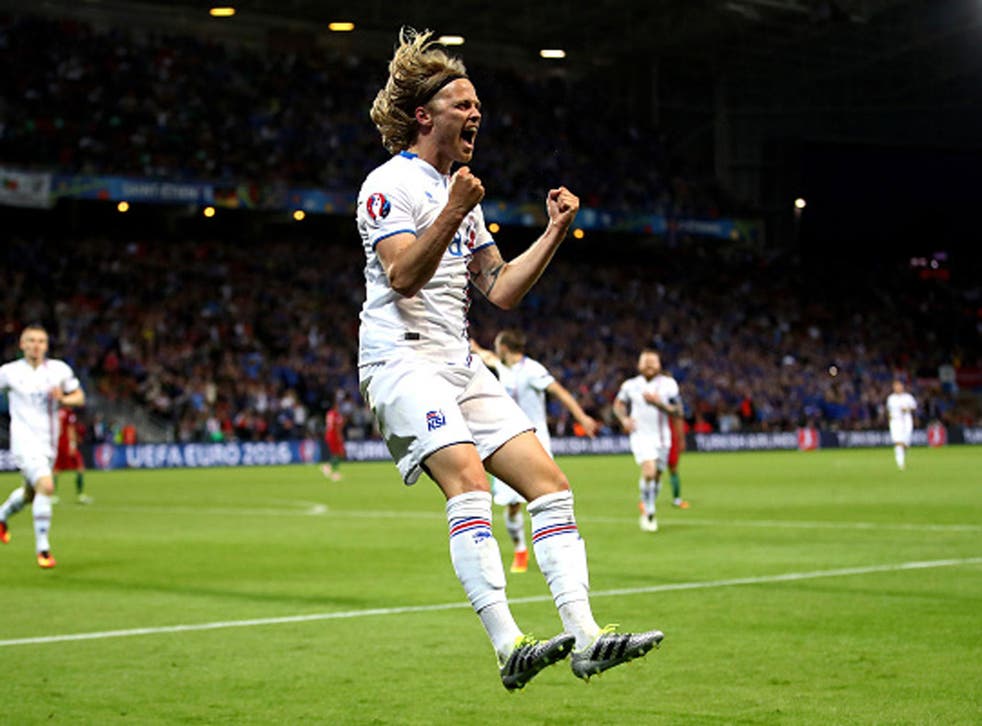 It is estimated that eight per cent of the population of Iceland have travelled to France to watch them in the European Championship, although since the population of Iceland is roughly that of Leicester, it was not a mass migration.
This is, however, not a bad year to have any kind of association with Leicester and Iceland produced what will be recalled as one of the most heroic performances of Euro 2016.
In their first match of any major tournament, Iceland fell behind, equalised, survived a storm as fierce as any that crash on to the cliffs around Reykjavik and might have snatched victory when Alfred Finnbogason had his shot palmed away by Rui Patricio.
After a frantic siege that had seen Cristiano Ronaldo have a header from the six-yard line saved at the second attempt, it came down to a familiar sight. Ronaldo standing over a free-kick, almost 40 yards out. If he scored, it would be one of the great moments of his time as captain of Portugal. If he missed, Iceland would have perhaps the finest result in their football history.
The free-kick was charged down by Finnbogason's hand and the referee, Cuneyt Cakir, moved it 10 yards further forward, right into Ronaldo's range. He stood over the ball once more, once more the kick was charged down but his time legally. Cakir blew his whistle and a corner of the stadium erupted a throaty and entirely unforeseen roar of joy.
Although the spotlight was on Cristiano Ronaldo and how he could conceivably have swatted aside Iceland on his own, it was his one-time Manchester United team-mate, Luis Nani, who made the first breakthrough.
Nani followed a similar path to Ronaldo, brought up on a small Atlantic island, transferred to Sporting Lisbon and thence to Old Trafford without ever touching the heights scaled by him. Nevertheless, in the first half Nani proved himself a sight more effective than Portugal's other, vastly more famous forward.
His finish, heading home Andre Gomes's cross, was immaculate and came when Portugal had seemingly established control of the game. It was his 19th goal for his country but it should have been his 20th.
Moments before, Ronaldo had performed a little step-over and then delivered a cross from the left that Nani met with a downward header that ought to have provided the opening goal had not Iceland's keeper, Hannes Halldorsson, sprinted across to save with his feet. To emphasise the difference in resources between the two teams, Halldorsson plays his football in the small Norwegian town of Bodo, inside the Arctic Circle. In the second half as Portugal drove hard for a winner, he made another exceptional save at the near post from Ricardo Quaresma.
Shortly after Ronaldo had provided a cross for him, Nani returned the favour but Ronaldo made little effective contact and nor did he when running on to a long ball over the top from his Real Madrid team-mate, Pepe.
Five minutes after the restart, the cost of those misses became apparent. Everything in this match would be a first for Iceland but there would be nothing sweeter than Birkir Bjarnason's.
Iceland's first goal of the European Championship came from a deep and mightily effective cross from Johann Gudmundsson that went over Vieirnha's head and was met first time by Bjarnason, who is nicknamed Thor in his home country. The goal was greeted like a thunderclap. The Portugal manager, Fernando Santos, threw his hands to his head.
The match had opened with the first rendition of the Icelandic national anthem at a European Championship. The Lofsongur is not a particularly happy hymn, ending as it does with a line likening its country to a small flower "with a quivering fear that prays to its god and dies."
From the moment in the opening minutes that Swansea's Gylfi Sigurdsson turned towards a stand behind Rui Patricio's goal that sported a Welsh banner and forced a fine one-handed save from the Portugal keeper, Iceland did not quiver and they were not about to die for anyone.
Register for free to continue reading
Registration is a free and easy way to support our truly independent journalism
By registering, you will also enjoy limited access to Premium articles, exclusive newsletters, commenting, and virtual events with our leading journalists
Already have an account? sign in
Join our new commenting forum
Join thought-provoking conversations, follow other Independent readers and see their replies