The Independent's journalism is supported by our readers. When you purchase through links on our site, we may earn commission.
Prandelli praised for an Italy built on positivity
It has been a long and painful journey to top for Italy manager with attacking philosophy
Sam Wallace
Saturday 30 June 2012 02:15 Comments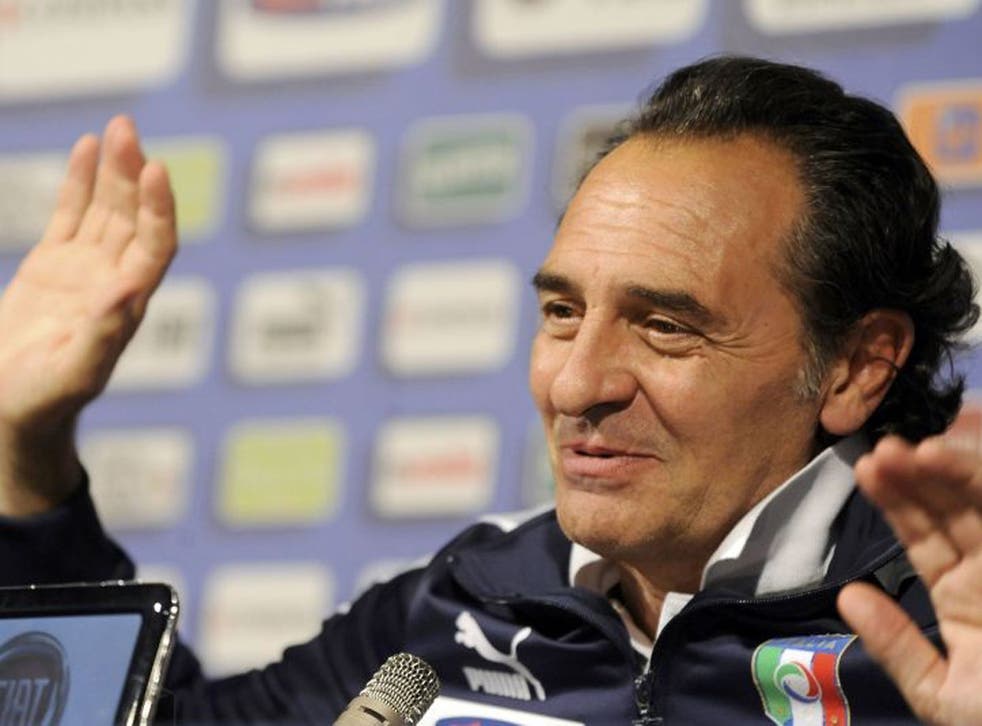 With Cesare Prandelli, the Italians say, what you see is what you get; like his hairdo, slicked back in a style that belongs to a generation of Italian men that pre-dates him. He is a devout Catholic, and he carries around with him the pain of his wife's death in 2007 from cancer. He is a man of relatively simple tastes who is revolutionising the Italian football team.
Click HERE to view 'Spain V Italy: All you need to know' graphic
Prandelli talked a great deal before his team's semi-final victory over Germany about sticking to the principles that he has established since taking over from Marcello Lippi in the wake of the 2010 World Cup finals disaster. The team, who had become world champions four years earlier in Germany, had a terrible tournament and finished last in a group of Slovakia, Paraguay and New Zealand.
Those principles of Prandelli have been to build an attacking team, one that kept coming forward against Germany even after they had taken a two-goal lead in Warsaw on Thursday night. That is not the Italy that most would recognise and it is certainly not the Italy of 2006, from whom only Andrea Pirlo, Daniele De Rossi, Gianluigi Buffon and Andrea Barzagli remain in the current squad.
Prandelli was born in Orzinuovi, a small town near Brescia in 1957 and he took his first steps in football in the youth team of Cremonese and then in the club's senior side. From there he went to Atalanta and his big move was to Juventus in 1979. He won three Serie A titles as well as the 1985 European Cup, the Heysel final against Liverpool. He had been in the team that had won the European Cup-winners' Cup against Porto the year before.
At Juventus, in a side that included Michel Platini, Prandelli was not a key figure. He spent much of his time on the bench. When he did play he was an uncomplicated midfielder who, like Massimo Bonini, did much of the hard work that enabled Platini to play. Asked which player he was most comparable to in the current Italy team, a brief survey of Italian reporters said that they could not think of a direct equivalent. One suggested that Prandelli was Italy's Scott Parker.
He played alongside the likes of Marco Tardelli and was coached by Giovanni Trappatoni, the classical grounding in football management. Yet he was never a star at Juventus. He left after five years at the age of 28 to rejoin Atalanta and began the long, slow rise through the Italian coaching hierarchy. He attended Coverciano, near Florence, the de facto university for all Italian coaches but it took him a while to get a major break.
He spent seven years at Atalanta, only one of them as manager of the senior side, working mainly with the youth team. After 1997, he took the incremental steps forward that are common in the careers of the big Italian coaches: Lecce, Venezia, Verona, Parma, Roma – which ended before it began – and then Fiorentina, which was the springboard to landing the job with the Italian football federation.
In 2001 his wife Manuela Caffi was diagnosed with cancer. They had met as teenagers when he was a player at Cremonese and when her condition worsened in the summer of 2004 he told Roma, his biggest club to date, that he would have to step down just a month after accepting the job.
His wife finally passed away in November 2007 when Prandelli was Fiorentina manager. His players attended the funeral and Prandelli, who had missed just one game, simply carried on. The same season he took Fiorentina to a fourth place finish and a place in the Champions League and was also voted the Serie A manager of the year. The couple had two children, Carolina and Niccolo, and Niccolo is a physio and now part of the national team's staff.
Since his wife's death, Prandelli has met another woman and only recently have they become more public about his relationship. In the aftermath of his team's win over Germany one of the Italian reporters asked Prandelli if he would like to "dedicate" the victory to anyone in particular. Prandelli declined to personalise the occasion, saying instead that the win was dedicated to the Italian people.
He is religious, fond of the "pellegrinaggio", a pilgrimage to a monastery or holy place. He embarked on one before the tournament in Italy and, after the final group stage game against the Republic of Ireland, he and his staff walked 21km early one morning to a monastery in the Krakow area where the squad have been based.
The Italian press say that Prandelli is a very different character to the likes of Lippi and Arrigo Sacchi. He is open with them and happy to talk. Certainly, in a nation where the scrutiny on the national team is comparable to that in England – although with a smaller following of supporters – he is endlessly patient with questions about whether his team really can keep attacking sides in the manner in which they have.
He is credited with having dealt with Mario Balotelli and Antonio Cassano more effectively than has been managed in the past. They are not simple characters to harness in the same team, let alone the same forward line but Prandelli has been patient with both of them and their performance against Germany was regarded as reward for that persistence.
There have already been suggestions that he will leave after the European Championship and certainly his stock has never been higher than it is now. While the big clubs in Italy are all taken, there is a bound to be a vacancy sooner or later – there always is. A possible club job in Russia has also been mentioned. Prandelli says in public that he is committed to qualifying for the 2014 World Cup finals but that is said to be a fluid situation.
An Italian with an attacking philosophy and a solid track-record: there are clubs in the Premier League who might be tempted by Prandelli. It is a curious fact that he has won just one trophy so far as a manager, a Serie B title with Verona in 1999, but by tomorrow night that could have changed.
Prandelli: A Life In Brief
Born 19 August 1957, Orzinuovi, Italy.
Playing Career A solid but never spectacular midfielder who started his career at Cremonese before moving to Atalanta and then Juventus. At Juve he won Serie A three times, the Coppa Italia, the Champions League and the Cup Winners' Cup.
Management career Began as youth team coach at Atalanta before spells at Lecce, Verona, Venezia, Parma, Roma and a successful five years at Fiorentina. His only trophy is the Serie B Championship with Verona in 1999. Appointed Italy manager following 2010 World Cup disaster.
Personal life Has two sons, one of whom, Niccolo, is the fitness coach at Parma. Left Roma in 2004 before having the chance to manage a game due to his wife's ill health.
Register for free to continue reading
Registration is a free and easy way to support our truly independent journalism
By registering, you will also enjoy limited access to Premium articles, exclusive newsletters, commenting, and virtual events with our leading journalists
Already have an account? sign in
Join our new commenting forum
Join thought-provoking conversations, follow other Independent readers and see their replies