Qatar 2022 World Cup will honour workers' rights with the end of the kafala system, predicts ITUC head
The kafala system affects 23 million migrant workers across the Middle East, where many are trapped in slave-like conditions when their wages are stopped and they are unable to leave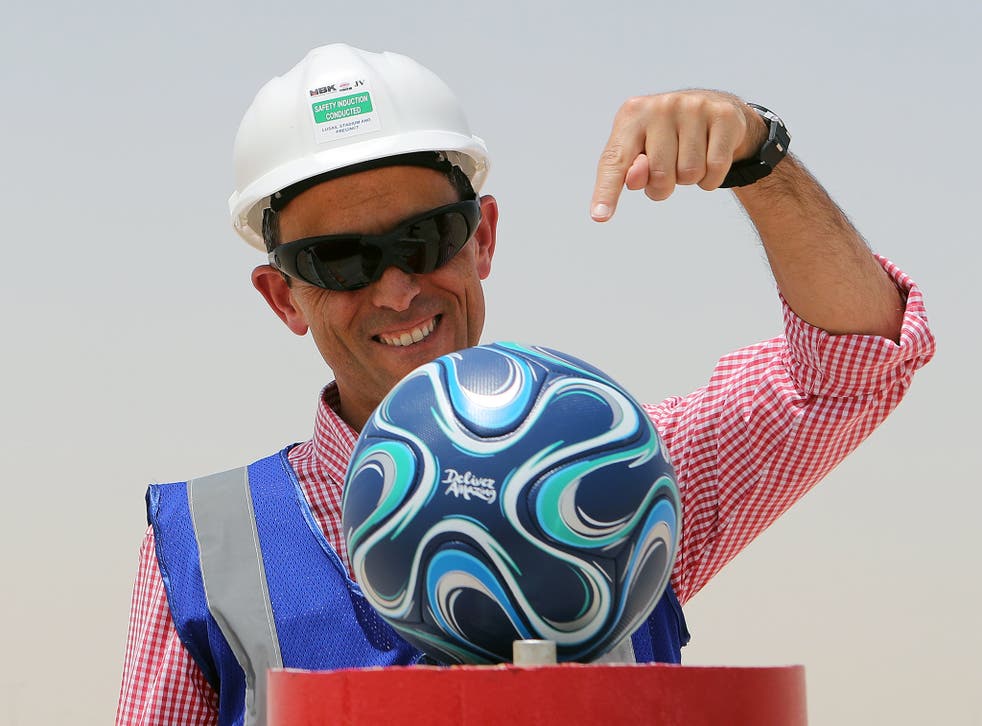 Qatar will host a World Cup which honours workers' rights after agreeing to end the notorious kafala system in the next two months, the head of the International Trade Union Confederation (ITUC) predicted on Sunday.
Sharan Burrow, General Secretary of the ITUC, said the Doha government was committed to scrapping the exploitative system of sponsored labour which affects two million migrant workers in the tiny Gulf state.
Her announcement in November that Qatar was doing away with kafala was met with scepticism from some human rights campaigners who didn't believe it would follow through with its promise.
But after meetings this month with the prime minister of Qatar, Abdullah bin Nasser bin Khalifa Al Thani, Mrs Burrow said there was no doubt in her mind that the country was committed to a timetable of reform.
Qatar 2022 reveal design of fifth World Cup stadium
She told The Independent: "I am confident the kafala system is on its way out in Qatar and that will free two million migrant workers. By the end of March we will have seen the worst of kafala off the agenda and the beginnings of a mature industrial relations structure."
The kafala system affects 23 million migrant workers across the Middle East, where many are trapped in slave-like conditions when their wages are stopped and they are unable to leave because employers have kept back their paperwork.
Qatar came under the spotlight seven years ago when it won the bid to host the World Cup in 2022. It is using migrant labour, mostly from South Asia, for construction work on eight new stadiums, hotels for fans and a new transport network.
Following an inquiry by the International Labour Organisation (ILO) in 2014 it agreed to bring in reforms including a minimum wage, the lodging of contracts with the government so they cannot be changed on arrival in Qatar, and employers no longer being able to stop staff from leaving the country.
Qatar is also building nine new accommodation units to house 340,000 workers, three hospitals and four health centres.
Mrs Burrow said: "The kafala system means a system of modern slavery where you're effectively owned by one other person. You go to an agency, you sign a contract but when you arrive in a country under the kafala system an employer can be honourable or not.
"Many are not and they tear up the contract, substitute them with others, or not at all, and you'll be paid half of the wages. You're then absolutely dependent on the employers for your accommodation, the bulk of which is squalid or unsanitary, and there's poor food and extreme working environment.
"And, of course, when you seek remedy the court system is inadequate, could take up to two years and is hostile to people for whom Arabic is not their first language.
"When it gets all too much and you want to go home you find that the employer refuses to sign your exit visa and refuses to sign a transfer of work so you are trapped in Qatar or trapped without work."
She said Qatar had signed an agreement which by the end of March or beginning of April promised:
an ILO office in Doha to oversee reform
a labour tribunal to resolve disputes within three weeks.
all contracts lodged with the government to prevent substitution
residency permits and the elimination of exit visas.
workers free to leave country either for home leave or at end of their contract.
Support fund from the government to pay for employee's journey home, after which authorities would have to sue employers to get money back.
Reforms to be rolled out after the March deadline include joint workplace committees, with worker representation, and the establishment of a minimum wage "based on evidence of what it takes for people to live with dignity".
"That's incredible to think you'll have workers with the right to be elected, able to represent the voice of working people and to attempt to solve disputes," she said.
There will also be safety committees with a register of injuries and deaths, to counter criticism over construction site accidents.
The lives of domestic workers will also be improved, it was claimed.
"Hours of work will be regulated and they will have a day off," said Mrs Burrow. "They too will have a complaint mechanism if that's not adhered to."
She praised Qatar for setting a new standard of workers' rights in the Gulf region and called on Saudi Arabia, Bahrain, the United Arab Emirates, Kuwait and Oman to follow suit.
Last June a Saudi-led alliance launched a diplomatic and transport blockade of Qatar accusing it of cosying up to Iran and supporting terrorism, which Doha denies.
Mrs Burrow said: "This is a huge turnaround for Qatar. Despite the downside of the blockade the view of the Emir and the Prime Minister is that this allowed them to build the development model they want to see.
"They want to open up to the world and that requires them to think about the rights and values that are being put in place.
"We now want to work so that we can confidently say there will be a World Cup with workers' rights.
"I think that the blockade is unfortunate. It's certainly provided some space for a more progressive leadership in Qatar but Saudi Arabia and UAE have to ask themselves whether there is in fact a future for development in the region if there isn't respect for each other and, indeed, fundamental rights for workers."
Mrs Burrow, who over the years has highlighted the need for reform in Qatar, added: "The comparison is unbelievable really, but that's an indication that they have listened, they are prepared to move and this is part of the story."
Campaigner and former Human Rights Watch researcher Nicholas McGeehan gave the news a cautious welcome.
He said: "Qatar is certainly making all the right noises on labour reform, and if they follow through on their key commitments then it will be a watershed moment for workers' rights in the region.
"The ITUC have been instrumental in getting us to this point. But the long view of this suggests we should be cautious. Reforms move slowly, and radical reforms are likely to move even slower. And promises have been broken before."
Qatar has called its reforms an "acknowledgement of the important steps our government has taken to develop a modern labour system" and said it was "grateful" to the migrant workers building the country's infrastructure.
Join our new commenting forum
Join thought-provoking conversations, follow other Independent readers and see their replies