The Independent's journalism is supported by our readers. When you purchase through links on our site, we may earn commission.
Who is Ralf Rangnick, the Bundesliga manager linked with the England job?
The 58-year-old German coach has been linked with the vacant England manager's job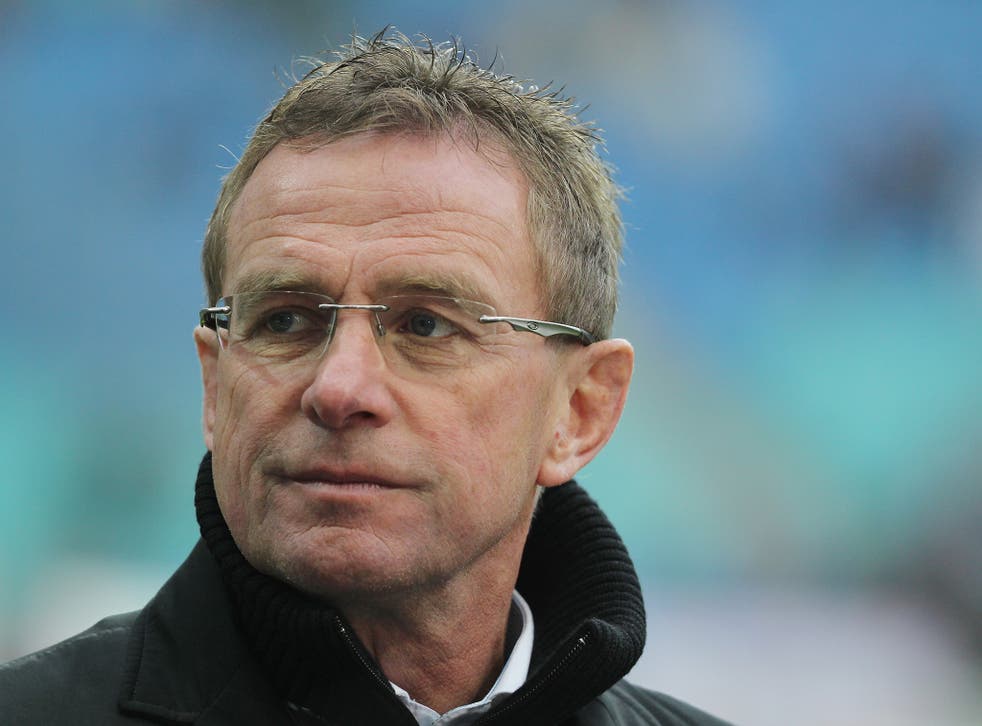 The Football Association are thought to be interested in speaking with Ralf Rangnick following the departure of Sam Allardyce as England manager.
The 58-year-old German coach was approached in the summer after Roy Hodgson's exit and was among the several candidates considered for the job.
Ultimately, the FA decided to appoint another Englishman but following the termination of Allardyce's contract, Rangnick's name is in the hat again.
Who is Ralf Rangnick?
Rangnick is currently sporting director at RB Leipzig, the controversial club making waves following their promotion to the Bundesliga.
What's his playing background?
Rangnick had a modest playing career, turning out for Stuttgart's amateur side before a stint with Southwick, who he played for while studying at the University of Sussex. His degree was in English and PE, by the way.
Unspectacular spells with Heilbronn, Ulm 1846, Viktoria Backnang and Lippoldsweiler followed, before he hung up his boots in 1988.
Who else has he managed?
Sam Allardyce leaves job as England manager following 'bungs' sting
The 56-year-old coach has taken charge of, among others, Stuttgart and Hannover 96, but he enjoyed his greatest success with Hoffenheim.
Rangnick won back-to-back promotions with the Baden-Württemberg club, taking them from the third tier to the Bundesliga, before establishing them as a top-flight side.
A move Schalke followed in March 2011 and within two months, he had led the club to the Champions League semi-finals, where they were eliminated by Manchester United.
England manager contenders

Show all 6
He resigned four months later citing exhaustion. In June of the following year, he became sporting director at Red Bull Salzburg and RB Leipzig.
In May 2015, Rangnick took managerial charge of RB Leipzig and won promotion to the Bundesliga. He has since moved back upstairs and been replaced by Ralph Hasenhuttl.
His name rings a bell…
If you don't remember him from those 2011 semi-finals against Manchester United, you may recall that he has been tentatively linked with jobs in English football previously.
Rangnick's name was touted following Roy Hodgson's dismissal from Liverpool in 2011. He also came close to replacing Hodgson at West Bromwich Albion the following year.
Dan Ashworth, the FA's technical director, was at the Hawthorns then – which explains Rangnick's current link to the vacant position with England.
What are his tactics like?
As a sporting director of central Europe's two Red Bull clubs, Rangnick has attempted to implement a single, coherent style across both teams.
In an interview with Die Welt in 2013, Rangnick set out his preferred paying style: "Aggressive forward defending and pressing.
"Playing in private possession and directly to the front, lateral and back passes are rather not so much in demand.
"We want to draw a common thread between the two clubs. The aim is to develop teams no soloists."
So, something akin to high-intensity, pressing game we see from a number of Bundesliga-bred coaches.
Last season's Leipzig followed this philosophy and tended to play a 4-2-3-1 system, with the '3' in attacking midfield being particularly fluid.
He has previously been called 'a German Wenger', such is his predilection for 'progressive', attacking football.
All in all, considering it was still Allardyce in the hot seat just three days ago, the Rangnick regime would represent a major change of pace.
Join our new commenting forum
Join thought-provoking conversations, follow other Independent readers and see their replies