Republic of Ireland vs England match report: Jamie Vardy makes debut but can't make impact in dismal end-of-season affair
Republic of Ireland 0 England 0
Sam Wallace
Sunday 07 June 2015 17:10 Comments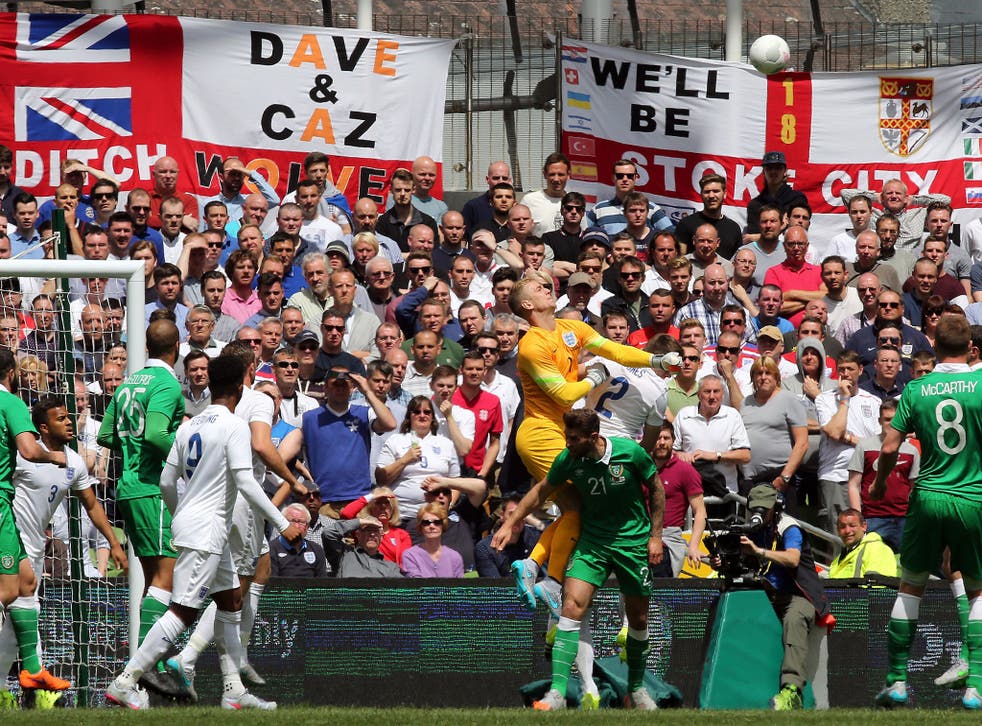 Twenty years ago, this international fixture was abandoned because of a riot and this afternoon, 20 years on, there were times during England's return to Dublin when it felt like another abandonment might be the best for all concerned.
Not because of any poison in the stands, where even the Irish anthem, the Soldier's Song, was not actively booed by the English support. With the pubs of Ballsbridge locked before the 1pm kick-off, it had all the atmosphere of a half-empty church car park on a Sunday afternoon. The football was dreadful.
This was a dismal end-of-season friendly, a clunking collision between England's indifference and the inferiority complex of the Republic of Ireland players over which the memory of the previous night's Champions League final lingered like a dream. As if that was a different code of football, one in which passes were completed, attacks launched and goals scored, a different proposition altogether to what we had gathered to watch at the Aviva Stadium.
Republic of Ireland 0 England 0 player ratings

Show all 24
From Roy Hodgson and the Football Association there had been strenuous efforts before the game to play down any animosity in light of the riots last time, and that mood of non-confrontation permeated everywhere. England had a total of three attempts on the Irish goal and although Hodgson said afterwards that it had been necessary in order to tune up for Slovenia in a week's time, it took a toll on those of us watching.
Wayne Rooney had one of those games when the ball would not stick and the legs look a bit tired. He was played in on goal by Jordan Henderson four minutes after the break and controlled the ball with all the composure of a man swatting a bee out of his face. He was substituted for Jamie Vardy with 16 minutes left. Sir Bobby Charlton's goalscoring record can rest unsurpassed a little longer.
There was a small improvement in the second half when 11 substitutions were made by the two managers and the Bournemouth midfielder Harry Arter, the brother-in-law of the former England international Scott Parker, gave Ireland a bit more purpose. At the other end, Andros Townsend made his usual energetic substitute's cameo and Vardy, once of Stocksbridge Park Steels, was given his England debut.
For Ireland, the big test lies a week ahead against Scotland at home when they must win to keep pace in their Euro 2016 qualifying group and, given the limitation of their resources relative to England, there were reasons to be encouraged. For England, the uplift will have to be much better before they play Slovenia in Ljubljana in a week's time, the last game of ten of their post-Brazil 2014 season in which they remain unbeaten so far.
Goodness knows it was hard work to watch at times during the first half, 45 minutes of football of heavy touches and apologies for misdirected passes. How bad was it? With a couple of minutes to play until half-time the English fans, hitherto calm, sober and respectful, began singing their national anthem for no other reason, it seemed, that they were a bit bored.
At the other end of the stadium, the Irish crowd sung about John Delaney, the embattled chief executive of the Football Association of Ireland, in unflattering terms. His €5million deal with Sepp Blatter over the Thierry Henry handball was on everyone's minds and the football did not provide a distraction. The English fans sang to the Irish that the departing Fifa president "paid for your ground".
This is the end of a long season, and the qualifier away to Slovenia does not shimmer at the end of the week like the trip of a lifetime for the players in Hodgson's squad. The quality of the English players was the greater, however, and they failed to make it count at all in the first half as they struggled to create any intensity at all around a 4-3-3 formation.
Playing at the centre of it was Jack Wilshere, a favourite of Hodgson and a man desperate to be given the scope to run a midfield. He tried to pick his passes and direct his flicks into the runs of his team-mates but he looked like a player who needs another three games to get up to pace. Playing time was hard to come by at Arsenal at the end of the season. He lasted 66 minutes before he was replaced by Ross Barkley.
Either side of Rooney, Adam Lallana and Raheem Sterling struggled to get in the game at all. The Irish crowd came alive when Sterling had the ball at his feet - to boo him. There must have been a lot of Liverpool fans in for the afternoon and Hodgson later warned that Sterling would have to expect more of the same.
Ireland had the best chances of the first half, both falling to Daryl Murphy who reprised his Ipswich Town strike partnership with David McGoldrick in attack. He shot just wide on 27 minutes and then headed wide shortly afterwards when he was unmarked. For all England's possession it was the home team who had the best of the chances before the break, although that was not saying much.
After the break, substitutes Townsend, Ross Barkley, Vardy and latterly Theo Walcott overloaded England's attack with pace and they had the best of a very poor game in the latter stages. The stadium had not been full for kick-off, and it was even emptier by the final whistle, although the only surprise was that so many had waited so long to take their leave.
Republic of Ireland (4-4-2): Westwood 6 (Given 6, 61); Coleman 6, O'Shea 6 (McShane, 71), Wilson 6, Brady 6; Hendrick 5, McCarthy 6 (McClean, ht), Whelan 6 (Arter, 63), McGeady 6; McGoldrick 6 (Long 5, ht), Murphy 5 (Walters 5, 56).
England (4-3-3): Hart 6; Jones 6, Cahill 6 (Jagielka, 74), Smalling 6, Bertrand 6; Henderson 6, Wilshere 6 (Barkley 6, 66), Milner; 6 Sterling 5 (Townsend 6, 66), Rooney 5 (Vardy, 74), Lallana 5 (Walcott, 82).
Referee: A Hunter (Northern Ireland)
Match rating: 3
Man of the match: McGeady
Register for free to continue reading
Registration is a free and easy way to support our truly independent journalism
By registering, you will also enjoy limited access to Premium articles, exclusive newsletters, commenting, and virtual events with our leading journalists
Already have an account? sign in
Join our new commenting forum
Join thought-provoking conversations, follow other Independent readers and see their replies