Rocky road to Brazil: Poverty – the creator of superstars
As a child, Barcelona's Dani Alves rose at 5am to pick melons, while Bayern Munich's Dante sold his game console to pursue his career. This summer they will wear the famous yellow shirt at the World Cup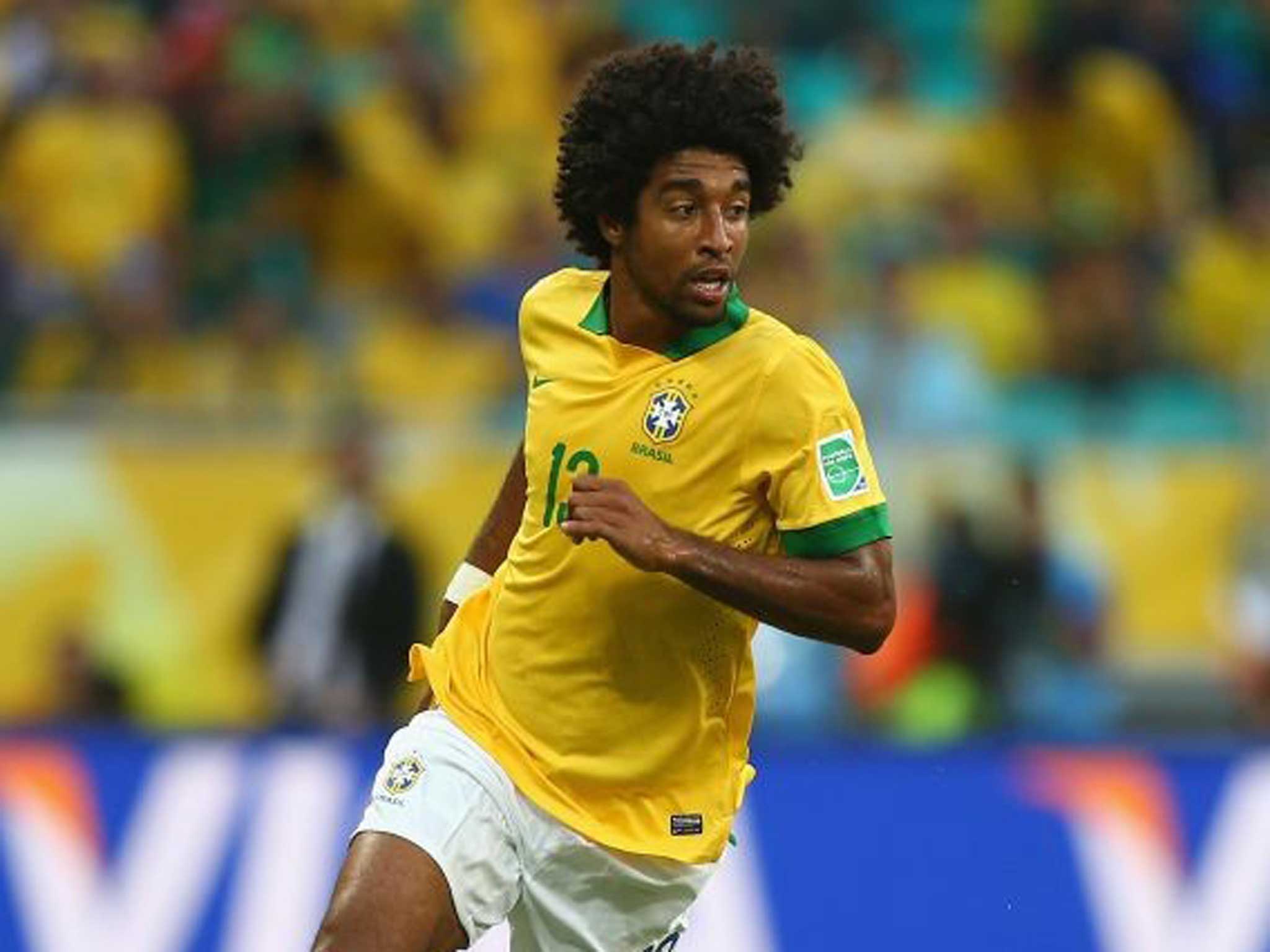 It was during the 2006 World Cup that Thierry Henry managed to offend 190 million Brazilians with a single sentence.
"When I was a kid I wanted to play football all day, but my dad told me I had to study first," he said. "In Brazil they play football from eight in the morning to six o'clock at night." The insinuation was that ill-disciplined Brazilian kids play football instead of going to school.
The reaction in Brazil, needless to say, was not warm. "He's a great player," said the former Brazil international Juninho Pernambucano, "but he shouldn't get involved in political issues. Brazilian children suffer a lot. In 80 per cent of cases they aren't in a financial position to go to school. Even their parents didn't go. Brazilians would love to have the health and education system that they have in France."
Unwittingly, however, Henry had stumbled on an important point – the role that the flight from poverty plays in Brazilian football culture. Even today, for many Brazilian children escaping hardship by becoming a professional footballer is as realistic a dream as doing so by going to university and studying to become a doctor or a lawyer.
"It's a huge country," says 1970 World Cup winner Tostao, "and one that has never managed to free itself from poverty. Thousands of children, instead of having access to good public schools and growing up with opportunities, end up playing football and dreaming about becoming professional and famous. This keeps the skill level so high. It's a lot of kids chasing after just one ball. And every now and again a Neymar, Romario, Ronaldo appears. It's inevitable."
Writer Xico Sa described the tragically limited options of Brazil's poor in a Folha de Sao Paulo newspaper story on the lower-division footballer Flavio Caca Rato ("Flavio the Rat Hunter") who grew up in conditions of extreme poverty – and violence – in the World Cup city of Recife. "In Caca Rato Country some, like the player himself, escape thanks to football, funk or rap. Many others become human refuse, or are killed by the bullets of the police (nothing stray about them), almost always dead by the time they are 30."
The situation is reflected in Brazil's current World Cup squad, many of whom had extremely difficult lives growing up. The early life of Daniel Alves, for example, could hardly be further removed from the majestic splendour of the Camp Nou in Barcelona. Alves grew up in the harsh sertao (the parched back lands) of the state of Bahia. "I'm really proud of my life story," he told Brazil's TV station Globo recently. "I know how hard my life was. I know about real life." As a child, Alves would help his father, a poor farmer, pick melons. "He would get up at 5am to work, so I would get up at 5am to work too," said the player.
Bayern Munich centre-back Dante, also from Bahia, is another member of the squad from humble roots. He grew up in Federacao, a working-class neighbourhood of Salvador, where his mother worked as a supermarket cashier. His first football pitch was the store's sloping car park. After being rejected by a number of clubs in Rio de Janeiro and Sao Paulo, he was offered a trial with little Matsubara in Parana in the south of Brazil, 2000km from Salvador.
After being told that no-one in the family had enough money to pay for his trip, he sold his video-game console and bought a one-way ticket south. It was the right decision. After a successful trial with Matsubara, Dante spent time with a number of teams in Brazil before playing in France and Belgium, finally moving to Bayern in 2012. Since then, he was won the Bundesliga, Champions League and Club World Cup titles. His ecstatic celebrations after he scored for Brazil against Italy in last year's Confederations Cup win back home in Salvador were for good reason – his entire family was in the stands watching. "I was hoping to maybe play for a few minutes, just to make everybody happy," he told Globo. "When I came on I felt this amazing positive energy. And I thought, if I score today, all my friends and family will go crazy."
Striker Jo is another who didn't have it easy, losing his older brother Jean in a car accident when he was just a teenager. But he used Jean's memory to inspire him, and went on to become the youngest player to represent Sao Paulo giants Corinthians when he made his debut aged just 16 years and three months. He went on to play for CSKA Moscow, Everton and Manchester City, and is now with Atletico Mineiro in Belo Horizonte, where England play their final and potentially decisive World Cup group game against Costa Rica on 24 June. But he never forgot his roots. When he was just 17 he bought his parents a new house. "When I gave them the keys, I told them it wasn't just from me, but from Jean too," he said.
Interestingly, Brazil's social development – millions of Brazilians have escaped from extreme poverty in recent years, and the lower middle classes now represent the largest population group in the country – may ultimately affect the country's football culture. Rampant urban development has squeezed the space available for neighbourhood kickabouts, poorer Brazilians have greater access to higher education than ever before, and the internet and video games compete with football for the leisure time of Brazilian youth.
In the future, the number of kids chasing after the ball of their dreams may be smaller.
Brazil stars on the move
Many of Brazil's World Cup stars may soon be on the move. David Luiz is bound for PSG and reports surfaced on Friday that young Shakhtar Donetsk winger Bernard, unsettled by the political upheaval in the Ukraine, has been offered to Liverpool and Arsenal. The Spanish media claims that forward Fred, of Fluminense, is a Barcelona target. Back-up striker Jo, once of Manchester City andEverton, has been linked with Borussia Dortmund as well as clubs in Italy and Spain. Paulinho, unsettled at Spurs, could join fellow Brazilians Willian and Oscar at Chelsea.
Mounting strike threats hang worryingly over the finals
Strikes are becoming a major security concern for the World Cup. One newspaper reports that 16 different industry sectors are threatening to strike during the World Cup. When the military police in Recife went on strike 10 days ago there were 27 murders and widespread looting before the army was called in. During a police strike in Salvador in April, there were 44 killings in 42 hours. This week bus drivers brought Sao Paulo to a standstill over pay. A demonstration by a homeless workers' group in Sao Paulo on Thursday attracted 15,000 red-clad protesters, with threats of a "Red June" starting with disruption of the opening game on 12 June if there was not urgent investment in housing.
Scolari ad nauseam
Win or lose, Brazilian fans will have at least one reason to be glad when the World Cup is over – it might get manager Luiz Felipe Scolari off their TV screens for a while. Scolari is currently appearing in commercials for Vivo (a telephone provider), Sadia (a food company), Peugeot, Walmart, Guarana Antarctica (a soft drink), Nike, Brahma (a beer) and Gillette. A market-research company recently found that only ads starring Neymar and Ronaldo get more screen time than those featuring the Brazil boss. Scolari even appeared with his wife Olga in one commercial.
Join our commenting forum
Join thought-provoking conversations, follow other Independent readers and see their replies