Rooney's rage 'threatens team-mates' warns Capello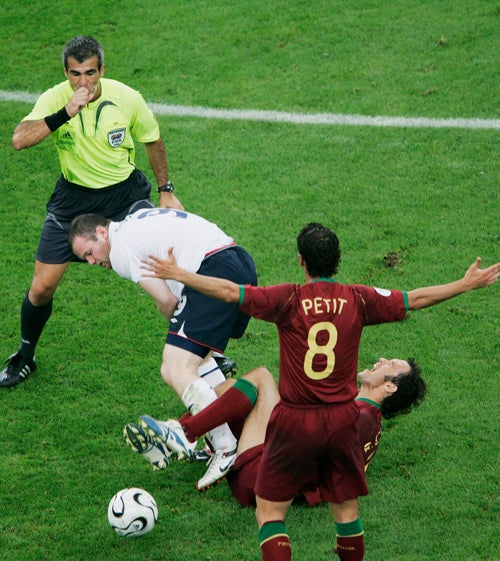 Wayne Rooney's temper and volatility on the pitch are worrying Fabio Capello to the extent that he will speak to the England striker about curbing his aggressive tendencies. Indeed the England manager had to talk to Rooney at half-time during the 2-0 victory over the United States on Wednesday evening, telling him to calm down after a reckless first-half challenge that could have led to a dismissal.
The warning went unheeded, however, and Rooney was cautioned after the break for another tackle before being withdrawn, in a substitution that was planned before the game, after 79 minutes. However such is Capello's concern over Rooney that he admitted afterwards that the Manchester United striker has even endangered team-mates in training.
As the 22-year-old prepares for his stag party in Ibiza – he did not travel with the England squad to Trinidad yesterday – Capello conceded that the temper that Rooney claims is under control again threatens to derail England. As Rooney approaches the second anniversary of his stamp on Ricardo Carvalho that brought him a red card in the World Cup quarter-final against Portugal, Capello, although generally happy with the player he regards as England's special talent, said that his petulance had to stop.
There is also confusion around the readiness or otherwise of Michael Owen to play in the two end-of-season friendlies, including Sunday's game against Trinidad and Tobago. The Newcastle striker had withdrawn from the squad on Friday with what was described as a "contagious virus". However, he was present with his wife Louise at Wembley on Wednesday to watch the USA game. The Football Association received a doctor's report two weeks ago about Owen's health and it was decided it would be too dangerous for him to train, and possibly infect, his team-mates.
However Owen has clearly recovered since then and Capello was aware of his presence at Wembley. Tellingly however, having ruled him out of his plans, the manager had no intention of calling Owen up which appears to indicate that the 28-year-old is not central to England's future and may be relegated to a peripheral role. Although he failed to score, Capello is understood to have been pleased with the performance of Jermain Defoe, who played as the most advanced striker, with Rooney behind him. The Portsmouth forward's movement and link-up play impressed Capello as did his pace. It is likely that Theo Walcott will also be given an opportunity against Trinidad & Tobago.
The England squad was trimmed yesterday before it flew out for that friendly fixture, with seven of the Champions League final players – Rooney, Owen Hargreaves, Wes Brown, John Terry, Frank Lampard, Joe Cole and Ashley Cole – left behind because of their exertions in Moscow. Rio Ferdinand did make the trip, partly because he was desperate to remain in the squad and is keen to continue to stake his claim to the captaincy, as did Wayne Bridge who did not play in the European Cup final.
Capello is also understood to have been very pleased with the contribution of Steven Gerrard on the left side of midfield. While he accepts that Frank Lampard's performance was hampered by tiredness it appears the Chelsea midfielder has an uphill task to force his way into the team, especially as Gareth Barry again impressed. Capello was happy with the overall performance and England's ability to put pressure on opponents who, though poor, were, the Italian believes, made to look poor by his team and tactics.
As for Rooney, Capello would at first only admit that he "did one very strong tackle, nothing more", presumably referring to the first-half challenge on Ricardo Clark that could have warranted a red card but which Greek referee Kyros Vassaras chose to punish only with a free-kick. Later he agreed that Rooney's behaviour had to change.
"Yes, I have to keep him on the pitch for 90 minutes and so I have to speak with him," he said. "I have to speak with Rooney and explain to him that he mustn't do these tackles. Yes, sure, of course I will speak to him. Not now, but in time. The next time I see him [August], I will talk to him."
The second challenge, on Frankie Hejduk in the 76th minute, did earn Rooney a booking to which he responded with an angry gesture towards Vassaras. "I saw the same thing from him in training," Capello said. "On Tuesday in the last session, it was the same. It is normal for him and I told him that. I was worried for the other players."
It was not entirely clear, with Capello now conducting his press conferences in English rather than Italian, to what extent he was worried about the threat to his other players, but the message was blunt enough. England's training sessions are known for their full-bloodedness but it seems Rooney has exceeded the limits. Capello's defence of his player's essential, committed nature led to him also admitting that the two challenges were probably worth a sending-off when combined.
"You cannot play without commitment and when you need to play, with that commitment, you tackle very hard," he said. "That is something I think he showed. He did very, very hard tackles, both possible yellow cards, but neither of them worthy of a red card. He got a yellow at the finish. I think it is a normal game for him."
Capello compared Rooney to the Real Madrid veteran Raul who he said he worked with as a young player during his first stint with the club in the 1996-97 season. It was not immediately obvious what similarities he saw between the two players, his main point being that he encountered both of them at crucial moments in their development.
"I think that when you are a manager or coach and when you see that a player is coming back and trying to do everything, you have to speak with him," Capello said. "He is young and he is a good player."
Asked whether he had managed a player like Rooney before, Capello said: "Only defenders – not forwards. One I can think of is Raul, who was very young when I was in Madrid for the first time. He was different but he was also a good player and when he had a sniff of the goal, he scored. Like Rooney he was a very generous player. I spoke always with the players including him. What you say depends on the moment. This is my work."
Red mist moments: Rooney's costly losses of temper
Portugal 0 England 0 (Aet; 3-1 on penalties; 01/07/2006, World Cup quarter-final, Gelsenkirchen, Germany
Struggling for match fitness, a frustrated Rooney damaged England's World Cup hopes after being sent off after 62 minutes for stamping on Ricardo Carvalho, becoming only the third England player to be sent off at the World Cup finals. England lost the game on penalties, and Rooney was suspended for two games and fined £2,400 by Fifa.
Spain 1 England 0 (7/11/2004, friendly, Madrid)
Hauled off by Sven Goran Eriksson after 41 minutes to prevent him being sent off, having already been booked after clashing aggressively and petulantly with Joaquin, Iker Casillas and Carlos Marchena. Upon being substituted, Rooney threw to the ground his black armband worn in memory of the recently deceased Emlyn Hughes and Keith Weller.
Northern Ireland 1 England 0 (07/09/2005, World Cup qualifier, Belfast)
Booked for a reckless challenge on Keith Gillespie, Rooney argued furiously with his captain David Beckham, who tried to calm him down.
England squad for Trinidad
Goalkeepers: David James (Portsmouth), Joe Hart (Manchester City), Joe Lewis (Peterborough).
Defenders: Wayne Bridge (Chelsea), Rio Ferdinand (Manchester United), Phil Jagielka (Everton), Glen Johnson (Portsmouth), Stephen Warnock (Blackburn), David Wheater (Middlesbrough), Jonathan Woodgate (Tottenham).
Midfielders: Gareth Barry (Aston Villa), David Beckham (LA Galaxy), David Bentley (Blackburn), Stewart Downing (Middlesbrough), Steven Gerrard (Liverpool), Tom Huddlestone (Tottenham), Ashley Young (Aston Villa).
Forwards: Theo Walcott (Arsenal), Gabriel Agbonlahor (Aston Villa), Dean Ashton (West Ham), Peter Crouch (Liverpool), Jermain Defoe (Portsmouth).
Released players: John Terry, Ashley Cole, Frank Lampard, Joe Cole (all Chelsea), Wayne Rooney, Owen Hargreaves, Wes Brown (all Manchester United).
Join our commenting forum
Join thought-provoking conversations, follow other Independent readers and see their replies