Roy Hodgson: Trust in him, 'put a shift in', and you will reap rewards
The 64-year-old is an international man of little mystery: history shows that, if given time, his methods work
Jack Pitt-Brooke
Tuesday 01 May 2012 15:02 Comments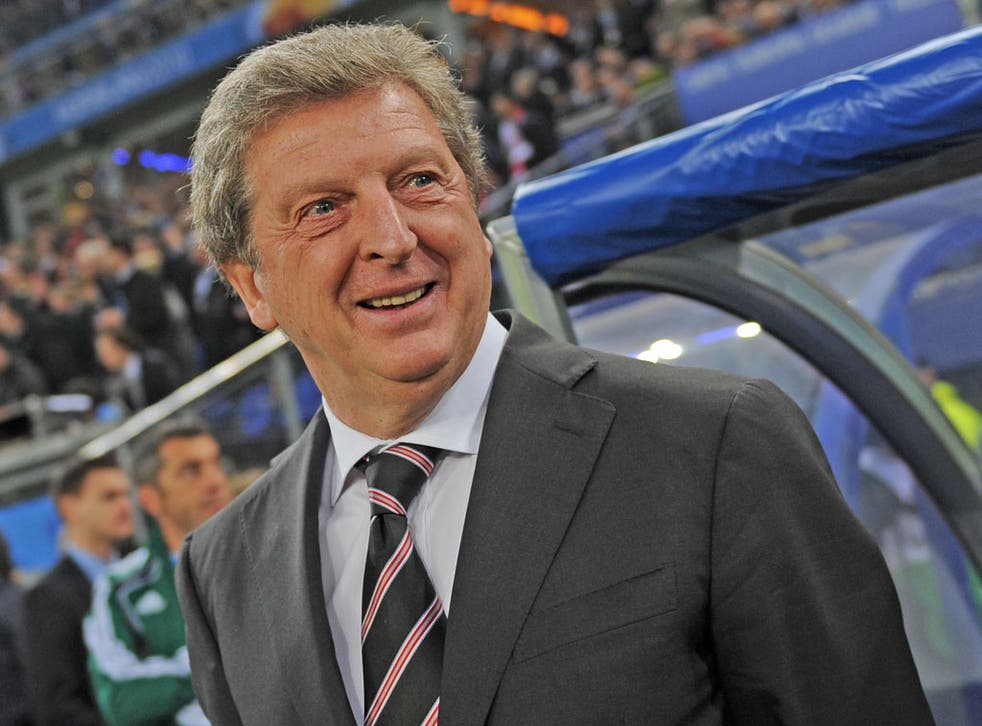 The long trail of Roy Hodgson's career matches his time at football clubs, as hard work and application turns into success. He is about to become England manager, 36 years after he started work at Halmstad in Sweden. In that time he has managed clubs in Denmark, Switzerland and Italy, as well as diverse national teams. But he is not fickle: whenever he is given time he has delivered, and that methodical approach is about to be rewarded in the most prestigious way possible.
As someone who has spent so long working in football, Hodgson knows its nature, and believes that there can be no substitute for meticulous hard work. "Those of us who work in the game and have been working in the game a long time know that magic wands don't exist," he said while at Liverpool. "You work with the set of players you find at your club and before you can really say this is a team I put together, this is a club I have fashioned, you're going to need quite a long time before that day will come around."
It might not have been what Liverpool fans wanted to hear. But it was an honest assessment. When he has put teams together he has been successful: at Halmstad, Malmo, Copenhagen and at Fulham and West Bromwich Albion. Alone among names linked with the England job, he has international experience. Now, after a long time, the day has come around.
What Hodgson achieved at Fulham was some of the most remarkable managerial work in England of the past 10 years. Inheriting Lawrie Sanchez's desperate team, heading for relegation in December 2007, he dragged them up to the safe side of the line; the season turned on Fulham's beating Sven Goran Eriksson's Manchester City 3-2, having been 2-0 down with 20 minutes left.
The following year Hodgson took Fulham up to seventh, the highest league finish in their history, and qualified for the Europa League. It was that run, in 2010, which was so famous. Hodgson masterminded victories over some very good sides: Shakhtar Donetsk, Juventus, Wolfsburg and Hamburg on the way to the final. An Atletico Madrid side featuring David De Gea, Sergio Aguero and Diego Forlan was too good in the final, but only in extra-time.
Hodgson's success at Fulham, which won him the League Managers' Association manager of the year award in 2010, owed largely to player organisation. He drilled his players in such a way that they were difficult to break down and coherent in attack. It was the best possible working of Hodgson's patient methods. "We work on it every day," midfielder Simon Davies said at the time. "Every day in training is geared towards team shape. I've been working with the manager three seasons now and every day is team shape, and it shows."
"If you're going to play for him you've got to put a shift in and perform, work to a system and be tight defensively," Davies said. "We do a lot of work after every game on analysis, sorting the bad things out, sorting the good things out. It's nice to know what you work hard on works so well."
Similar work at West Bromwich Albion has taken a team who looked like relegation possibilities into mid-table safety. Of course, between Fulham and Albion there was Liverpool, where Hodgson failed to turn an unhappy mess into anything other than that.
Hodgson's methods demonstrably require time and patience, and he found neither at Anfield – poor results and performances led to his replacement by Kenny Dalglish, for whom the fans have been rather more forgiving.
Maybe Hodgson lacked the ego or the aura to bend a difficult and political situation around his will, as Sir Alex Ferguson or Jose Mourinho might have done. But that is not who Hodgson is. He has more of a hinterland than almost any other coach in the English game. He recently said that his dream dinner-party guests would be American novelists Philip Roth and John Updike. Hodgson is not restricted to the English language, either: he speaks fluent Norwegian, Swedish, Italian and German and some French and Finnish.
Hodgson's intellectual curiousity took him on a long road around football before he went to Fulham. In his first job, with Halmstad in Sweden, he won two titles. In the 1980s he finished top five times with Malmo and won the championship play-off twice. With Internazionale in 1997 he finished third in Serie A and reached the Uefa Cup final, and with Copenhagen in 2001, he won the Danish title.
And, amongst this all, has been some international football, with some success. In the 1990s he guided Switzerland to the last 16 of the 1994 World Cup, and to Euro '96, although he left before the tournament. He recently reflected that international management was a skill which develops with age.
"There's no doubt it's a job for an older man, somebody with the wisdom and experience that his time in football has given him," he said. The Football Association clearly agrees.
Track record: Travels and travails
Born 9 August, 1947, Croydon.
1976 After an uneventful playing career, Hodgson began his managerial career at age 28 with Swedish side Halmstads, winning two league championships.
1985 Took over at Malmo, finishing top of Swedish league five times.
1992 Given first national job when appointed Switzerland manager, briefly taking Swiss to No 3 in Fifa rankings. Led them to 1994 World Cup finals, losing to Spain in last 16, and on to Euro '96 before taking over at Internazionale.
1997 Led Internazionale to Uefa Cup final, losing to Schalke on penalties. Went to Blackburn, did well first season but sacked in his second.
2001 Danish title with Copenhagen.
2004 After a short spell in Italy with Udinese, was sacked as UAE manager after two years.
2006 Took over as manager of Finland, his third national side.
2007 Brought in at Fulham, saving club from relegation and reaching Europa League final.
2010 Moved to Liverpool – lasted just six months.
2011 Installed at West Bromwich Albion – has kept club in top flight.
In the inbox: Five urgent issues England's new manager must address
The captaincy
The issue which created the vacancy which Roy Hodgson is filling: Stuart Pearce chose Scott Parker for the Netherlands friendly but Hodgson might want his own man in to herald a new era. Or he might not want Parker in his team.
John Terry
While the Football Association will not allow John Terry to be captain, Hodgson might still have a decision to make over taking him to Euro 2012. Terry's baggage is as well-known as his relationship with Rio Ferdinand is difficult.
Who plays up front?
England's one top-class striker, Wayne Rooney, is banned for the first two games. Hodgson could partner a target man like Peter Crouch with a quicker finisher like Jermain Defoe, or go for a more all-round player such as Danny Welbeck.
Playing the kids
The demand to throw talented youngsters into the England set-up can be overwhelming. There will be calls for Alex Oxlade-Chamberlain to go this summer. Hodgson's natural caution, though, might stick with experience.
The fans
Hodgson might have a difficult job convincing some fans he is the man for the job. England fans have a preference for cavalier football and for Harry Redknapp. After Liverpool, Hodgson knows how difficult this situation could be.
Register for free to continue reading
Registration is a free and easy way to support our truly independent journalism
By registering, you will also enjoy limited access to Premium articles, exclusive newsletters, commenting, and virtual events with our leading journalists
Already have an account? sign in
Join our new commenting forum
Join thought-provoking conversations, follow other Independent readers and see their replies