Russia 2 England 1: McClaren's ambitions in ruins after Roman lands double blow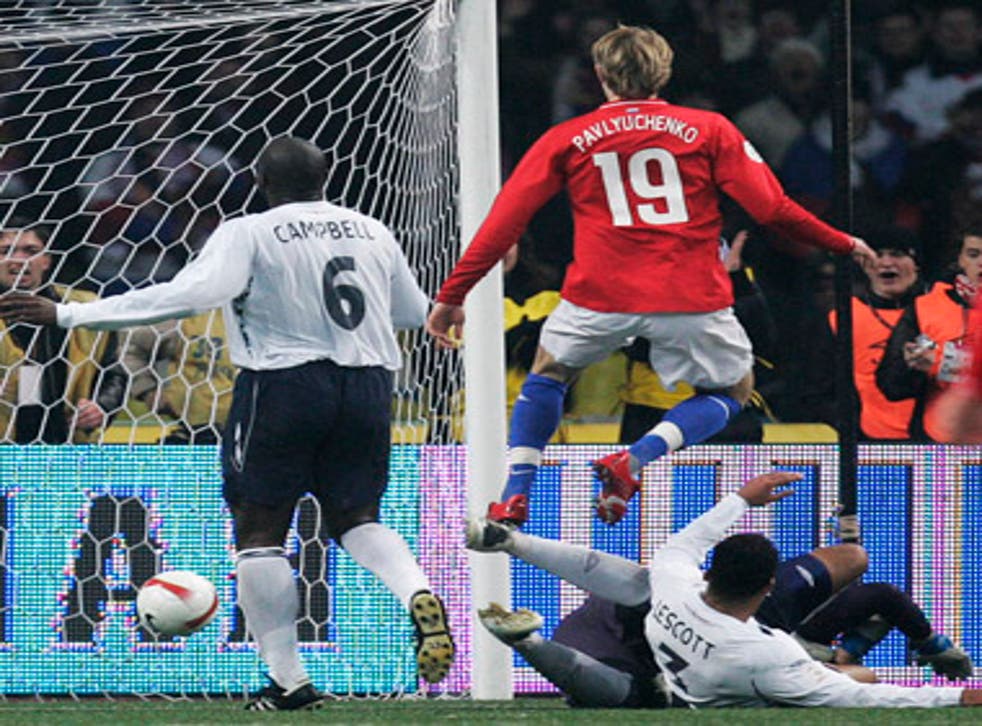 England's so-called golden generation have threatened it for years but now they really do have the monument to their under-achievement for history to remember. The cold, hard truth that presented itself at the Luzhniki Stadium last night was that Steve McClaren's team will not be contesting Euro 2008 unless you believe in miracles – and those seem particularly short around this blighted national team.
Last night you could choose to blame the Spanish referee for a bad decision to award Russia the penalty that gave them their equaliser – and certainly McClaren was in the mood, calling Luis Medina Cantalejo's decision a " disgrace". You could moan about the artificial pitch, about the cruelty of John Terry's late injury, or the rotten luck of Steven Gerrard when he dragged wide a simple chance to put England two goals ahead six minutes after half-time.
But as the English football nation tried to find excuses in the actions of Cristiano Ronaldo after defeat to Portugal in Gelsenkirchen at the last World Cup finals – before gradually accepting its own culpability – perhaps it would be best to cut to the chase straight away. The imminent prospect of failing to qualify for a major international tournament for the first time since 1994 has its roots in a much deeper malaise. Such as tactical failure on the big occasions, the over-indulgence of the star names and, specific to this campaign, the inability to beat a side like Macedonia at home.
He is a decent man who did his best but McClaren will be sacked should, in all likelihood, Russia fail to drop points against Israel and laughably, Andorra. If Russia win both games, England are out even if they beat Croatia next month. In that case, McClaren will be gone by Christmas as the search begins for the latest mug who thinks he can break the curse. Is Jose Mourinho really that naive? Not even among the best 16 teams in Europe. It will be the kind of humiliation that no one in English football could fail to register.
Last night all the old vices were there if you looked close enough. When Roman Pavlyuchenko scored Russia's equaliser from the penalty spot, after Wayne Rooney had given them a first-half lead, England froze. Within four minutes they were a goal behind when Paul Robinson palmed a shot straight to Pavlyuchenko's feet. Even then it took another seven minutes for McClaren to make changes from the bench where he had picked only one striker, Peter Crouch, and left Jermain Defoe out. Rooney looked to be injured for much of the second half but still McClaren hoped he might somehow revive.
And that was before a post-match tactical analysis that broke English hearts. Before McClaren trailed in, utterly desolate, Guus Hiddink gave a masterclass. The Russia manager explained how he had seen left-back Joleon Lescott drift in towards the centre and had exploited the space on the left with his first substitution. He added that he had pinned back Joe Cole by putting two players on the winger and he said, with some confidence, that he had always believed England would crack if they conceded one goal.
It sounded like he knew this England team better than McClaren. Put aside the referee's decision and consider the big games played by England teams in the last five years – defeat to Brazil in 2002; defeat to Portugal at Euro 2004 and at the World Cup two years later; last night. They form an obvious pattern. It is systemic failure – which cannot simply be explained away by the caprice of referees, artificial pitches or injuries.
Hiddink's Russia were nothing special and, after the 70,000 Russians in the Luzhniki Stadium had tired themselves out singing in the first frantic 20 minutes, their team did not look capable of opening England up. Small errors crept into the Russian side, embarrassing misplaced passes that seemed to tell you that this was a team which could be simply contained. Until the 69th minute that was exactly what England were doing.
Gareth Barry in front of the defence and Sol Campbell at its centre were outstanding before the collapse, yet nothing could rescue England once they started to fall apart. On 29 minutes it had looked so different, Micah Richards' high ball forward was improbably flicked on by Michael Owen before Rooney – possibly offside – hit a volley of raw power from just inside the area into the Russia net.
It was England's game for the taking and, comfortably in control, McClaren must have thought that his gamble on sticking with a 4-4-2 formation was the right call. He resisted the temptation to send on Frank Lampard and change England to a 4-3-3/ 4-5-1 system. Had either Gerrard or Richards converted the chances that fell their way, the Football Association would not be thinking about the imminent and uncomfortable possibility of replacing their manager.
Seven minutes before Pavlyuchenko came on as a substitute, Gerrard missed an extraordinary chance. Barry's free-kick from the right found the Liverpool captain completely unmarked at the back post, although strangely he never looked like he would score. Perhaps he thought he was offside in the moments before he dragged his shot wide. Five minutes later, from Gerrard's free-kick, Rooney flicked the ball on, Richards lunged and failed to make contact at the back post.
Sensing a reprieve, the Russian fans forgot about Mexican waves and turned their attention back to the football. On 69 minutes Rooney chased Konstantin Zyryanov down the left wing and, as they came together, the Russian went down. He had made contact with Rooney's arm but not decisively and the clash took place just outside the area. Pavlyuchenko slotted home the penalty and Russia never looked back.
Four minutes later, Lescott gave Alexei Berezutsky room to shoot and Robinson failed to direct the ball away from the danger area. The boot of Pavlyuchenko did the rest. Crouch, Lampard and Stewart Downing came on seven minutes later with none of the urgency from McClaren you might have expected. By then, England were chasing shadows. Their future comes down to Russia's visit to Israel on 17 November, although it seems unlikely Hiddink's team will blow it now. That sort of disaster seems solely the preserve of the English.
Russia (3-1-4-2): Gabulov (Kuban); V Berezutsky (CSKA Moscow), Ignashevich (CSKA Moscow), A Berezutsky (CSKA Moscow); Semshov (Dynamo Moscow); Anyukov (Zenit St Petersburg), Zyryanov (Zenit St. Petersburg), Bilyaletdinov (Lokomotiv Moscow), Zhirkov (CSKA Moscow); Kerzhakov (Seville), Arshavin (Zenit St Petersburg). Substitutes used: Torbinsky (Spartak Moscow) for V Berezutsky, h-t; Pavlyuchenko (Spartak Moscow) for Kerzhakov, 58; Kolodin (Dynamo Moscow) for Arshavin.
England (4-4-2): Robinson (Tottenham); Richards (Manchester City), Ferdinand (Manchester United), Campbell (Portsmouth), Lescott (Everton); Wright-Phillips (Chelsea), Barry (Aston Villa), Gerrard (Liverpool), J Cole (Chelsea); Rooney (Manchester United), Owen (Newcastle). Substitutes used: Lampard (Chelsea) for Wright-Phillips, 80; Downing (Middlesbrough) for Lescott, 80; Crouch (Liverpool) for J Cole.
Referee: L Medina Cantalejo (Spain).
Call for Jose: Five contenders for England job if McClaren is sacked
JOSE MOURINHO Need we say more? Not attached to a club, born winner who knows English football well.
MARTIN O'NEILL Passed over by the FA last time, his young Aston Villa team is starting to come good.
TERRY VENABLES Current No 2 seems to be the public's favourite - although the architect of the 3-5-2 system that failed against Croatia.
GUUS HIDDINK Has not signed his new contract with Russia, he admitted last night.
LUIZ FELIPE SCOLARI Turned FA down once but seems to be falling out with Portugal.
Clutching at straws: Why England must now rely on Israel
Remaining fixtures: 17 Nov: Andorra v Estonia; Macedonia v Croatia; Israel v Russia. 21 Nov: Andorra v Russia; England v Croatia; Israel v Macedonia.
England's defeat in Moscow yesterday means they no longer control their destiny. By beating Croatia in their final qualifying game Steve McClaren's team can reach 26 points, but by winning their two remaining games Russia will have 27. The Russians will surely beat Andorra, which means their key game is in Israel on 17 November.
Join our new commenting forum
Join thought-provoking conversations, follow other Independent readers and see their replies