Slovakia vs England: Sam Allardyce admits 'huge relief' at late goal securing winning start to his reign as manager
England manager also heaps praise on captain Wayne Rooney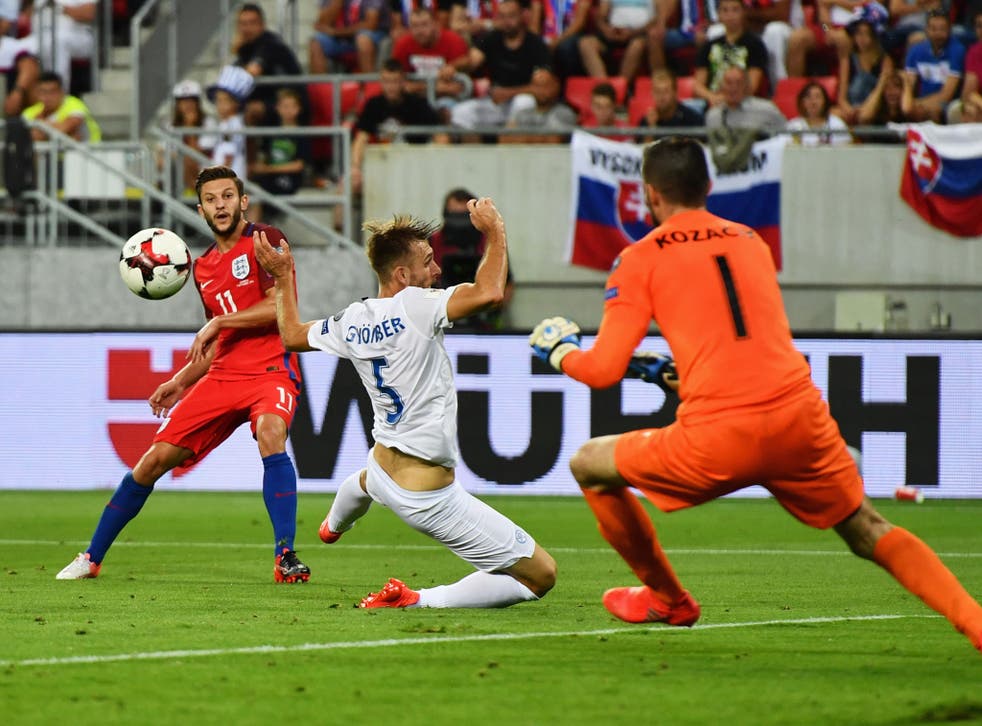 Sam Allardyce admitted his 'huge relief' at Adam Lallana launching his reign as England manager with a win in Slovakia — and then told the 'brilliant' Wayne Rooney he can play wherever he wants.
Lallana scored his first international goal, five minutes into stoppage time in Trnava, to set England off with a victory in the Group F World Cup qualification opener in Trnava.
With Slovakia just seconds away from earning their second goalless draw against England in the space of three months, despite being reduced to ten men following Martin Skrtel's 57th minute dismissal, Lallana's goal helped lift the gloom that had been hanging over the team since the humiliating Euro 2016 defeat against Iceland in June.
And Allardyce insisted that the late winner was a crucial moment for his reign, with England now preparing to face Malta at Wembley next month.
"It was a huge relief for me, I'll tell you that now," Allardyce said. You've got to beat 10 men when it comes around.
"In the end, we got the ball in the back of the net which was richly deserved based on us dominating the game, but we were not as clinical as I expected us to be.
"Slovakia just parked the bus. In fact they parked a double decker — we hit the post, several shots on target, some saves, then Adam scores his first goal for England in the dying seconds. It can never come better than that.
"It puts us on the journey going forward. Hopefully we can get better. We have to try and be more, in terms of practice in breaking defences down. Slovakia were playing at home but never bothered coming out. It was about breaking that down, but we did it in the end."
England player ratings vs Slovakia

Show all 14
England's failure to make an early breakthrough evoked memories of France, however, when Roy Hodgson's team dominated their three group games, but scored only three times.
And with the attacking talent at his disposal, Allardyce admits England must improve their conversion rate in front of goal.
"We have had 20 attempts on target and scored one in the last minute and, at this level of football, I think we have to try and hitthat target as often as we can.
"But we are going to have to be more clinical, which we proved to be right the way up to the Euros when we didn't seem to have a problem scoring a goal."
Rooney's move into midfield has taken away the attacking edge of England's leading goalscorer and the Manchester United forward ended the game playing in a deep lying role alongside Eric Dier.
But Allardyce insists he is happy for the 30-year-old to play wherever he sees fit for his country.
He said: "Today Wayne played wherever he wanted to. He was brilliant and controlled midfield. I can't stop Wayne playing there."
"Yes, he played a bit deeper than he does at United, but Wayne's comfortable, when I talk to him, about the position. He wasn't in a goalscoring position today, but his passing was excellent and we ended up getting what we wanted. A result.
"Against a different team, you may play a different system.
"But this is the most decorated outfield player in England. He's won everything at United, more or less, and at Champions League and domestic level.
"I think that he holds a lot more experience at international football than me as an international manager. Using his experience with a team, and playing as a team member, it's not for me to say where he's going to play.
"It's up to me to ask whether he's doing well in that position, and contributing. If so, great.
"We'd like to get him into goalscoring positions more. He's been a goalscorer all his life and I want him to do that again, but he reads a game as he reads it.
"He read it very well, we won the game and dominated the game, outplaying the opposition."
Allardyce, meanwhile, revealed that he will keep a coin handed to him by a disabled supporter on the morning of the game, insisting that it brought him luck on his debut as England manager.
"A father of a son in a wheelchair came to the hotel this morning and asked if it was okay to have a picture with his son," Allardyce said. "When we finished he said: 'Let me given you a lucky coin.'
"Here it is. I had it with me in my pocket, we won, so it'll stay with me."
Register for free to continue reading
Registration is a free and easy way to support our truly independent journalism
By registering, you will also enjoy limited access to Premium articles, exclusive newsletters, commenting, and virtual events with our leading journalists
Already have an account? sign in
Register for free to continue reading
Registration is a free and easy way to support our truly independent journalism
By registering, you will also enjoy limited access to Premium articles, exclusive newsletters, commenting, and virtual events with our leading journalists
Already have an account? sign in
Join our new commenting forum
Join thought-provoking conversations, follow other Independent readers and see their replies