San Marino v England: Fans turn on Rio Ferdinand who criticises set-up of the English game
Hodgson hears chants about defender but preferred to focus on Tuesday's game
Sam Wallace
Saturday 23 March 2013 00:45 Comments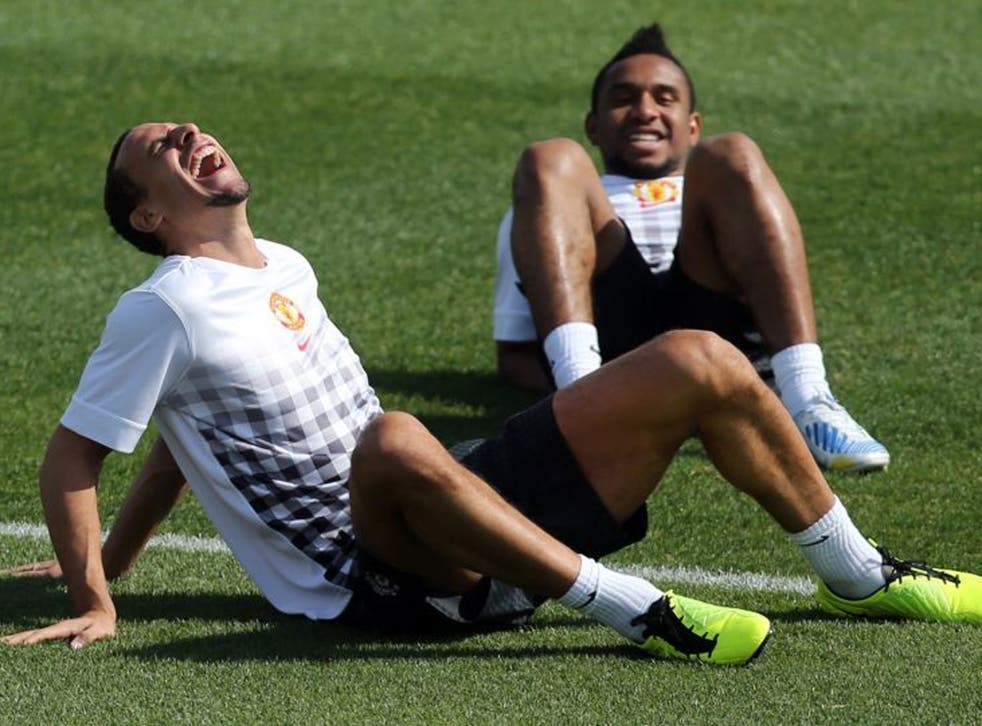 The England support in San Marino last night left Rio Ferdinand in no doubt that they did not want him in the national team any longer, with a series of hostile chants aimed at the absent Manchester United defender.
As England ran out 8-0 winners in their World Cup qualifier against San Marino, an England team's biggest win in more than 25 years, an away support which filled the 7,000-seater stadium let Ferdinand know what they felt about his decision not to play and fly to Qatar to work as a pundit for broadcasters Al Jazeera.
After the game Hodgson said that he would "have to be deaf not hear" the anger directed at Ferdinand but declined to comment on it. A victory for Tuesday's opponents Montenegro away at Moldova meant that they stay top of Group H by two points. Nevertheless, Hodgson refused to say that even a defeat in Podgorica would rule out England's chance of automatic qualification for the World Cup finals next year.
Hodgson said: "It would be a great lift to win there on Tuesday, but if we don't get it I won't be getting the spade out to dig a grave for the team. There are 15 points to play for and the team is capable of getting a large number of those points to see us through. Brazil [the win last month] gave us confidence and most people will look at the football we played [against San Marino] and revel in the fact there were exceptional moves and goals in there.
"We're not jumping around giving each other high-fives in the dressing room. We're pleased with a professional performance and the quality of the play: good movement, technique and passing against a team not in our league, but if we control the ball and move as well as we did, we'll give opponents problem."
Meanwhile, from his studio in Doha, Ferdinand maintained that his decision to take the 15-hour round flight to the Middle East had not affected the training programme that had precluded him from playing for England. He blamed the media for "assuming" details about his treatment.
He said: "This [going to Qatar] isn't something that I'm doing differently. This is something I've done in past international get-togethers when I've not been involved. I've had a course of treatment that I've had to have and then to go and rest and get ready and recuperate.
"That's what I've continued to do. But this is the way the media is. You're going to have people say things and assume a lot of things when they don't really know too much of the detail behind what's going on. I'll continue to do what I'm doing. I know what I'm doing is the right thing."
Ferdinand, who made his England debut in 1997, said that the best England manager he has played under was Glenn Hoddle. The 34-year-old said that English football "maybe ... needed to go back to the drawing board". Ferdinand said the game had to "have a real good look at ourselves right from the bottom all the way to the top."
"I've not actually played under Hodgson yet," Ferdinand said. "So I wouldn't know too much. From what I hear he's very organised, works a lot on team shape, which you need to do, and drills the team to the way that he wants them to play. It's different.
"I was talking to Phil [Neville] before about my most enjoyable time probably in an England shirt. It was playing under Glenn Hoddle. He let you go out there with a free spirit. Let you go out there and express yourself. He demanded that you go out there and if you make a mistake, don't worry, 'As long as you don't keep making the same mistakes I'll still believe in you'."
Theo Walcott is likely to return to London today having injured himself in training yesterday. Hodgson said the player "felt a pelvic twinge" and had a scan on the injury. He is expected to miss Arsenal's game against Reading on Saturday but no more than that. Hodgson rested Steven Gerrard, Ashley Cole, Glen Johnson, Michael Carrick and Danny Welbeck, although the latter was a second half substitute.
Register for free to continue reading
Registration is a free and easy way to support our truly independent journalism
By registering, you will also enjoy limited access to Premium articles, exclusive newsletters, commenting, and virtual events with our leading journalists
Already have an account? sign in
Join our new commenting forum
Join thought-provoking conversations, follow other Independent readers and see their replies