Shane Long used pregnancy technique to help comfort Seamus Coleman after horrific leg break
Long was seen talking to Coleman and embracing the full-back as he received treatment on a horrific double leg fracture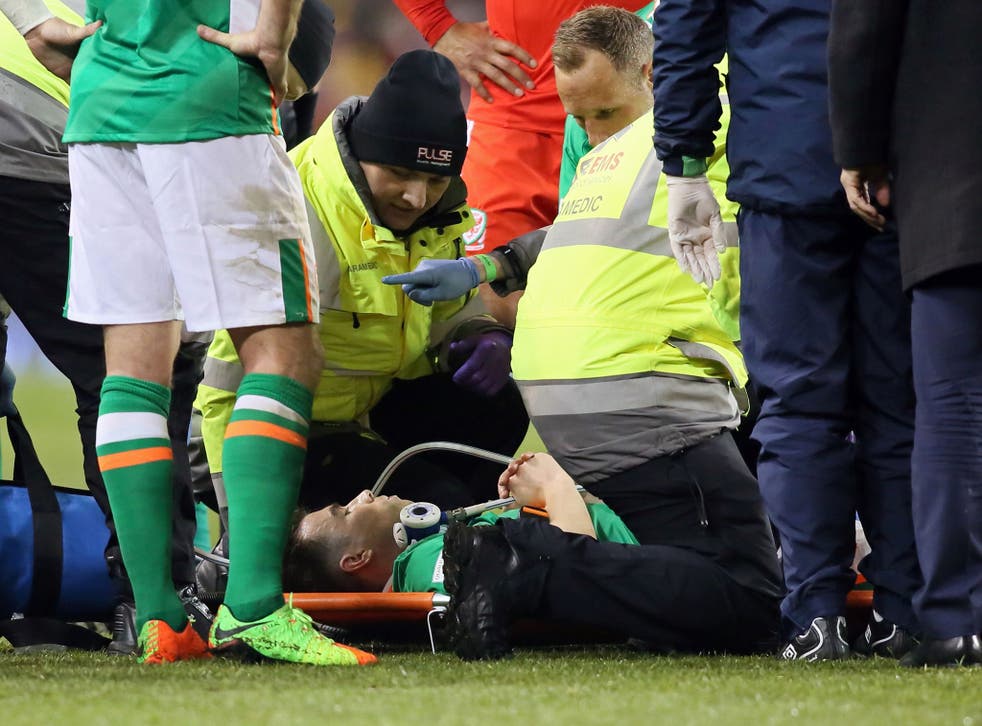 Shane Long used breathing techniques he learned during his wife's pregnancy to help comfort his stricken Republic of Ireland captain Seamus Coleman, it has been revealed.
Long was seen talking to Coleman and embracing the full-back as he received treatment on a horrific double fracture of his right leg, caused by a strong challenge by Wales defender Neil Taylor.
Ireland's medical staff gave Coleman oxygen before carrying him off the Aviva Stadium pitch and taking him to St Vincent's University Hospital, where he underwent successful surgery.
Fifa FifPro World XI 2016

Show all 11
Kayleagh Long, Shane's wife, has now revealed what her husband said while attempting to keep Coleman calm and prevent further aggravation of the injured leg.
"I had a hypnotherapy birth and they taught Shane to help me to breathe through it," she told the Sunday Independent.
"He told me: 'It all came back to me. I was just talking to Seamus, teaching him how to breathe through it.' He remembered it all.
"I asked if Seamus was listening to him and he said, 'Yes, to be fair, he was. He was really breathing well."
Kayleagh also revealed that Coleman later sent a text message to Shane to thank him for his words of comfort.

After the ill-tempered 0-0 draw with Wales, Long merely claimed to have been "trying to settle and relax" Coleman while he spoke with him.
Coleman, who has impressed this season at club level for Ronald Koeman's Everton, remains in hospital recovering from the injury.
Martin O'Neill, the Ireland manager, is confident that Coleman will return stronger from the injury, but has said no timescale is currently set on the 28-year-old's return.
"Even the doctors and surgeons wouldn't be terribly sure [when he will return]," he told BBC Radio Five Live's Sportsweek.
"Sometimes there are complications afterwards and injuries can be more prolonged, other times it can be clean and clear sailing.
"It will take some time but Seamus has great determination and sometimes those things work very much in your favour, in terms of recovery."
Join our new commenting forum
Join thought-provoking conversations, follow other Independent readers and see their replies