Spain's 'orchestra' play Republic of Ireland Euro 2012 exit march
Spain 4 Republic of Ireland 0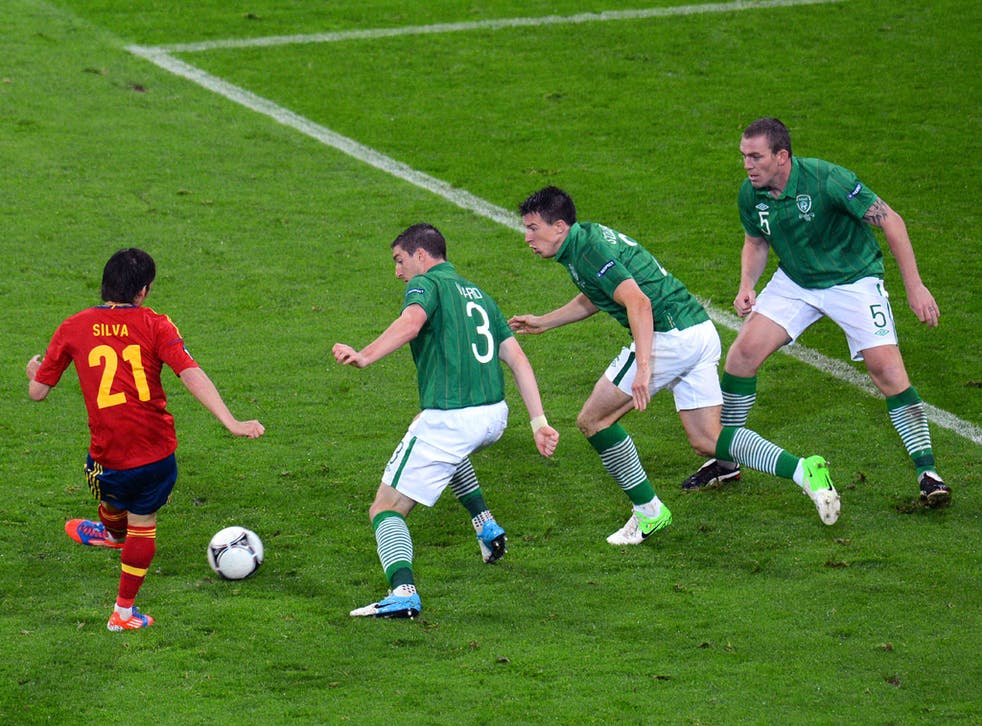 No alarms, no surprises. Last night, Ireland were out of their depth, out of breath and, ultimately, out of the tournament.
There is, of course, no shame in that given the circumstances of the group and last night's excellent opposition. Many, many other teams have suffered the same fate against a Spain side the Ireland manager, Giovanni Trapattoni, described as "like an orchestra". But, even then, the tactician in Trapattoni has to take an element of blame.
One of the only repeatedly proven ways to beat Spain over the past few years, has been to sit back very deep, congest the space and try to hit them on the break. Ireland criminally left out the crucial middle part.
Within three minutes of the game starting, Andres Iniesta was given ample time on the ball to pick a through ball for Xavi just outside the Irish penalty area. Most teams who play Spain have long realised they need to fill that area with bodies. With Ireland, it was the start of a troubling trend.
Seconds later, David Silva had been found. Although the ball broke, Fernando Torres was actually allowed carry it into the area to finish emphatically. It was not the strike of a player low on confidence. It was, however, vindication for forward and coach Vicente del Bosque.
It also encapsulated the two areas where Trapattoni got it very wrong last night. One, allowing Spain so much space. Two, a remarkable sloppiness in a team supposed to be built on solidity.
The manager, however, put this down to something deeper. "Something has changed since qualifying," he claimed. "I didn't see this tension, these nerves then. But this is a clear symptom of a side who, when they go to a competition either feel so concerned they make basic errors or feel inferior.
"I will ask the lads how on earth it's possible that, in two games, after two minutes, we've gifted them a goal. Then, we've given them another. Just like against Croatia, this means you throw any tactical plan out the window."
What's more, the strike also added another layer of historical difficulty to Ireland's task. More than the fact that the Irish have only beaten one team ranked above them in a competitive game in the last 11 years, this particular Spanish generation have never failed to win a game in which they've gone ahead first.
The reason for that is obvious. No longer needing to chase the game, Spain can simply play the ball around and treasure possession.That was exactly what they did. To be cruelly frank, it was all too simple for Spain. Indeed, they started to get a bit too exhibitionist.
Of course, the world champions' possession has another effect, and it's one that really accentuates the excellence of the side: that passing when they're in a winning position absolutely exhausts the opposition.
Even before 40 minutes had gone, the ball fell to Simon Cox on the edge of the Spain area. He looked far too fatigued, however, to properly control it.
That was never going to be case with Silva. Once the second half had restarted and Spain had begun to spray the ball around the edge of the Irish box, it was only a matter of time until they got another opportunity. In the 49th minute Silva stopped it, stepped one way, stepped the other and then rolled it past Shay Given.
For the fourth half in a row, Ireland conceded within moments of kicking off. This time, though, it was not due to any Irish flaws. It was simply about the finesse of the Spanish.
They illustrated it again on 70 minutes. Silva prodded the ball through for Torres, he easily outpaced Sean St Ledger and fired the ball home to further boost his confidence. His replacement Cesc Fabregas was then allowed in on the act, picking up a corner to drill past Given for his second goal of the tournament with seven minutes left.
The Irish fans at least got to cheer themselves when, after 76 minutes, the popular James McClean was introduced for Damien Duff. Earlier in the week, Trapattoni said he did not want to introduce the Sunderland winger in such a pressure situation and was waiting for a "quiet opportunity".
Man of the match Iniesta.
Match rating 7/10.
Referee P Proenca (Port).
Attendance 36,572.
Join our new commenting forum
Join thought-provoking conversations, follow other Independent readers and see their replies