Spain vs Czech Republic match report: Gerard Pique's late header breaks stiff Czech resolve
Spain 1 Czech Republic 0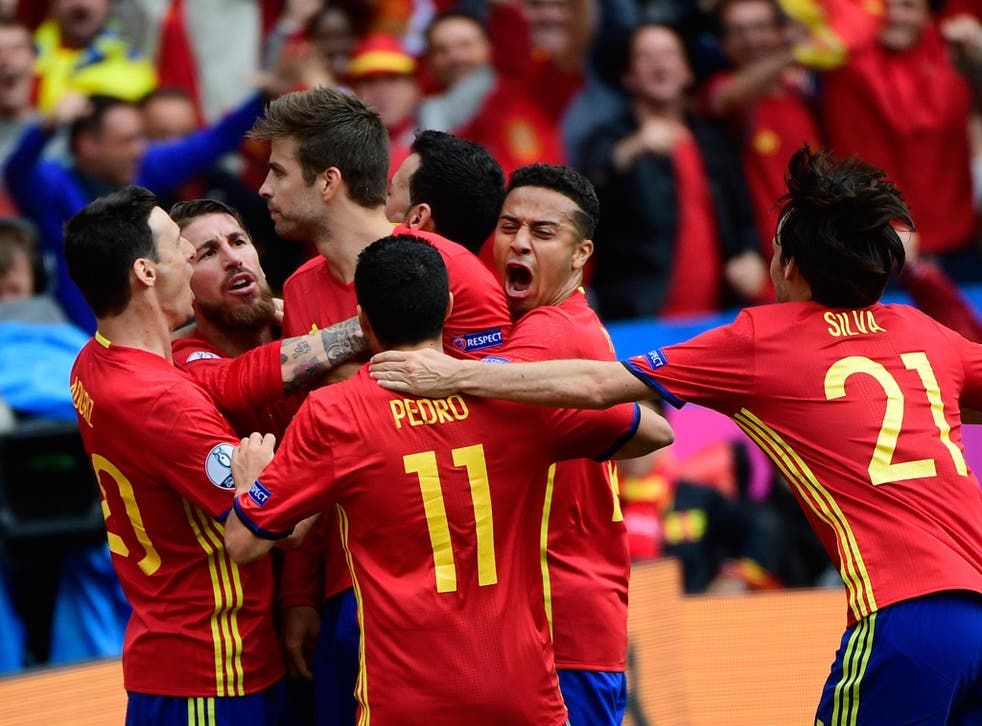 Title defences do not always go to plan. The last time Spain defended a trophy, at the 2014 World Cup, they and everyone else were stunned by a 5-1 defeat to the Netherlands from which they never recovered.
This time they start with a win, which was of evident relief to a squad which has had a difficult week, but it was perilously close. Despite utterly dominating the Czech Republic, Spain could have lost this match and only won it three minutes from time with the old-fashioned method of sending up the centre-half. Gerard Pique it was and it took his far post header to break Czech resistance. Even then they required a big David De Gea save to hold on to three points.
Vicente del Bosque kept faith in the Manchester United goalkeeper despite De Gea having to give a press conference at the start of the tournament to refute reports that he was being sent home from the squad. That followed allegations that he had been mentioned in connection with a Spanish police investigation into a sexual harassment case. He denies all involvement.
In his other major decision the coach also opted to lead the line with Alvaro Morata. Tomas Rosicky, whose season at Arsenal was even more injury-hit than Jack Wilshere, captained the Czech team.
The pattern of the match was set early on. Spain passed and probed, moving the ball from side to side while waiting for a chance to slide or chip the killer forward pass. In front of them Czech defenders shuffled across the pitch, back and forth, seeking to deny them.
The routine was more familiar to Spain than their opponents and it showed with Spain frequently piercing the Czech defence either through exposing a ponderous offside trap or by skirting around the flanks. However, they either found Petr Cech in place to deny them, or were foiled by often desperate defending.
In the 16th minute David Silva, winning his 100th cap, ran onto a Juanfran pass on the right and crossed low to Morata only for Cech, anticipating smartly, to save at the near post. Midway through the half Andres Iniesta, who was controlling the game, slid a pass through to Juanfran but his touch was imperfect and Ladislav Krejcl tackled before the ball was scrambled away.
And so it went on. Iniesta again found Morata in space but Cech turned the shot aside for a corner. Next Cech parried Jordi Alba's shot and white-shirted bodies blocked bravely to prevent the rebound being converted. Cech, busier than he has been all season at Arsenal, was then quick off his line to smother Silva.
De Gea had watched all this in splendid isolation, frequently being 50 yards from another player, but as half-time approached the Czechs found Tomas Necid unmarked on the edge of the area. With Sergio Ramos more interested in asking for offside than closing him down the Bursaspor striker had time, but panicked and shot early and too close to De Gea.
After half-time the Czechs defended even deeper reducing their reliance on the offside trap. Still chances were created. Roman Hubnik hit his own post while preventing Morata's cross reaching Cecs Fabregas; Nolito's blocked shot prompted a melee in which Ramos was unable to turn the ball in; and Jordi Alba failed to control the ball after David Silva's clever pass set him up.
But the Czechs showed they could be a threat from set-pieces. Hudnik forced a save from De Gea when he was first to Ladislav Krejcl's free-kick then Fabregas made a last-ditch clearance as Pavel Kadefabek was poised to turn in Selassie's header.
A goal then and this could easily have been a repeat of the opening 1-0 defeat to Switzerland at the 2010 World Cup. The Spanish hordes who had made the short trip across the Pyrenees grew increasingly anxious. Their cheers of support became more imploring. A superb tackle by Krejcl on Thiago Alcantara seemed to confirm it was not going to be Spain's day. Then Iniesta, again, found a yard of space. The cross was perfect and Pique glanced in.
Forced to attack the Czechs did so with such brio one wondered why they had not been more adventurous earlier. Indeed, Vladimir Darida almost snatched an undeserved point but De Gea, for the second time this week, stood firm.
After winning a tournament opening game at the third attempt Spanish coach Vicente Del Bosque was in no mood to accept criticism of his team's performance, insisting: "We created a lot of chances, that is the important thing, We had the game completely under control and that is the important thing. Everything wants to score more goals but we have not been too bad these last few years, playing this style.
Andres Iniesta, by some distance the man of the match, said: "This is not the first time we have had this kind of match, against a team defending deep, it means they have a lot of respect for how we play the game. There is not a set way to break down such teams, you have to be calm, keep going forward until you achieve what you want. Running 90 minutes after the ball makes you very tired - it is difficult to keep going like that, so we need to be patient."
"We played like that because it is the Spanish," said Pavel Vrba, the Czech coach, "they are another level to us, but we hope not to defend so much against the other teams. We hope to get four points from the other two matches [against Croatia and Turkey]. He added: "We gave everything."
"I think it has been an even tournament," observed Del Bosque. "There has only been one game with a lot of goals [aside from Germany's 2-0 win over Ukraine all matches to date had been settled by one goal]. This shows how even the teams are. We have three points. Now we want to go as far as possible."
A weary Tomas Rosicky said it was 'very painful' to concede an 87th-minute winner. Rosicky, who barely played for Arsenal last season, completed almost the entire match as the Czechs kept the defending champions at bay almost to the last.
"When you work so hard for the whole game and concede so late, it is very painful," he said. "The bitterness will stay with us."
"We still have hope of qualifying – we showed today everyone will have it tough against us. We have to show more when we go forward, there were moments we could hold the ball more and counter-attacks when we could do better.
"You could see the quality they have is exceptional and it is difficult to stop them when they have the ball. We tried to be compact and make it hard for them. You have to have the character to work for that. Other teams will do this. It looks easy but it is very hard. They can exploit one moment with their quality. We did well for a long period – but they always create chances because of their quality. They wait for the moment of the opening and go for it."
The Czech Republic now face Croatia in St Etienne on Friday, then Turkey on June 21 in Lens.
Join our new commenting forum
Join thought-provoking conversations, follow other Independent readers and see their replies