Press conference with England manager Gareth Southgate following their 3-2 Nations League win over Spain in Seville
Spain vs England: A tribute to Eric Dier's tackle on Sergio Ramos, a new entry in the reducer pantheon
Was it stupid? Probably. Was it dangerous? Possibly. But did it set the tone for England's most impressive victory under Gareth Southgate's tenure? Definitely
"At 3.01pm Vinnie went in for a tackle with Steve McMahon and that was the key moment," John Fashanu once recalled, thinking back to how a Wimbledon teammate by the surname of Jones had announced himself in the opening moments of the 1988 FA Cup final. "The tackle started at his throat and ended at his ankle."
Eric Dier's challenge on Sergio Ramos came significantly later in proceedings at the Estadio Benito Villamarín on Monday night, some 11 minutes after the kick-off. Nor was it an attempt to maim Ramos in the same way you gut a shrimp, ripping out a central vein to break the skin and part the meat. Dier, unlike Jones, won the ball.
But though it lacked the timeliness and the acrobatic quality of Jones' challenge, Dier's perhaps had the same impact. On an evening of moments that will endure in the memory, most of which point towards English football's more progressive future, here was the senseless, performative violence of its past and the visceral thrill that often comes with it.
Spain vs England – Nations League player ratings

Show all 22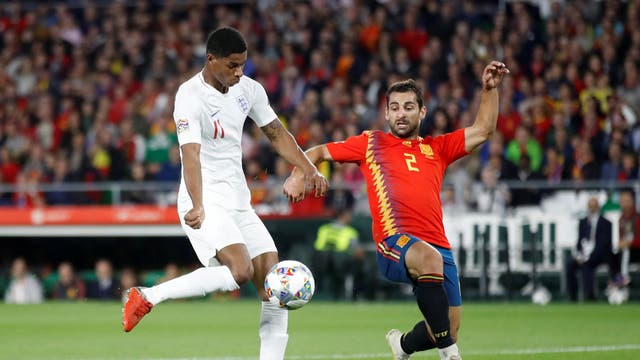 The tackle itself is laughable. Dier begins his run up while still 20 yards away from Ramos, picking up speed as soon as the ball is played back towards his man. Dier accelerates more still when Ramos takes possession, aware that the window he has to send him arse over tit is rapidly closing. Luckily, Ramos' first touch is poor and he soon sends a panicked glance Dier's way while hastily bracing himself for impact.
The tackle is also brilliantly pointless. Given the force of the challenge, the area of the pitch that it is in, the lack of support from his teammates and the proximity of the byline, Dier has little hope of winning possession even if he executes the tackle perfectly. He will, at best, concede a goal kick.
All of which raises the question: why? Dier's challenge could quite easily – and fairly – be characterised as a stupid tackle that needlessly endangered the safety of an opponent. Szymon Marciniak, the referee, certainly thought so and showed a yellow card. Dier stood little to gain, Ramos had something – specifically, his fibula – to lose.
It could only have been an attempt to send a message, in a manner more primitive than any Cantabrian cave painting. This was Dier's way of politely informing Ramos that England may have learned a few new tricks under Gareth Southgate, but they have not yet forgotten their old ones.
Aggression, after all, is not to be suppressed but to be channelled. It can manifest itself in Jordan Pickford's defence-splitting passes, disguised as long and hurried clearances, and often accompanied by a volley of expletives in a Wearside brogue.
It can be Marcus Rashford, constantly offering an out-ball up until the final minutes of stoppage time, riding his opponents' clumsy challenge with a determination to stay upright and take another clattering if needs be.
Or it can be Eric Dier's desperate 20-yard dash to put a reducer on Sergio Ramos, a moment that set the tone for the assertive England performance that followed.
Join our new commenting forum
Join thought-provoking conversations, follow other Independent readers and see their replies