Steven Davis: The humble captain behind Northern Ireland's success
Quiet and 'underrated', the midfielder led a previously struggling side to reach their first finals in nearly 30 years on an emotional night in Belfast
Michael Walker
Belfast
Saturday 10 October 2015 00:22 Comments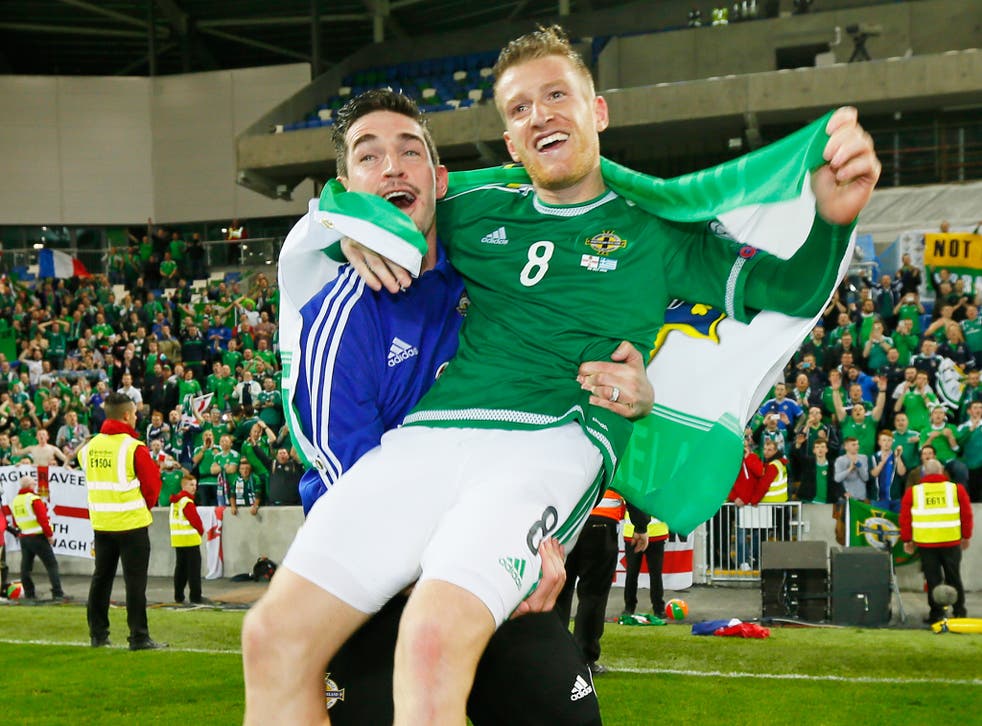 As he peeled away towards one of the occupied sections of three-sided Windsor Park on Thursday night, his first of two goals having given Northern Ireland the lead against Greece, Steven Davis did something unusual. Well, unusual for him.
Davis did what so many players do now and pointed to the heavens. A reticent, undemonstrative personality, an anti-celebrity footballer whose restraint may have led to him being consistently underrated, Davis was to explain that his mother Laura, who died in 2008, was his "biggest fan".
She would attend games like this.
"Whenever I scored I just lost myself in the moment," Davis said. "She came into my head at that important time. Those goals were for her."
Not many could recall Davis revealing such emotion, and he is 30 now. This was his 77th cap.
But here was euphoria. And besides, Davis has been provoking emotion in others.
Once again, Davis was saluted by his Northern Ireland manager, Michael O'Neill. Both men grew up in Ballymena and O'Neill generally shares Davis's public reticence. But Thursday was a night to affect even the most stable. Northern Ireland have not exactly experienced 30 years of hurt since qualifying for the World Cup in Mexico in 1986, it's been less glamorous than that.
That recent past, and this Belfast atmosphere, led to a moment during the second half against Greece when the home support called, as it always does, for O'Neill to give them a wave.
O'Neill never acknowledges this. His hands remain in his pockets because, as he explained: "It's not in my make-up to be like that. The supporters were singing for me to give a wave. Personally, I hate that."
But, winning 3-0, seeing his suspension-hit side put on a demonstration of attractive, winning, passing football, O'Neill obliged. He gave a quick thumbs-up. And immediately he was annoyed with himself. "As soon as I stuck my thumb up, the Greeks scored. So that will never, ever happen again."
This is a 46-year-old who has been in the game since being a teenage sensation at Newcastle United in the late 1980s, just as the Northern Ireland squad which had reached the World Cups of 1982 and 1986 grew old.
O'Neill won his first cap – under Billy Bingham – in 1988 and carved out a playing career that brought 30 more international appearances and lasted until 2004. He saw a lot, met a lot, swapped a lot of jerseys, but as O'Neill said: "There's no memorabilia room in my house."
Yet on Thursday O'Neill had his wife and daughters at Windsor Park, the girls joining him on the pitch after the squad had come back on for an encore around 10 o'clock. The family O'Neill had not been together like this since his first match in charge three and a half years ago. The reason was the game was lost 3-0 to Norway and the scale of O'Neill's task struck all.
It is a measure of how far Northern Ireland have travelled under him since then that he was prepared to bring his family over from Edinburgh, where O'Neill settled after playing. He had three years at Hibernian.
This was an occasion that had the potential to be emotional and as recently as the last World Cup campaign, that had not been the case.
Then Northern Ireland won one of 10 qualifiers and lost in Luxembourg along the way. Davis was there. He has seen the Irish at rock-bottom.
Now they are on top, knowing a point on Sunday in Finland would mean Northern Ireland win Group F. The finals' expansion has not been kind to them, in one sense.
Davis has been an essential part of the transformation. He embodies O'Neill's drive.
"There's all types of captains, but for me Steven epitomises everything you want," said O'Neill.
"He takes responsibility on the pitch, he drives the team forward, he's an example in terms of how he is as a professional, how he is as a person. I didn't expect him to score an 18-yard header if I'm honest, but I'm delighted for him to get the goal because in my opinion he's one of the most under-rated players in the Premier League."
Underrated, he is, yet Davis has had a career to admire. He began at Aston Villa, moved to Fulham, then had four years with Rangers, where he won the Scottish Premier League three times, before joining Southampton in 2012. He has been a significant part of the Saints' Premier League story and scored at Stamford Bridge last Saturday.
At the team hotel near Holywood, that goal against Chelsea made Davis a smiling presence at the start of the week. His demeanour contrasts with his intensity on the pitch. Together they act as Northern Ireland's glue.
As O'Neill said: "There are no superstars in this squad, the top payers are the most humble. The likes of Steven, Jonny [Evans] and [Gareth] McAuley, you couldn't meet better professionals.
"They don't get carried away. Very rarely do you see a Northern Ireland player in a dispute with his club and in Steven we have a magnificent captain who gave a magnificent performance.
"He's never not been available, never said he needs a rest, never comes off. That gives you an indication of what type of individual he is."
Davis and O'Neill are the same type of individual. Calm, intense, gifted. And suddenly emotional.
Register for free to continue reading
Registration is a free and easy way to support our truly independent journalism
By registering, you will also enjoy limited access to Premium articles, exclusive newsletters, commenting, and virtual events with our leading journalists
Already have an account? sign in
Register for free to continue reading
Registration is a free and easy way to support our truly independent journalism
By registering, you will also enjoy limited access to Premium articles, exclusive newsletters, commenting, and virtual events with our leading journalists
Already have an account? sign in
Join our new commenting forum
Join thought-provoking conversations, follow other Independent readers and see their replies