How the new wave of far-right populists are using football to further their power
Football is the perfect arena for the unscrupulous populist and macho, nativist fantasies of a new breed of neo-fascists, writes Jonathan Liew
Thursday 18 October 2018 07:19 BST
Comments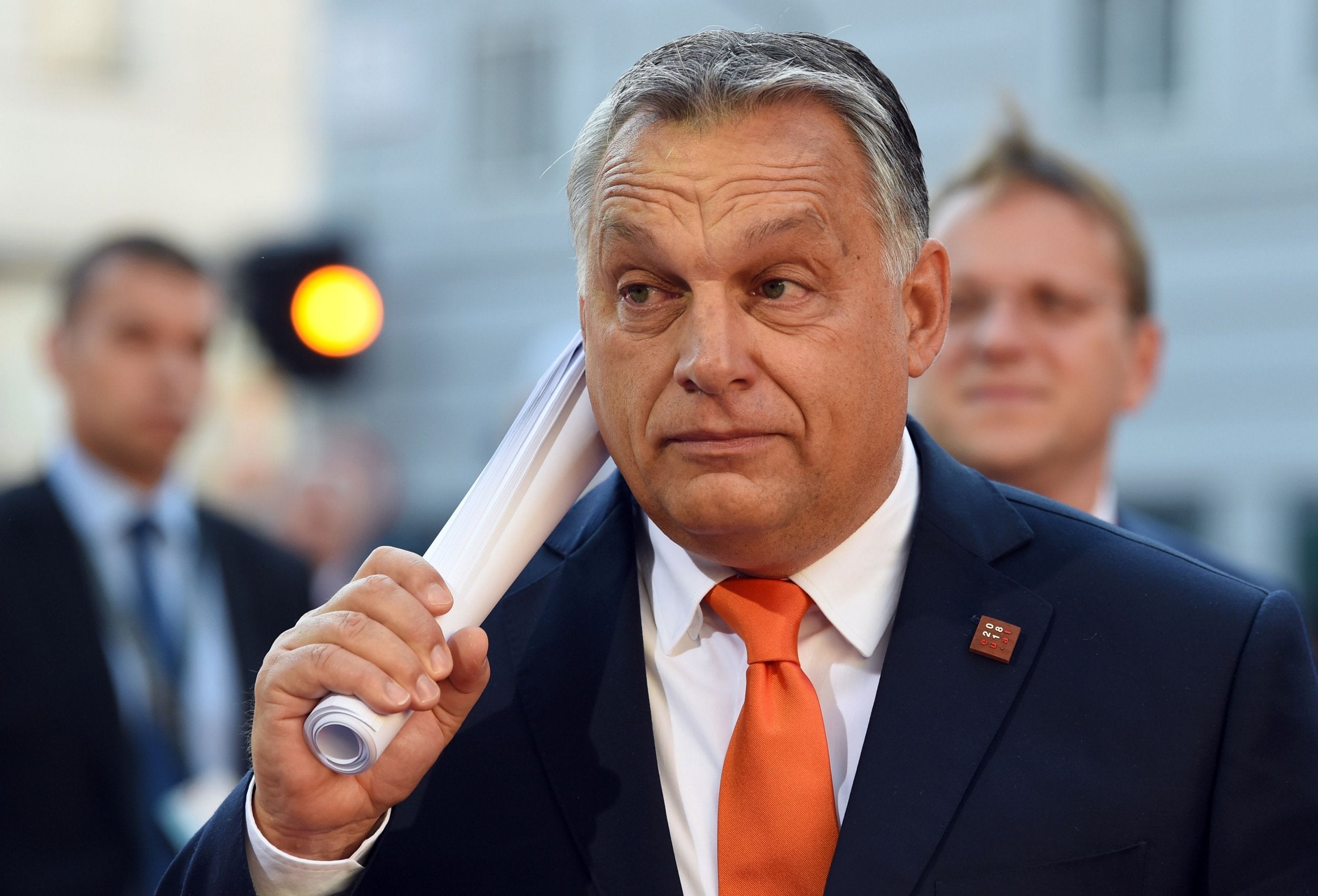 Viktor Orban was in London earlier this month. It wasn't a state visit or a political trip: on the contrary, the Hungarian prime minister was barely in the country for more than a few hours. Not one but two private jets were required to ferry Orban's vast entourage, among them Sandor Csanyi, the richest man in Hungary and the head of the Hungarian football association; Maria Schmidt, a conservative historian and government advisor; and Adnan Polat, a Turkish businessman and former president of Galatasaray. The venue they had chosen for their visit was Stamford Bridge, the occasion Chelsea's 1-0 win over Vidi, and if the above all seems like a lot of fuss for a drab Europa League group game, then it helps to understand the many and particular roles that football plays in the regime of a man frequently described as a dangerous authoritarian with strong fascist leanings.
Orban's own interest in football goes well beyond the cursory. He played at an amateur level in his younger days - you could even sign him on Football Manager once - and since returning to office in 2010, has turned his lifelong passion into a peculiar and vaguely sinister form of soft power that serves as a reflection - and perhaps even a portent - of football's function in the rise of global far-right populism.
For one thing, there is the way in which the country's football administration has been stuffed with Orban's friends in the wealthy oligarch class. Most of Hungary's biggest clubs are controlled by Orban allies: Ferencvaros are owned by a vice-chairman of Fidesz, the ruling party; Mezkovesd by the country's finance secretary. For another, there is the vast state funding of academies and football facilities. By 2020, when Hungary is one of the host nations for Euro 2020, over 32 stadiums will have been built or renovated with taxpayer money. Inspired by the feats of Croatia at the World Cup, Orban has set a goal of developing an entire world-class squad of Hungarian footballers within the decade.
World news in pictures
Show all 50
There's a double function at work here. As well as indulging his own personal hobby and creating a vast network of patronage and kickbacks, Orban is also building himself a base. His surge to power in 2010 came on the back of a huge grassroots movement formed partly of football hooligans and stadium security. And the establishment of his own football club - Puskas Akademia, which has just been promoted to the top division for the first time - indicates the way in which Orban has sought to harness the country's football heritage for his own nationalistic ends. "There is big nostalgia in Hungary for the 1950s football team," Tamas Bodoky, a journalist and dissident, said in an interview with Politico last year. "Orban wishes to recreate that international fame for football."
If Orban is using football to cement his power, then elsewhere insurgent right-wing ideologues are using football to try and win it. In Brazil the far-right former army officer Jair Bolsonaro is poised to sweep to power on a platform of racism, misogyny, homophobia and environmental catastrophe. He has pledged to arm private citizens with shotguns, and sell off vast areas of the Amazon forest to mining companies, and argued that the indigenous people who live there would prefer "electricity, television, blonde girlfriends and internet".
Despite all of this - or perhaps even because of it - Bolsonaro has proven wildly popular with some of the country's most famous footballers: Ronaldinho, Rivaldo, Cafu, Kaka, Lucas Moura, all of whom have spoken in favour of his candidacy. For decades, football in Brazil has remained relatively disentangled from politics, but a deeply divisive election campaign has forced many to take sides. And while the endorsement of a few footballers - even Neymar recently liked an Instagram post praising his candidacy - may not be the decisive factor in Bolsonaro's likely victory, it has nonetheless provided weeks of free publicity in a country where the public utterances of top players are studied and scrutinised as closely as the weather.
For other strongmen, football has played a more predictable role: as a fertile canvas upon which to enact the sort of identity-based culture wars so beloved of the neo-fascist. Italy's new deputy prime minister Matteo Salvini, the leader of the far-right Northern League party, has wasted no time in offering up his bar-room analysis of Italian football, blaming the country's failure to qualify for the World Cup on "too many foreigners" in Serie A and grassroots football. He advocates offering state incentives to football clubs who restrict the number of foreigners in their team. In Germany, meanwhile, the right-wing AfD party grabbed the headlines with their victimisation of Mesut Ozil during the World Cup, part of a surge of populist outrage that culminated in Ozil's abrupt retirement from the national team.
Even in England, a country that convinced itself it had dealt with its far-right problem by charging fans £75 for a ticket, clubs and authorities are beginning to find that the problem didn't disappear from football; it simply regrouped. Kick It Out have long been warning that extremist organisations are trying to regain a foothold in the game, and last weekend's mass march by the far-right Democratic Football Lads' Alliance - attended by a West Ham youth coach who has since been suspended - appeared to bear them out.
Democratic Football Lads' Alliance march in central London turns violent against police
Back in Hungary, Orban is broadening his horizons. Having largely seized control of the football infrastructure in his own country, he is now looking abroad, exploring ways of using football to expand Hungarian power to neighbouring countries. A close ally called Lorinc Meszaros has bought a majority stake in the Croatian club Osijek, while Orban has also directed government funds to the establishment of a Puskas football academy in Romania.
In an interview with The Guardian earlier this year, Orban described his vision of a footballing empire: a network of Hungarian academies and influence that would stretch outwards from Budapest, south into the Balkans, east into Romania and Ukraine, encompassing all the lands that used to belong to - as he put it - "Greater Hungary". It's a chilling reminder of football's power: a sport with a deeply tribal nature and a large captive audience full of disenfranchised working-class males, and thus in many ways the perfect arena for the unscrupulous populist and his macho, nativist fantasies.
Join our commenting forum
Join thought-provoking conversations, follow other Independent readers and see their replies