Serbia-Albania match abandoned after drone carrying flag sparks mass brawl on pitch
The powderkeg was lit after Serbian striker Stefan Mitrovic pulled down a flag that was flown above the ground by a drone alongside a map of Kosovo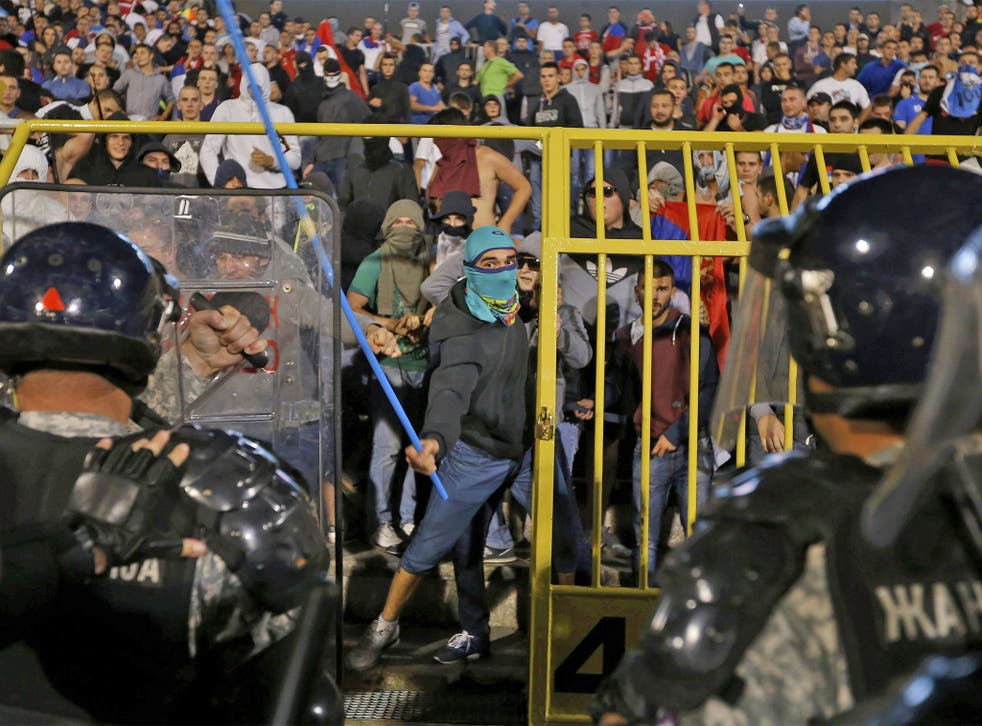 A football match between Albania and Serbia was abandoned following a brawl between players when a drone carrying a flag was flown over the pitch.
The Euro 2016 qualifying match was the first time that Albania have played in Belgrade since 1967. Tensions were high from kick-off, with hundreds of police deployed in advance of the game.
However, the powderkeg was lit in the 42nd minute when Serbian striker Stefan Mitrovic pulled down a drone carrying a Greater Albanian flag alongside a map of Kosovo was flown above the stadium, sparking a mass brawl among the players as well as a pitch invasion.
Riot police then moved in when around a dozen fans invaded the pitch and attacked the Albanian players, forcing them to retreat into the tunnel as flares were thrown from the terraces.
The development sparked chaos on the field with players fighting each other. There were also clashes in the stands of the Partizan Stadium.
In Pictures: Serbia-Albania match abandoned

Show all 9
Uefa had banned Albania fans from attending the Group I game but had elected to allow the two countries to face each other, despite long-standing political tensions. Albanians and Serbians are the two ethnicities involved in the dispute over Kosovo.
The Albanian community in Kosovo used the disintegration of Yugoslavia in the 1990s to begin their battle for independence from Serbia, but it resulted in a brutal and bloody war that ended with Nato's intervention in 1999.
Following the peace agreement, the local government declared independence in February 2008, leading to recognition by the United States and many European countries.
However, the Serbs never settled for such a solution and still dispute Kosovo's independence. No timetable has been yet set to resume or replay the game.
Register for free to continue reading
Registration is a free and easy way to support our truly independent journalism
By registering, you will also enjoy limited access to Premium articles, exclusive newsletters, commenting, and virtual events with our leading journalists
Already have an account? sign in
Register for free to continue reading
Registration is a free and easy way to support our truly independent journalism
By registering, you will also enjoy limited access to Premium articles, exclusive newsletters, commenting, and virtual events with our leading journalists
Already have an account? sign in
Join our new commenting forum
Join thought-provoking conversations, follow other Independent readers and see their replies