Feature
'Why not just hit it?' The night Mark Hughes and Wales taught Spain a football lesson
A thumping 3-0 victory over Spain in qualifying for the 1986 World Cup, garlanded by a Mark Hughes goal of jaw-dropping audacity and athleticism, showed an ability to compete with the best, remembers Tom Williams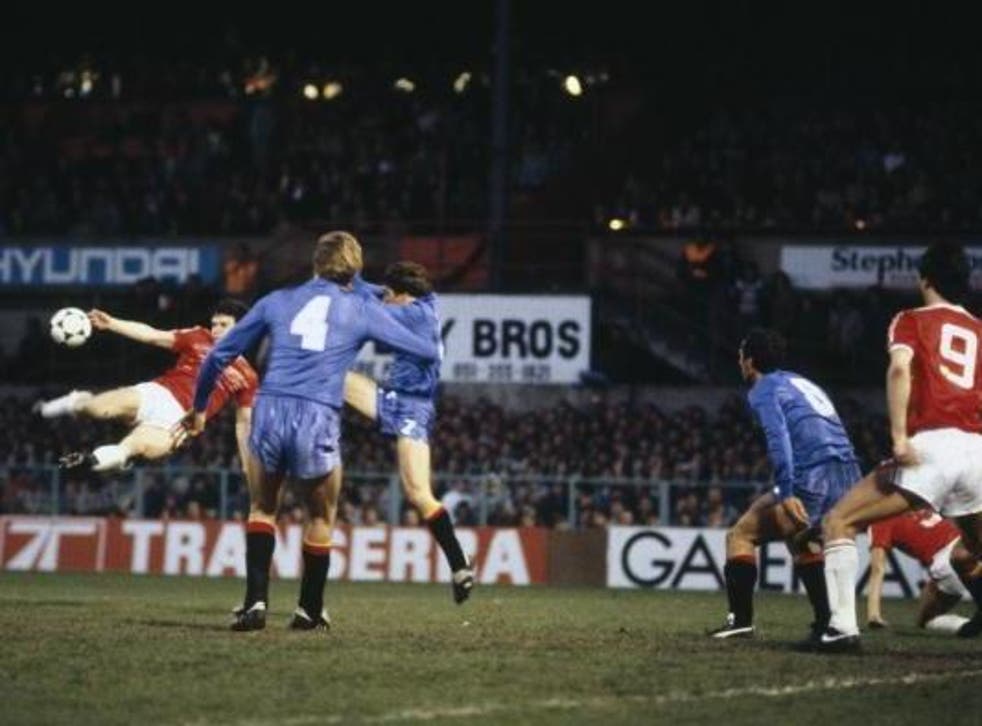 For Welsh football fans of a certain age, this week's friendly between Wales and Spain in Cardiff will bring to mind memories of a famous meeting between the teams on a giddy night in Wrexham in April 1985.
Wales would eventually fall short in their bid to reach the following year's World Cup, but a thumping 3-0 victory over Spain in qualifying, garlanded by a Mark Hughes goal of jaw-dropping audacity and athleticism, demonstrated their ability to compete with the best.
Spain were missing a handful of key players – among them left-back José Antonio Camacho, the future national team boss, and livewire striker Emilio Butragueño – but they remained a formidable side. Miguel Muñoz's team had reached the final of the previous year's European Championship, losing to hosts France, and the spine of that side remained in place.
"They weren't at the level that they have been in recent times, but they were still a very good team of players from the top clubs like Barcelona and Real Madrid," Hughes tells The Independent.
Wales had lost the reverse fixture 3-0 in Seville, Butragueño netting the third goal on his international debut, but Mike England's men backed themselves to beat anyone at Wrexham's boxy and boisterous Racecourse Ground. And with good reason. Between 1977 and 1987, Wales played 18 games at the North Wales venue, winning 11 and losing only one.
"When you got a full house at Wrexham, it made a massive difference," recalls Ian Rush, who was one of several North Walians in the team. "We just felt invincible there."
Rush put Wales in front a minute before half-time, capitalising on a calamitous mix-up between Spain goalkeeper Luis Arconada and centre-back Antonio Maceda to tap the ball into an unguarded net from a distance of about two yards.
Wales captain Kevin Ratcliffe, whose long ball towards Hughes was the source of the confusion in the Spanish box, allowed himself a smile after seeing Arconada come a cropper.
"I thought he was a bit arrogant at the coin toss," Ratcliffe says. "I remember thinking, 'Ah, well maybe you're not quite as good as you thought you were.'"
Arconada had been Spain's fall guy in the final of Euro 1984 after allowing Michel Platini's tame free-kick to squirm beneath him. The defeat in Wrexham would prove to be his final international appearance: he ruptured his anterior cruciate ligament the following August and did not play for his country again.
Spain's centre-backs were Athletic Bilbao colleagues Andoni Goikoetxea, AKA 'The Butcher of Bilbao', and Iñigo Liceranzu, whose rugged approach had earned him the nickname 'Rocky'. It was to be Liceranzu's first and last Spain appearance, a battering at the hands of battle-hardened Wrexham native Hughes ushering him out of the international arena no sooner than he had entered it. In the words of El País, Hughes set the tone for the encounter when he "killed" Goikoetxea in a first-minute duel. Spain's players, the paper said, were simply blown away by Wales's "rock 'n' roll" football.
Hughes's goal arrived in the 53rd minute after Peter Nicholas curled a free-kick into the Spanish area from midway inside the visitors' half. The ball was headed down by a blue-shirted defender and as it bounced up off the turf, Hughes launched himself into an astonishing mid-air scissors kick, meeting the ball side-on at shoulder height and catapulting it into the top-right corner at awesome velocity. The fans on the tightly packed terrace behind Arconada's goal erupted.
"Brrrrrilliant!" trilled BBC Wales commentator Idwal Robling. "What a goal! What a marvellous goal!" Rush describes it as "an absolute wonder goal".
"I remember the ball going into the box," says Hughes, who was 21 at the time. "I didn't challenge for the initial one – I just stepped out, thinking it might drop. It came into my direction and bounced quite high. I actually thought the referee had blown his whistle. I don't know whether somebody in the crowd blew a whistle, but I thought there'd been a foul. The ball came up and I thought, 'Why not just hit it and see where it goes?'
"I used to stand on that terrace as a young lad and cheer Wrexham on, so to do it in front of the Wrexham Kop was a special moment for me."
Hughes regards the strike as one of his three best goals, alongside his winner for Manchester United against Barcelona in the 1991 Cup Winners' Cup final and a volleyed equaliser against Oldham Athletic in an FA Cup semi-final at Wembley in 1994. "It probably got me my move to Barcelona, if I'm honest," he says.
In the 86th minute, with the Welsh fans in the crowd of 23,494 belting out a chorus of "Are you watching Inger-lund?", Hughes hooked a pass over the top for Rush to race through and score his second goal. It would be another 28 years before Spain lost another competitive game by such a margin.
"I still talk to Emilio Butragueño about that game," says Rush. "He always remembers the Wrexham game and he says that Wales had an excellent side. That goes to show how good a result it was."
Wales have not played at the Racecourse since 2008 and they will turn their backs on another much-loved venue this week. Cardiff City Stadium has been Wales's fortress in recent years, but with the Football Association of Wales eager to cash in on the presence of David de Gea, Sergio Ramos and Sergio Busquets on Welsh soil, Thursday night's game with Spain will take place at the Principality Stadium, where the national team last played in 2011.
The 74,500-capacity venue was regularly sold out when Hughes took Wales to the brink of qualifying for Euro 2004 in his first managerial role. Dwindling attendances prompted the move to the smaller Cardiff City Stadium, yet with Ryan Giggs having made a positive start to his own tenure as national coach, Hughes is optimistic about what lies ahead.
"I'm excited by what Ryan's trying to do," the Southampton manager said. "He's obviously got a lot of good players from Chris Coleman's time and he'll benefit from the experience they've had, but he's introducing good young players into the group as well."
Giggs has given opportunities to a clutch of promising young players in his five games to date, including in-form Bournemouth winger David Brooks, Liverpool forward Harry Wilson, who is currently on loan at Derby, and 18-year-old Chelsea starlet Ethan Ampadu. With Gareth Bale a doubt for Thursday's game, Wales might not be able to hit their opponents with the same force as they did in 1985, but in the eyes of the players who put Spain to the sword that night, the prospect of another glimpse of the team's future means there is lots to be excited about.
"You're wondering when the next batch are coming through and all of a sudden, the next batch are there," says Ratcliffe. "If they're anywhere near as good as the last batch, we're in safe hands."
Join our new commenting forum
Join thought-provoking conversations, follow other Independent readers and see their replies