Wales vs Serbia: Welsh players will not wear poppies despite England and Scotland defying Fifa
The Euro 2016 semi-finalists will instead wear plain black armbands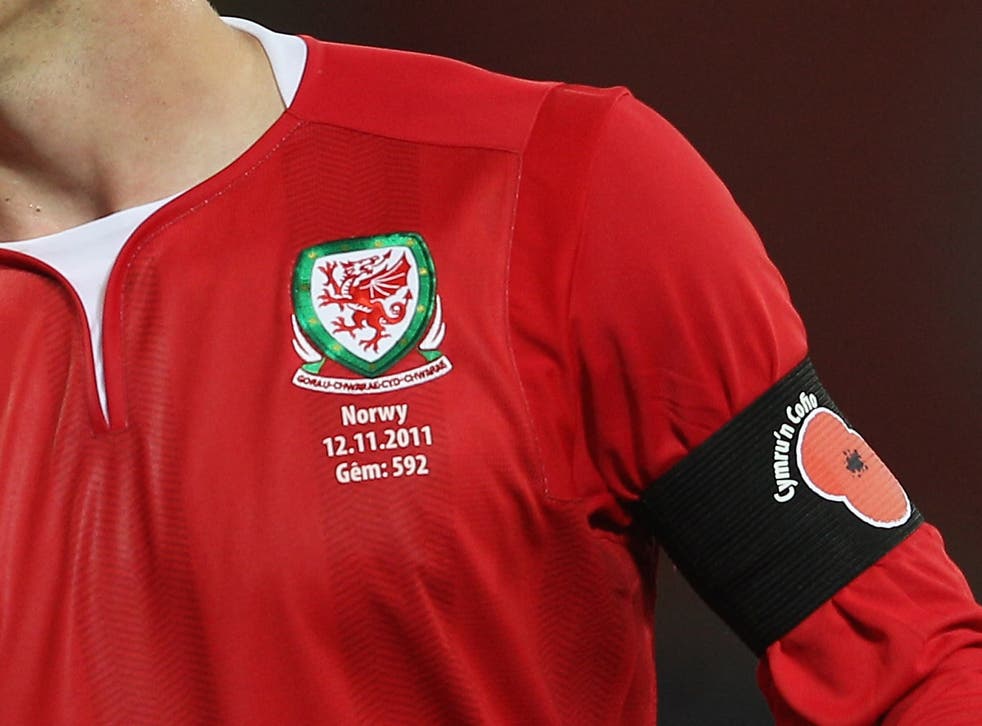 Wales are to obey the wishes of Fifa and not wear poppies on their shirts or black armbands during the World Cup qualifier against Serbia on Saturday, in order to ensure they receive no fine or points deduction.
The Welsh FA announced yesterday they would instead wear plain black armbands to honour the fallen, claiming the potential points penalty or fine led to their decision.
The FAW did request special dispensation from Fifa to wear the poppy, along with the rest of the home nations, but have decided to adhere to the regulations imposed.
The decision is in contract to the stance taken by the English and Scottish FAs who have opted to defy Fifa's laws and wear poppies, albeit stitched into their black armbands rather than the shirt.
Football's governing body has warned that they see the poppy as a political symbol, with general secretary Fatima Samba Diouf Samoura saying "any kind of sanction" could be handed to teams that rebel against the regulations – including a points deduction.
Football Association of Wales (FAW) chief executive Jonathan Ford: said: "Fifa have turned down a request made by the FAW for the Wales National Team to wear poppies on their shirts or on armbands.
"It has therefore, been decided that Wales will wear black armbands during their 2018 Fifa World Cup qualifying match against Serbia.
"The FAW naturally wishes to respect and honour those who fought and lost their lives fighting for their country.
"We felt unable to take the risk of a financial penalty or point deduction. However, as we always have done at this time of year, we will be paying our respects in other ways."
Wales will still be paying their respects ahead of the game, with fans to hold up a poppy mosaic and limited edition home shirts with a poppy print to be sold, with 100 per cent of the profits being donated to the Royal British Legion.
Chris Coleman will also take a delegation of players to visit a war memorial on Remembrance Sunday.
Northern Ireland are to follow Wales in not wearing the poppy on their shirt or armbands when they face Azerbaijan on Friday night.
Join our new commenting forum
Join thought-provoking conversations, follow other Independent readers and see their replies