Wayne Rooney Q&A: England captain in the most frank and revealing interview of his career
With England due to face Malta at Wembley on Saturday, Rooney addressed every issue currently hanging over him in one of his most honest interviews to date
Mark Ogden
Chief Football Correspondent
Thursday 06 October 2016 07:38 Comments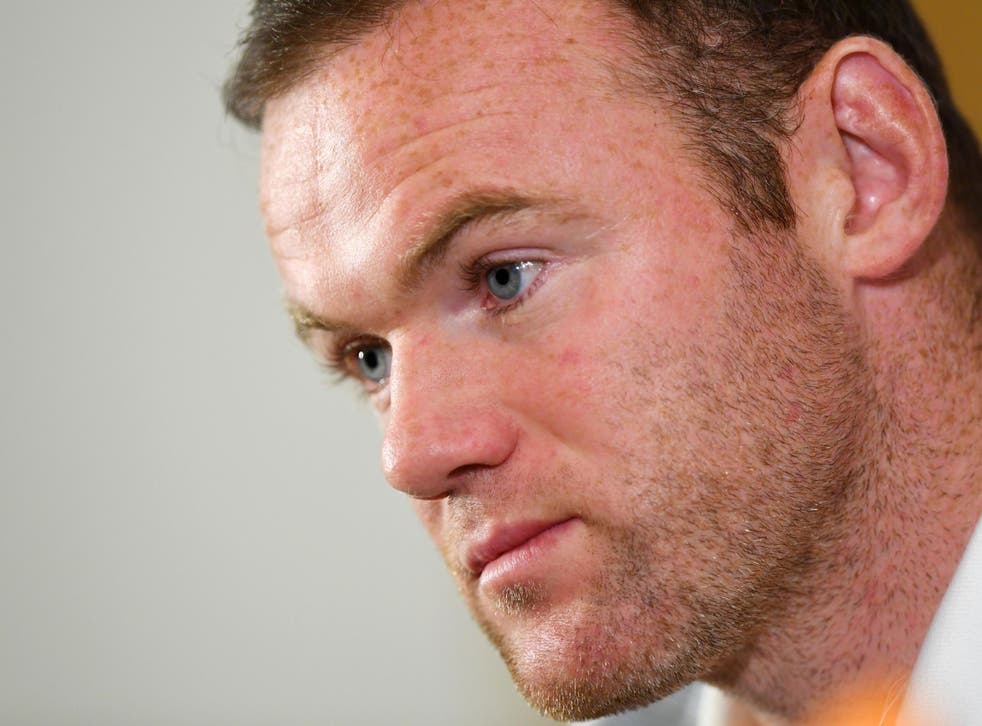 Wayne Rooney faces the most crucial period of his career with England and Manchester United having been dropped by club manager Jose Mourinho and given no assurances about his international place by interim-manager Gareth Southgate.
Approaching his 31st birthday later this month, Rooney is at the crossroads of his long career, with question marks hanging over his best position and ability to extend his playing days into his mid-30s.
But with England due to face Malta at Wembley on Saturday, Rooney has given perhaps the most frank and revealing interview of his career by addressing every issue currently hanging over him.
Here is the Q&A of Rooney on his future, Sam Allardyce, being dropped by Mourinho and whether he believes his days at the top are numbered:
What did you make of Sam Allardyce's departure? Sad to see him go?
WR: "All the players would be sad to see Sam go. Everyone could see how much he wanted the England manager's job and finally got it. What happened has happened. I'm sure he is disappointed with himself. The FA had a decision to make which they made. I'm sure he's gutted.
"There's not really much I can say on it. I'm sure he's disappointed with himself. He's let a big opportunity for himself slip."
Is it an example of how times have changed during the years since you started out in the game?
"I think that's why it is so important you know the environment around you, the people around you. Sam's an experienced man in football, and in life, and he's been caught out.
"So it's vitally important that players, young players are aware of that. I'm sure they are all know, but if you put yourselves in some positions it could be really damaging."
Is it difficult to trust people?
"Yes, it is difficult. There are not many I do, to be honest, apart from family and close friends.
"You have to be aware of everything. Everyone you speak to. It's only really behind closed doors that you can be yourself.
"It is sad in a way but that's football, that's the way of life, certainly in this country.
Have you contacted Sam since last week?
"I haven't spoken to Sam."
Text?
"No."
You have admitted to being 'tired' of the debate around your best position? What's the root of that?
"I've said many times I'll play for England as striker, midfield, No 10.
"It was a bit of misunderstanding after the last game, when Sam came out and said I play where I want. I played exactly to instructions, what was asked of me, that role.
"I didn't come in and say I want to play here or there, I played where I was asked to play.
"That was a big misunderstanding that I seemed to get slaughtered for. But again that's something I have to deal with and I'm sure Gareth will have his opinions where I should play or if I play. I'm sure he will have his thoughts on that and I will find out in the next few days.
So where do you feel most comfortable? What do you think is your best position?
"Again, it is difficult. I said at the end of last season I was enjoying playing in midfield. I feel I can bring a lot to the game from there, but obviously, under circumstances I know I could go on the training pitch now and be asked to play No.9, as a striker, or be asked to be 10 too.
"I'll see what happens and if I become uncomfortable playing in a position where I'm asked to play, of course I'll say."
Jose Mourinho suggested that you came back a different player, different person, after the last international break. Do you know what he meant?
"I have had criticism a lot of times. You'll have to ask him that.
"Listen, I had a bad game at Watford. I played bad, I know that and I understand that.
Jack Pitt-Brooke analyses Watford vs Manchester United
"I think if he was picking the next team on the back of that, I understand not playing. The team have done well, certainly in the Leicester game since that. I understand I have to work hard and try and get back and try and get my chance and take it.
"I don't think he meant I'd come back a different player. We had come back and lost three games on the run.
"The team came back different, but I'll take a lot of that. Of course, I've done that throughout my career, but we have to work as a team in terms of trying to win and, if I'm on the bench, so be it.
"I'll fight. I won't not fight for my place, I'll fight to try and get back in."
Are you worried about your form?
"No. To be honest, I felt I started the season okay. Again I had a bad game, certainly a very bad second half, against Watford. But I am not worried, no."
So you don't feel the game, your form, is getting away from you?
"No. Of course I know I can do better. If I don't play very well, there is a massive over-hype which comes from everywhere really, so I have to just focus on playing."
Are you just as hard on yourself as others are hard on you?
"Of course I am. I am an honest player, I am honest with myself.
"I speak to a couple of people after every game and they are honest with me after every game. If they feel I haven't played well, they tell me and I know that. I know that during a game – I can feel if I'm not playing well,
At some point in your career, it happens to everyone, you will know that you are 'gone.' Have you reached that stage?
"I have heard a lot of people talking about transition (changing positions), well let me do it.
"If that is what's going to happen, let me do that. I feel I am not being given a chance, if that is the way I want to go in my career, to expand it.
"I am not being given that chance to go from there to there. It is all right talking about your career, saying you can extend it by doing this and that, but of course you need to be given that chance to do it.
"If I was sat here at 25, 26 talking about playing centre midfield or a deeper midfield I wouldn't want to play there of course.
"But now I'm at a stage where that might be better suited to me. Certainly No.10 might be better suited to me.
"Again, it is down to the managers, I am not going to go in and say 'I have to play there'. I play where the manager asks me."
Has Jose Mourinho asked you where you feel you are most comfortable?
"Yeah, of course. We spoke at the start of the season and, as he said to you guys, he feels like my best position is further forward, so that's where I will play."
Isn't there a contradiction between what you want and what he wants?
"I'm not saying that I want to go and play there. I've said in the last couple of years that will happen.
"Whether it happens now or in a year or two's time, time will tell.
"Listen, I believe in the managers I work under and if that's where they want me to play, that's where I'll play."
Why do you feel you are better in midfield?
"I feel I can control and dictate games from there. I'm not saying I'm better. I'm saying I can play there to a very high standard. Time will tell."
Is there something you have lost from your game that makes you better up front?
"Of course, it's obvious I'm not as quick as I was.
"You can always have a football brain. I've got that. A lot is made of where I play, and how I play, and obviously it gets a bit frustrating at times.
"But of course there will come a time, if I'm not playing, I might have to be a bit more selfish in terms of where I want to play and making that clear.
"But at the minute, I'm happy playing where my managers want me to play."
But why not tell Jose Mourinho? It's your career?
"I speak to the manager, but I don't think it's the time for me to be doing that.
"I've always put the team as more important. The team are doing well at the minute, so I have to bide my time and wait for my opportunity."
Does Mourinho listen?
"I'm sure he would. We chat every day. I've said before, I knew the Watford game I didn't play well.
"I didn't deserve to play the next game, I understood that, and the team have done well, so I have to bide my time and take my chance."
Many people have claimed that, because you started at 16, your football age is older than your actual age? They call it the burn-out theory – do you accept that?
"I've heard it, I don't agree with it. I can understand where it comes from.
"I've played football, like most players, since I was a young boy. I know it requires a different mentality, with different concentration, at the highest level.
"But you're playing – whether it is first team, reserves, youth team. You're still training and playing every day, so I don't really agree too much with it."
Do you still love the game as you always have done?
"I love football. In football, you have highs and lows. I wake up every day and love what I am doing.
"I said to you last time that when I am finished playing, I cannot imagine my life without football.
Do you dread the day when it all ends?
"Yes. Any player who has played since he was a kid will say that.
"You speak to players who have done that and they say it is a weird feeling. You enjoy it while you can. I have not even thought about it."
Wayne Rooney's career in pictures

Show all 18
Gareth Southgate met you last week to tell you that you would keep the England captaincy. How important was that?
"The last time there was a lot of speculation (about the captaincy) and it was good he came up as it stopped the speculation.
"We had a chat. He hasn't been around the players that much and asked what it is like and how we can move forward as a team."
Is there anything you told him that you thought could be done better?
"Yes, a few things. I think, of course, there are always things which could be done better.
"I am sure he will be trying to work on stuff to do that. There are things we can all do better to be successful."
Have you reached the end? Do you feel this stage of your career is now the beginning of the end?
"No. It is part of football. It is the challenge and I am determined to get back in the team."
Lots of people, in and out of the game, are you saying you are finished.
"I think people have their opinions. I have said it so many times that people are entitled to their opinions.
"It is football and you cannot play all the time even if you want to.
"I am at a stage I want to play. I am a fighter. I want to get back in the team.
"I will work hard to try and do that. This is where I am at. I am sure people who know me know I will come back."
Can you get the same buzz from playing in a deeper role as you get from scoring goals as a striker?
"Of course you cannot beat the feeling of scoring goals, but my career will be determined on what we won as a team.
"I am not a player who is happy to not to win as a team but to get individual trophies.
"I have never been that sort of player. I am proud of the trophies we have won as a team. That is the way I am now. I want to play football. I love football whether it is scoring or not.
You can get away with a bad game up-front if you score a goal, but is it less easy to do that as a midfielder?
"I certainly feel that in the last game against Slovakia, I was nowhere near as bad a lot of people were making out.
"I felt that the change which Sam Allardyce made, in putting Dele Alli in the number ten and me and Eric Dier behind him, won us the game.
That quote from Sam about you playing wherever you want didn't do you any favours in hindsight, did it?
"Sam knew he made a mistake. He said that to me on the plane home.
People took that as Sam saying that you picked the team?
"Exactly, which couldn't be further from the truth. I play to instructions.
"I got battered in many different ways for my performance, which I felt was actually a decent performance.
"I suffered from that, but I thought Sam's change in putting Dele on allowed us to win the game, with me and Eric controlling it and winning the second balls, getting balls into dangerous areas."
What did you say to Sam?
"He knew had made a mistake. That's part of being involved at this level.
"He understood that quite early and unfortunately he doesn't have the chance to rectify that now.
Can you envisage a time over the next two years where you could accept being part of the squad, rather than a starter?
"I would accept being part of the squad because I love coming here and meeting up with England.
"Whether I am on the pitch or not, I feel I can help the players.
"If the manager turned around on Saturday / Tuesday and I was on the bench for two games, look of course I want to play, but I am not going to turn around and say I am not playing for England again.
"I would turn up, of course, and try to get back into the team. But I think I can benefit the younger players around the squad.
Does the England cap record have an effect on your future, to be the country's most capped player of all-time?
"Of course it would be nice, I am not saying it would be, but the big one for me was getting the goals record.
"If it happens, so be it. But I am not staying on just for that record.
"If I was going to finish playing for England and I was two or three goals away from the record, I would stay on until I got it."
When Louis van Gaal dropped you at Stoke last season, you used that as motivation to get back into the team. Can you do the same this time?
"I played with a bit more freedom when I came back, if you like, not so much to instructions at that time and obviously that worked.
"Does it gee you up? Of course it does. It's almost like going to an audition when you get turned down – you want to prove yourself to people.
"I have no problem being left out. It's a manager's job and I understand that, but I will keep working until I get the chance to come back in again.
Those people you speak to after games, are they the same you have always spoken to?
"Yeah, it's my dad and my agent. They know me as a person and as a player and they're honest.
"But after Watford, I didn't need to be told after that.
Do you feel appreciated after all the things you've achieved?
[LONG PAUSE]
"I don't know. By some people yes, by others, no. That's football isn't it? You divide opinions.
"Listen I am not a player who wants people to say how good he is. That's not me.
"As long as people around me, and my manager, are happy, then I'm happy."
Register for free to continue reading
Registration is a free and easy way to support our truly independent journalism
By registering, you will also enjoy limited access to Premium articles, exclusive newsletters, commenting, and virtual events with our leading journalists
Already have an account? sign in
Join our new commenting forum
Join thought-provoking conversations, follow other Independent readers and see their replies