We have no inferiority complex, says Hodgson
History may be on Italy's side but England coach insists underdogs can have their day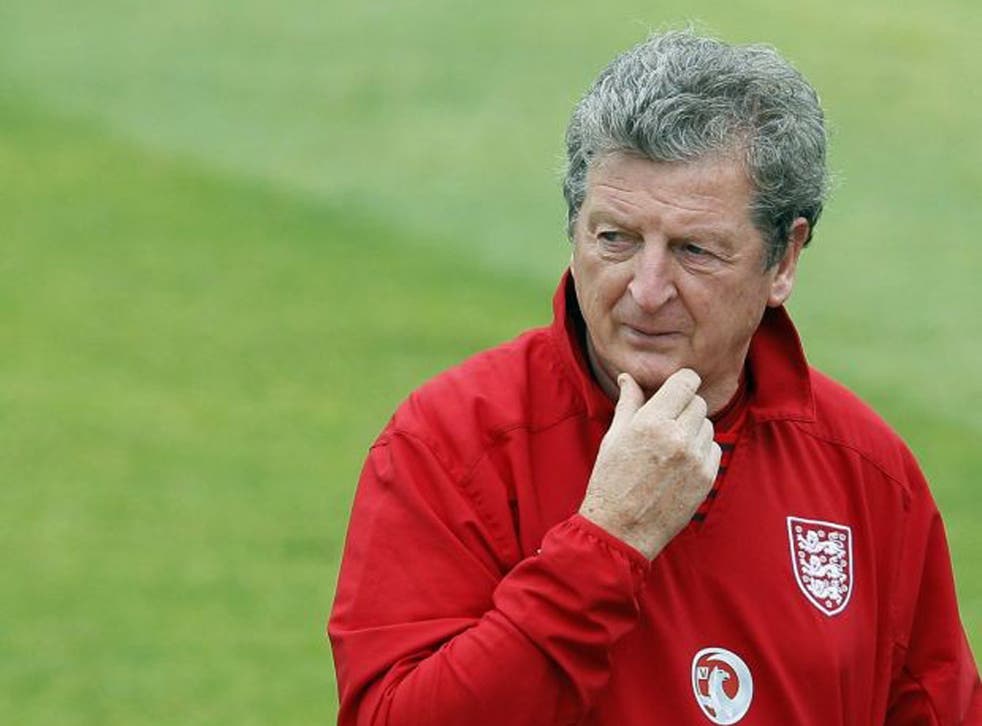 Roy Hodgson said yesterday he will tell his players that they should not consider themselves inferior to Italy when they meet the nation with four World Cup-winning stars on their shirt crests, and history on their side, in tomorrow's Euro 2012 quarter-final.
Click HERE to view 'England V Italy: All you need to know' graphic
England have never beaten a major football nation in a tournament knockout-round game staged outside of Wembley, a fact that Hodgson described yesterday as a "nasty statistic" that he would like to see erased from the Football Association's history. Eliminating Italy tomorrow in Kiev would change that but Hodgson said he would not add to the pressure on the players. "I'm not going to say: 'Oh, and by the way, you can be 'historic'.' Let's just win the game, really, and try and win the game."
Hodgson outlined a plan that would involve keeping Italy's playmaker Andrea Pirlo quiet, with one of the strikers detailed to come back and mark him, and said that he had not even begun to think about his penalty-takers, so focused was he on winning in normal time.
Hodgson said: "I'd be surprised if any of our players feel they go on to the field feeling inferior. The important thing is that the players feel neither inferior nor superior. They have to go out on to that field knowing what their jobs are. Their thought process has to be: 'If we go on to this field and do our job as well as we've done up to now, we're capable of winning this match'."
Hodgson added: "Cesare Prandelli is entitled to look at our team and say: 'Right, this won't be an easy game because England have got some good players.' Certainly, we go into the game knowing we have some good players. We're aware it's a tough task. We don't go into it thinking 'This is our game for the taking', but our chances are definitely at least 50-50. We're not underdogs in any way."
The England team will earn the FA a further €3m (£2.4m), on top of the €12.5m they have earned so far (with €8m for qualification, a win worth €1m and a draw worth €500,000) part of which will be paid into the players' bonus pool. Hodgson said that the money was "the last thing on the players' minds".
"I have no idea what it's worth," he said. "It would mean a lot more to us as footballers if we win it, in terms of when we retire from football in many years hence. It would be nice to see a medal hanging round our necks."
There were no injury concerns going into tomorrow's game, Hodgson said, although Joleon Lescott arrived later for training and some of the work on team shape was done with Phil Jagielka pairing the regular starter John Terry in the centre of defence. Hodgson said that Lescott was simply keeping to a routine that he follows with Manchester City.
In a rare interview last night, given to BBC Five Live, Ashley Cole, who will win his 98th cap tomorrow, said that reaching 100 caps was "what little kids' dreams are made of". He praised the spirit in the team, describing the side as "11 bulldogs who will never give up". He said: "We will always work for each other and basically die on the pitch for each other. So far it seems to be working."
Despite England's terrible record in knockout games, Hodgson said he had a good record of breaking hexes at his previous job with West Bromwich where, among other landmarks, his side finished above Aston Villa in the league for the first time in 33 years.
He added that England's players could not afford to believe they had already fulfilled requirements. "Whenever we lose in this tournament, it's going to be a sad day. Unfortunately, like the rest of the country, we dream as well. We dream of doing well and winning matches. There's no comfort in thinking there'll be kind words for us if we go out."
Join our new commenting forum
Join thought-provoking conversations, follow other Independent readers and see their replies