West Ham fans have their flag removed at England game as crossed irons are a 'racist symbol'
Travelling England fans were told they would face a fine of £3,000 if they claimed ownership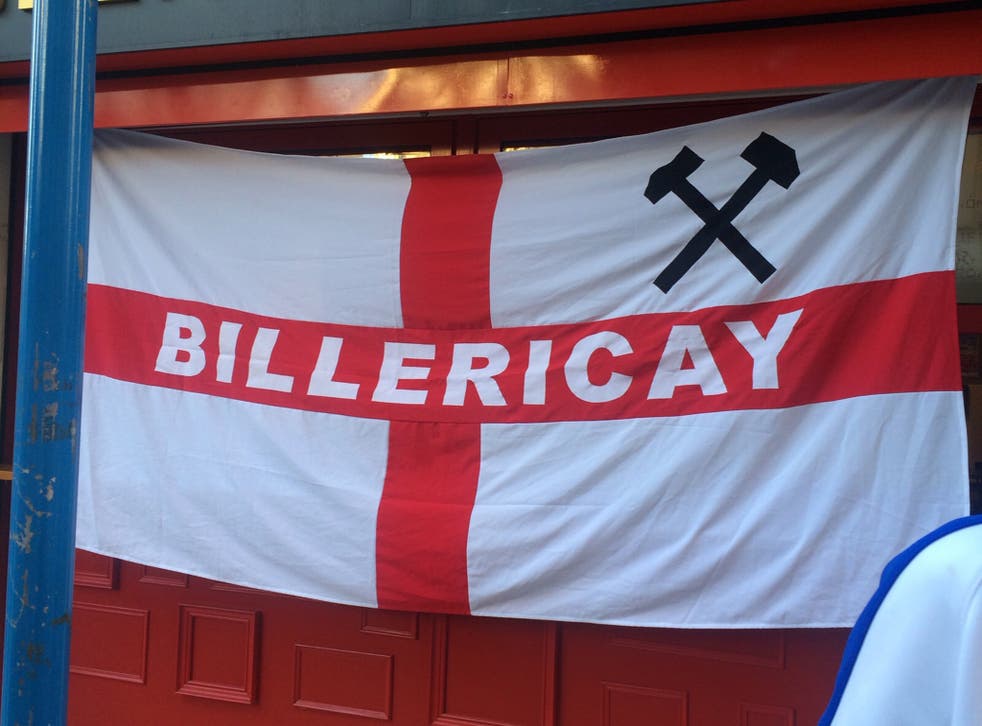 A group of travelling supporters had their flags confiscated by Spanish authorities after England's defeat to Spain and were told it carried a 'racist symbol' - the crossed irons of West Ham United.
Chris Lipman and fellow Hammer Ryan Willsmer travelled to Alicante to watch Roy Hodgson's Three Lions at the Estadio Rico Perez on Friday night, but were left with no explanation after their flag and four other bearing West Ham's symbol were all removed.
The pair were told that if they claimed ownership of any of the flags they would face a £3,000 fine for displaying a political or racist banner at the game and that the flag would still not be returned to them. Theirs cost around £200 to make and carries great sentimental value having travelled with the pair to England games around the globe, including the 2010 World Cup in South Africa.
"We arrived 30 minutes prior to kick-off, which is a bit too late to get a decent spot for the flag," Chris explains. "We managed to find a spot at the top of the stairs and then tied to the flag to some railings, directly in front of the watching stewards. We went and found our seats for the match and thought no more of it.
"Come the end of the game, we then returned to find the flag gone. Fearing it had been stolen, we asked the same stewards who had seen us tie it up what had happened. They just stood there, shrugging their shoulders. After asking more stewards we were told to go to another gate where the officials' entrance was located.
"After almost an hour, several FA officials begun to leave the stadium. Some chose to ignore our requests for answers. The situation was become more and more hostile, with the Spanish authorities becoming aggressive. They begun to try and remove us from the immediate area in front of the gate by pushing away and shouting and tensions grew."
Chris explains that FA Chairman Greg Dyke and PFA chief executive Gordon Taylor emerged and attempted to help.
"Luckily both Greg Dyke and Gordon Taylor appeared as they were leaving the stadium to head back to their hotel. When they came, they heard the commotion and, to be fair, asked what the issue was.
"With a roll of the eyes, as no doubt they have seen this all before, they walked back into the stadium to try and get more information. They came back around five minutes later saying they had spoken to someone and confirmed the Spanish chief of police had ordered the removal of all of the flags because they carried a 'racist symbol'.
"The same symbol West Ham have declared as our new badge to move into the Olympic Stadium, which ironically has been designed to be more marketable and considered a better brand for the club. The same symbol which [co-chairman] David Sullivan encourages West Ham fans and players to use in support of the club, the same symbol Boris Johnson made only last week when visiting the stadium."
Spain vs England player ratings

Show all 22
The pair were then told that they could email in a complaint - they intend to contact the Football Association first thing on Monday.
"Not at any point did anyone from the Spanish side speak with us, nor at any point prior to travelling were we told our flags may have been deemed offensive," adds Chris. "This stinks of a typical attitude towards the travelling England fans that we encounter on a regular basis."