Will Barça style make Spain even stronger?
Whisper it quietly, but world's finest might be even better now Del Bosque is copying Guardiola – with Silva in the Messi role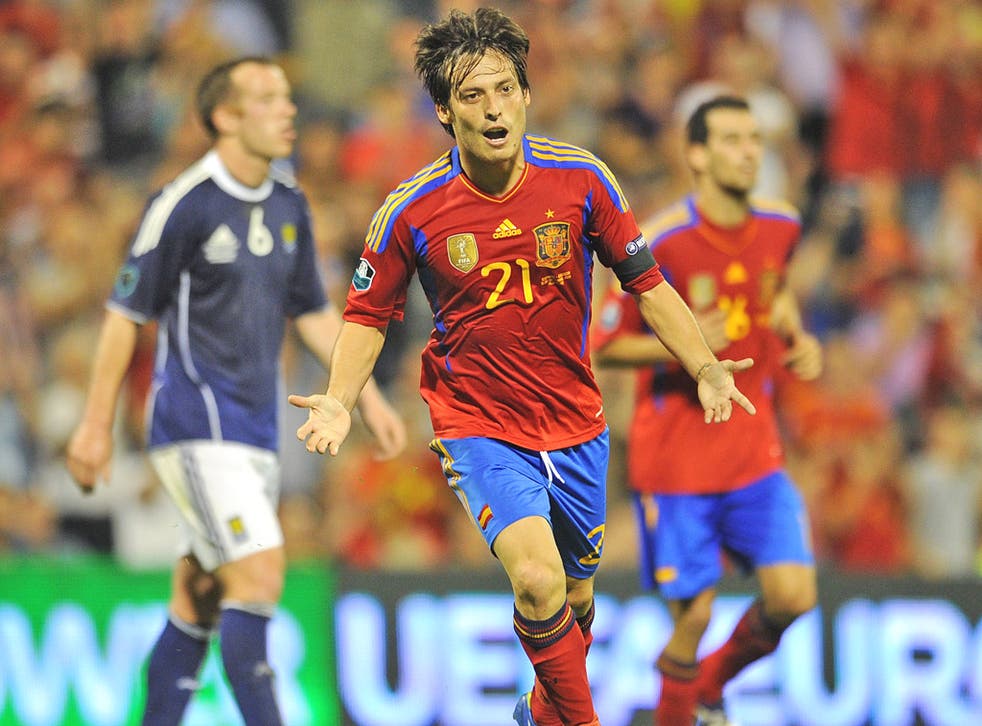 When Spain beat Scotland 3-1 last month David Silva found himself in new territory. Manchester City's player of the season so far was not just on the pitch – something that had not happened for the national side for so long he had taken to publicly complaining about it – he was playing centrally in that withdrawn or "false" No9 position Pep Guardiola has made Lionel Messi's very own at Barcelona.
Playing between two wide forwards – Pedro and David Villa – just as Messi does for Barça, Silva proved even more elusive for Scottish defenders than he has been this season for Premier League rearguards and scored twice in Alicante. It was another step towards the Spanish national team becoming an international version of Barcelona.
Just when the rest of Europe might start to believe Spain can get no better, just when complacency might begin to creep in after two tournament wins in three years, the world and European champions copy the club side that has won 12 trophies in the last three seasons in an attempt to take their own levels of excellence even higher.
Spain and Barcelona have always played the same style of quick passing football and no-one at Barça would argue the success of Luis Aragones' team in Austria and Switzerland in 2008 came from imitating them.
However, the national side has come to rely increasingly on Barcelona personnel. Only three Barça players were in the starting XI that won the European Championship in Vienna but there were eight in the side that started the World Cup final in South Africa last year.
The latest squad has eight Barcelona players in it and would have 10 if Pedro were not injured and Thiago Alcantara had not been sent back to help the Under-21s in two important European Championship qualifiers.
Full-backs apart, Barcelona could now comfortably provide Vicente del Bosque with his entire first team. For such a pragmatic coach it is only logical that now even the team formation begins to mirror that of the all-conquering La Liga champions.
In South Africa, Del Bosque played two holding midfielders in front of his defence. That allowed him a line of three attacking midfielders, behind a solitary striker. But increasingly now he finds it impossible to fit the available midfield talents into that system.
If you are only playing three attacking midfielders, who do you leave out from Xavi, Andres Iniesta, Cesc Fabregas, Silva and Pedro? Not to mention Chelsea's Juan Mata and Santi Cazorla, of Malaga.
Silva and Fabregas are the two that he must find a place for. The Manchester City schemer has been in superb form this season and, as things stand, is on course to lead City to their first league title since 1968. Del Bosque, for as much as he tends to favour players playing for clubs in Spain, will find it impossible to leave him out.
Opta's statisticians say Silva has been responsible for creating 33 chances from open play this season for City and his two goals against Scotland last month were a reminder that he can also finish.
Fabregas, like Silva, would be another unfeasible absentee from next summer's XI in Poland and Ukraine. He is currently scoring a goal every 120 minutes for Barcelona and with seven for the season – five of those in the league – he is the club's second top scorer behind Messi.
Squeezing in as much midfield talent as possible has also been a problem for Guardiola this season. The Barça coach's solution has been to revert to the 3-4-3 system Johan Cruyff used when he coached Guardiola in the "Dream Team" that won the club's first European Cup in 1992 at Wembley.
The jury is still out on how successful the system has been defensively, with Guardiola abandoning it at half-time against Valencia early this season when Barça were looking vulnerable against a team strong enough to hurt them. But there is little doubt it has worked in an attacking sense.
Fabregas plays at the top of a midfield diamond and Messi operates just ahead of him in that "false" No 9 position. The two former team-mates from the club's all-conquering youth team have linked brilliantly, scoring 19 of the 34 league goals Barcelona have managed in the league so far this season.
Now the temptation for Del Bosque is to line up Silva and Fabregas in the national side in the same way the former Arsenal captain teams up with Messi domestically. That spells bad news for Fernando Torres, as the traditional centre-forward becomes at best an option from off the bench and at worst a discontinued line.
Villa hangs on to his place because he can play that wide-attacker role – something he has done since moving to the Nou Camp at the start of last season. Torres does not possess the same selfless flexibility.
Whatever course Del Bosque takes in Spain's three remaining friendlies before he names his squad for next summer's tournament, it seems certain that the finest talents football has to offer at both club and country level are increasingly coming together when Spain take to the pitch.
Spain unveil the new shirt they will wear for next year's European Championships today. There is a lot less blue in it which will please Real Madrid fans who did not take kindly to the splashes of Barcelona colour in the strip they wore to World Cup glory.
What cannot be reversed however is the national team's leaning toward the tactics of Guardiola. And if in the past the difference between Spain and Barça has been Messi, the emergence of Silva might just mean that increasingly, there is no difference at all.
Join our new commenting forum
Join thought-provoking conversations, follow other Independent readers and see their replies