Women's World Cup 2015: How female football is reaching a cultural tipping point
As the football competition begins in Canada, Emily Dugan reports on a series of big wins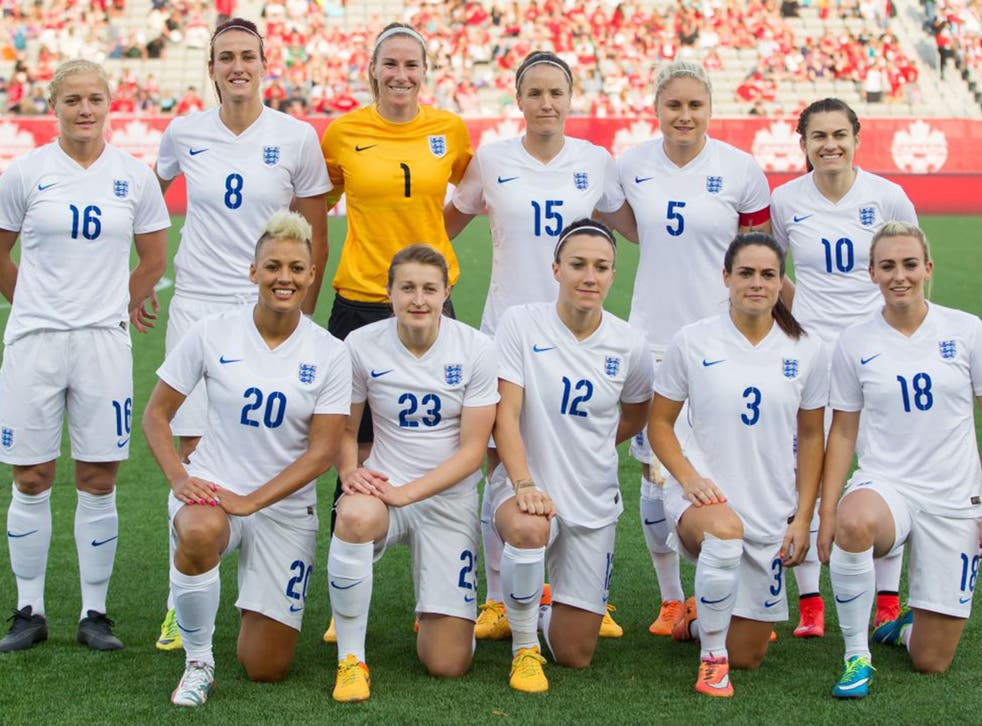 When England fan Rachel Major went to see her first women's football game in 2006 she found a subdued affair. "It was a World Cup qualifier and England beat Holland but there were only a couple of thousand of us in the crowd. There was no media coverage, not even online."
This weekend marks the beginning of a very different era for women's football. On 11 June, Ms Major, a 42-year-old from London, will travel to Canada to join the tens of thousands of fans watching elite sportswomen battle it out on the pitch for the World Cup. "It's a much wider fan base now, and there are a lot more men who are into the game, which is great," she said.
For the first time, all 52 matches will be shown live on the BBC, with some England games occupying prime-time slots on BBC 2. In America, where women's soccer has historically been more popular than men's, Fox Sports are putting on eight hours of coverage a day.
The crowds have improved, too. When Sweden hosted the second Fifa Women's World Cup 20 years ago, only 250 people turned up to cheer on Nigeria vs Canada at the group stage. But for the opening match in Edmonton, a sell-out crowd of at least 50,000 people was expected to see the hosts take on China. In November last year the England women's team attracted a record crowd of more than 45,000 supporters for a friendly against Germany at Wembley.
The grassroots game has also been affected. There are now 35,000 certified female coaches and 900 women qualified as referees in England. Football is the most popular team sport for women and girls, having overtaken netball, and more than 211,000 women aged 16 and over play at least once a month.
Jacqui Oatley, who will host the BBC's coverage of the tournament, started reporting on women's football 11 years ago.
"It was a joke in those days," she says. "In 2004 the women players were only paid £40 a day to represent their country at the World Cup and struggling to pay rent."
Oatley believes improving standards are behind the swathes of fresh fans and the BBC's blanket coverage. "The standard of the game has progressed so much. If it hadn't the BBC wouldn't be putting it on. But the demand is there now too … It's not only die-hard women's football fans, it's just football fans."
Perhaps the biggest sign that women's football has reached a cultural tipping point comes from the world of video games. The newest edition of the bestselling EA Sports video game FIFA will, in its 2016 version, allow players the option of choosing one of 12 women's national teams, including England.
Two years ago The Independent on Sunday pledged to improve its women's sports coverage and called for improvements to the status, pay and coverage of female athletes. Then, many of the England team were not full-time athletes, but now 26 of England's women football players have been offered an FA contract and the majority of the squad are professionals. They will play their first match on 9 June to packed stadiums and a live television audience back home.
Sally Hancock, chair of Women in Sport, said: "The excitement – and coverage – that the World Cup has already generated is a real indication that women's football is capturing the hearts and minds of fans across the country. The success of the England women's match at Wembley last autumn and the stadium's hosting of the forthcoming Women's FA Cup Final is putting women at the front and centre of football – and not before time."
Ms Hancock welcomed the strides made since this paper championed female athletes: "The progress made by women's sport as a whole since Women in Sport and the IoS called for greater levels of equality in 2013 has been a powerful affirmation of the need for greater focus on women's sport. There is still a great deal of work to be done, though. The World Cup is a great opportunity to reflect on progress made – and to take another step forward."
This moment for women's football has been hard fought for. Former England striker Sylvia Gore, 68, who played through the FA's 50-year ban on the women's game and scored in a win over Scotland in 1972, said in an interview with the BBC earlier this week: "Times have changed for the best over the past five or six years. At our last match with Germany, there were 45,000 in the stadium at Wembley. That sort of thing has encouraged the FA to say: 'Look it's no joke, it's really big time.' "
For Ms Gore, even seeing women walk out on to the pitch will have its own special resonance: "Just to play in a World Cup, which I never did, is tremendous."
Register for free to continue reading
Registration is a free and easy way to support our truly independent journalism
By registering, you will also enjoy limited access to Premium articles, exclusive newsletters, commenting, and virtual events with our leading journalists
Already have an account? sign in
Register for free to continue reading
Registration is a free and easy way to support our truly independent journalism
By registering, you will also enjoy limited access to Premium articles, exclusive newsletters, commenting, and virtual events with our leading journalists
Already have an account? sign in
Join our new commenting forum
Join thought-provoking conversations, follow other Independent readers and see their replies