Women's Euro 2017: England left in tears at heartbreaking loss as Mark Sampson hits out at referee Stephanie Frappart
Sampson was furious on the touchline when a number of penalty appeals were not given and he believed that they cost the Lionesses the chance to reach a first ever major final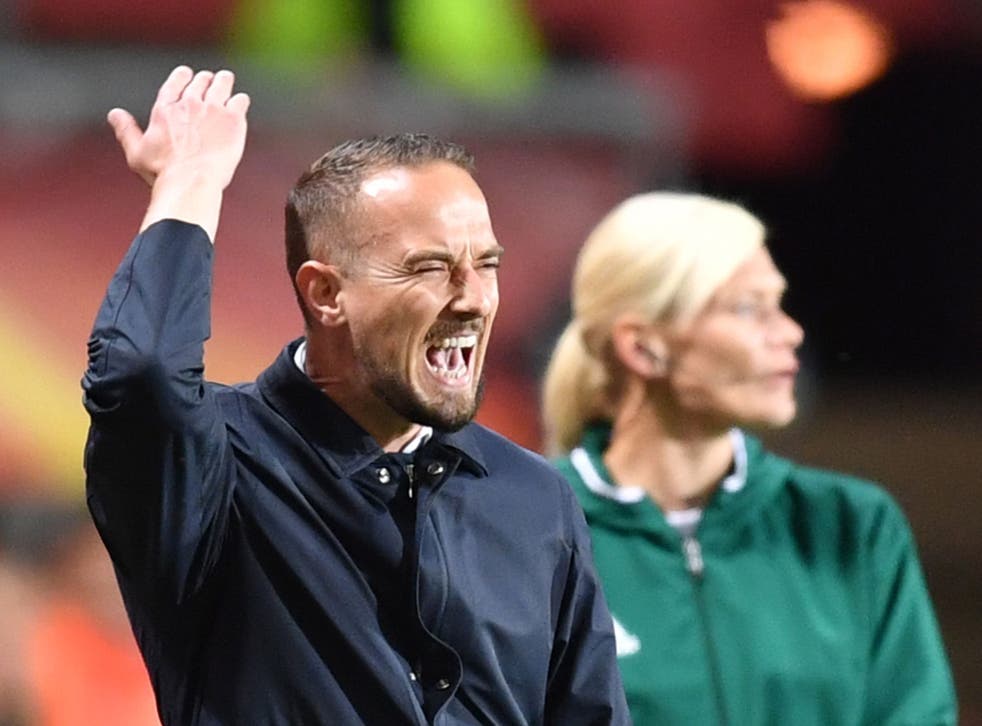 Mark Sampson paid tribute to his players, but had some barbed words about the referee Stephanie Frappart, after England's 3-0 defeat by the Netherlands in the semi-final of the Women's European Championships.
"I am incredibly proud of this team," said Sampson. "They are devastated. There have been lots of tears shed in the dressing room, from players and staff. I can promise this group of players, emotionally and physically, gave everything to try and achieve something this summer. They could not have left any more on the field, or off it."
"Sometimes you don't get the rub of the green. The performance and the attitude was there but we didn't get the decisions."
Of a challenge on Lucy Bronze in the area he said: "It's difficult to see from the side, but the pictures speak a thousand words, don't they? There is contact in the box. Sometimes things don't go your way, but in a game like tonight it is a bitter pill to swallow when the players have given so much. The referees are there to do their best. I am sure she did her best tonight."
However, Sampson did congratulate the tournament hosts, who will go on to face Denmark in Sunday's final after they defeated Austria in a penalty shootout earlier in the day.
"We knew it was always going to be difficult. We were playing the host nation in front of a big crowd. They are an excellent team. Congrats to them. I wish them all the best," he added.
"It just wasn't our night," said striker Jodie Taylor. "I don't think things went our way. They're a good team. It's disappointing but things didn't fall our way tonight.
"It wasn't meant to be. I think there were a couple that might have been penalties. A couple of calls didn't go out way tonight, but credit to Holland.
"I'm proud of every single one of us tonight. We gave it everything."
Player of the match Danielle van de Donk, of Arsenal, said: "I am really proud. I never thought we would win 3-0 against a team like England. It was a good team performance." Of the headed backpass from club team-mate Fara Williams, which gifted her the key second goal, she said: "It was unlucky from Fara."
"We are bitterly disappointed," added Chelsea's Fran Kirby. "We have put so much hard work in but fall short. In the team huddle [afterwards] we said 'let's go and win the [2019] World Cup in France'."
Join our new commenting forum
Join thought-provoking conversations, follow other Independent readers and see their replies