17 November 1993
Feuds, tragedy, heartbreak and glory: Reliving one of football's most extraordinary nights
For England, Ireland, Wales and many more it was a defining night at a time when international football meant everything. Those who were there tell Miguel Delaney about their experience of the moments which shaped the enthralling climax to qualifying for the 1994 World Cup
Tuesday 17 November 2020 12:14 Comments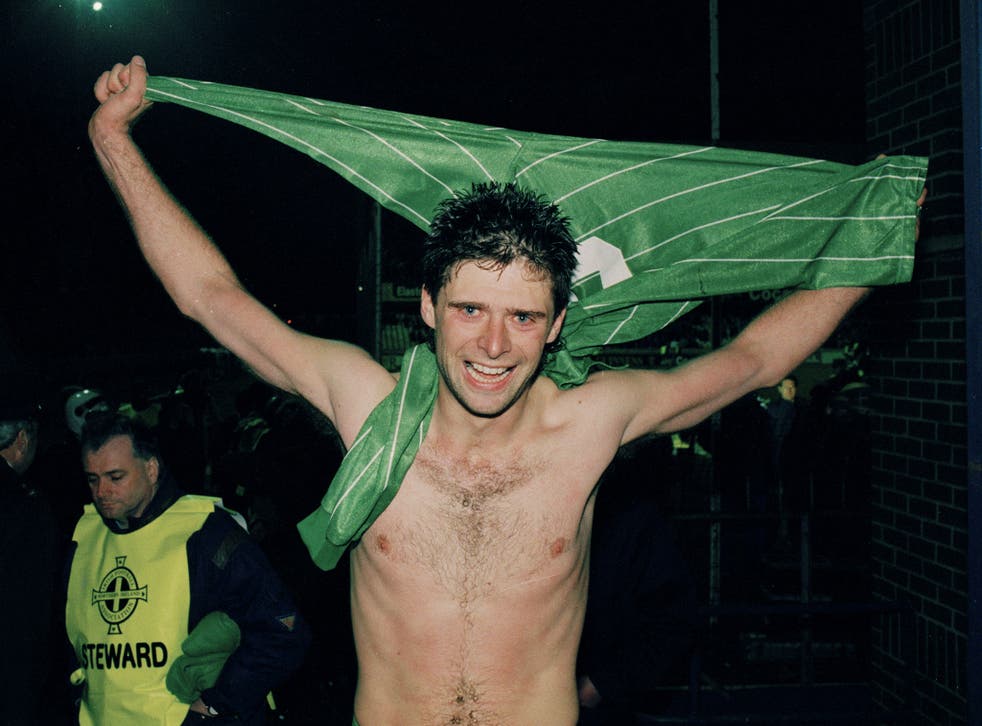 It was a reaction only Jack Charlton could produce, on an evening of football that could never be recreated.
As he marched across the Windsor Park pitch, the Irish manager was asked whether he wanted to watch the final minutes of Spain's match against Denmark.
"Do I bollocks," Charlton roared. The tension was too high. His Irish side needed one of Spain or Denmark to beat the other in order to qualify for the 1994 World Cup. Anything else and the Republic of Ireland were out.
This was why everyone else was transfixed. The only problem would have been knowing which way to turn.
Ireland, Spain and Denmark were among 13 sides hoping to secure one of the eight remaining qualification places for USA 94, across five groups and nine fixtures, all played simultaneously on one remarkable night 27 years ago.
Last Thursday's events involving Scotland and Hungary only provided a fraction of the theatre of 17 November 1993. There were no complaints about the tedium of international football then. Aside from the fact this was still the level's golden age, you could scarcely have imagined more drama.
The night involved one of the most politically charged fixtures in history; a notorious feud that has lasted until this day; real-life tragedy as well as a host of other emotions, from heartbreak to glory – and a lot of incredible football.
Then there were the countries with everything on the line. For Europe's 12 places – to add to holders Germany – only Greece, Russia, Sweden and Norway had already qualified.
Everything else was up for grabs. And to paraphrase a famous Brian Moore line, it was a night of chilling complexity, really.
The stakes and states of play were such:
Group 1
First-place Italy were hosting second-place Portugal, and only needed a draw to qualify.
Portugal needed to beat Italy, or hope Estonia at least lost to Roy Hodgson's Switzerland by only one goal.
Third-place Switzerland required a 2-0 win at home to Estonia.
Group 2
Second-place Netherlands needed a draw away to Poland to be certain.
Third-place England had to beat San Marino by seven and hope Poland beat the Dutch.
Group 3
This was where it got really complicated, with only a point between the top three. First-place Denmark were away to second-place Spain, and needed only a draw. They would still go through with a defeat if Ireland lost to Northern Ireland.
| Group 3 | Pld | GD | Pts |
| --- | --- | --- | --- |
| Denmark | 11 | +14 | 18 |
| Spain | 11 | +22 | 17 |
| Rep of Ireland | 11 | +13 | 17 |
| N Ireland | 11 | +1 | 12 |
| Lithuania | 12 | -13 | 7 |
| Latvia | 12 | -17 | 5 |
| Albania | 12 | -20 | 4 |
Second-place Spain knew a win against Denmark would be enough, but a draw would be sufficient if Ireland failed to beat Northern Ireland. Spain would still go through with a defeat if Ireland lost.
Third-place Ireland knew a win away to Northern Ireland would be enough, and that a draw would be sufficient if Spain and Denmark did not draw. If Ireland lost, they were out.
Group 4
First-place Belgium needed only a draw at home to third-place Czechoslovakia. Defeat would almost certainly eliminate them.
Second-place Romania needed only a draw away to Wales, but knew defeat would eliminate them.
Third-place Czechoslovakia knew anything less than a win would eliminate them.
Fourth-place Wales needed a 2-0 win over Romania to be certain, but any win would do if Czechoslovakia failed to beat Belgium.
Group 6
Second-place France needed only a draw at home to third-place Bulgaria. Bulgaria needed to win.
These permutations were charged by remarkable stories, putting further pressure on the star cast. Roberto Baggio, Dennis Bergkamp, Luis Figo, Michael Laudrup, Eric Cantona, Gheorge Hagi and Hristo Stoichkov all had their summers on the line.
England endured an infamously torrid campaign under Graham Taylor, while being followed by a documentary crew for An Impossible Job.
"There was a lot of negativity leading into the night," Ian Wright tells The Independent. "It felt very pressurised being in the England squad at that time."
The danger was that no British side would qualify for the World Cup for the first time since 1938, but Wales were on a wave. A squad mixed with solid pros and genuine stars were ranked 28th in the world, after a stirring comeback in their group. John Major, Princess Diana and George Best sent them best wishes before the game. There was a real emotion behind it all, especially as manager Terry Yorath's son Daniel died from an undetected heart condition just before the campaign began. As Wales lined up to leave the dressing room for that final game, assistant manager Peter Shreeves called them together and said: "Go out there and have a look at the player you are up against, and ask if they are good enough to stop you going to America."
"No!" was the unanimous answer.
"We thought we were good enough to beat them," Wales midfielder Barry Horne says now. "Romania were talented but had a stereotypical reputation for being a bit moody."
That's how you might describe France, who should have been good enough to qualify already. They only needed a win in their previous match at home to Israel, and were 2-1 up after 82 minutes. They somehow lost 3-2. David Ginola had scored a typically divine curling effort, but that is barely recalled. What his teammates did remember was an interview the winger did in the weeks before the Bulgaria game, where he complained manager Gerard Houllier gave Cantona and Jean-Pierre Papin preferential treatment.
France should still have had enough to get a draw against Bulgaria, who shouldn't have even had their full team. The Bulgarian federation had somehow forgotten to apply for visas for Emil Kostadinov and Luboslav Penev. A creative – and illegal – solution was required.
"The story sounds like a legend now but it's true," teammate Zlatko Yankov revealed a few years ago. "They needed help from our keeper Borislav Mihaylov and midfielder Georgi Georgiev, who were playing for the French club Mulhouse at that time.
"They deliberately chose a border-post with low security. Kostadinov and Penev sneaked across the border between Germany and France in a car driven by Georgiev."
A potential political incident was nothing compared to Group 3, the most complex situation of the night, for so many reasons. The showdown between Spain and European champions Denmark was probably the night's marquee match, but the fixture that most distilled so many of its complications and took them to extremes was in Belfast. It's difficult to think of too many matches that had more on the line. On one side, there was the prize of a World Cup place, but even that paled next to the political conflict in Northern Ireland. The three weeks beforehand had seen 23 people killed in different atrocities, most in the IRA's Shankill Road bombing and the UFF's retaliatory attack on the Rising Sun pub, where gunmen shouted "trick or treat" before opening fire on civilians.
"The build-up was a terrible and traumatic time of the Troubles," Northern Irish midfielder Jim Magilton tells The Independent. "You're always aware of it."
It seemed so ill-chosen to have such a highly charged fixture at such a highly tense time that there were discussions over moving the game to Old Trafford or even Rome. In the end, and despite a bomb threat on their hotel, the Irish players insisted on playing.
The pride of many of them had been pricked by legendary Northern Irish manager Billy Bingham, who was taking charge of his last game, as he described Ireland's stars as "carpet-baggers".
"They couldn't find a way of making it with England or Scotland… I am not prepared to skirt the issue, the same as I am happy to state it is our intention to stuff the Republic."
Many of the fans on the night were willing to say worse. Alan Kernaghan got the worst. He was a defender from an Ulster Unionist background who was not called up for Northern Ireland due to an arcane arrangement between the home nations about where players were born, so opted for Ireland.
"You could feel the venom in it," Kernaghan told this reporter in 2010. "'Pope-sucking whore.' 'Your mother's the Pope's whore.' That sort of stuff."
Andy Townsend remembers one fan shouting: "Hey Townsend, you fucking English bastard, I hope your mother dies of cancer."
Charlton had a simpler message, albeit with a coarseness of its own.
"Let's get fucking in, fucking out, get the result and get fucking home."
Many on the night felt the same as they lined up across Europe, from Cardiff to Paris to Rome.
"It was probably the biggest night of my career," Horne says. "It changed my life," Santiago Canizares has stated.
This was a night that meant the world, demanded the attention of everyone, and involved every drama you can think of.
8.3 seconds
GOAL San Marino 1-0 England ⚽️
The night immediately started with a shockwave. From England's kick-off, the ball was worked back to Stuart Pearce, who played a woefully under-hit back pass. Davide Gualtieri leapt on to it, and beat David Seaman after just 8.3 seconds. The first goal of the night was just the third goal of San Marino's history. The sense of disorientation was only emphasised by the eeriness of the Bologna stadium, with just 2,000 of the 45,000 seats taken.
"It was the most shocked, afraid and nervous I've been on a pitch," Wright says. "The mere fact they scored. We were caught cold."
There was no danger of that in Belfast. There was too much hatred. The Irish anthem had been met with a cacophony of boos, as Bingham whipped up the home crowd. Their closeness made a few on the Irish bench nervous, as Alan McLoughlin reveals.
"There were maybe two metres from my back to the supporters. Most of the lads ended up standing, as they felt more comfortable. You didn't dare look around. The safest place was on the pitch."
"It was just so volatile," Magilton adds. "You knew what was at stake, no question about that."
10'
RED CARD Spain 0-0 Denmark 🔴
GOAL Poland 0-1 Netherlands ⚽️
Another illustration of how the sheer tension of the night was producing inexplicable moments, and from some of the most experienced players. Few had as much experience as Spain's Andoni Zubizarreta. Mere minutes into his 83rd cap, the Barcelona goalkeeper passed the ball straight to club teammate Michael Laudrup just outside the box. The playmaker instantly rounded Zubizarreta, only for the goalkeeper to cut him down with a scything attempt at a slide tackle. It could have been a red even without preventing a clear goalscoring opportunity. It meant a call-up for one of the night's most inexperienced players. Celta Vigo's Santi Canizares was making his debut for Spain.
"The ignorance of youth served me well," Canizares told La Vanguardia in 2018. "I was going out to enjoy the night."
He was one of the few, although Bergkamp was another. Internazionale was proving a nightmare period for the Dutch star, but the international breaks were also breaks from the pressure. He showed his true quality. In Poznan, he showed vintage Bergkamp, finishing Jan Wouters's arching pass with an angled volley into the corner. A total of 15,000 Dutch fans had made their way to Poland, to completely outnumber local supporters, and they were now surely on their way to the World Cup…
14'
GOAL Poland 1-1 Netherlands ⚽️
… but maybe shouldn't have got too ahead of themselves. Some Dutch nerves were revealed by the most routine of goals. Polish goalkeeper Adam Matysek thumped a kick-out straight up the pitch and through flailing Dutch bodies, until Ronald Koeman's attempted clearance was charged down by Marek Lesniak. He powered the ball high into the net.
It was 1-1 and should have been a boost for England, but they were too gripped by their own nerves
"We were anxious," Wright says. "It was a nightmare time to play for England. Graham Taylor was so nervous about what the media were saying all the time."
The players were saying worse to each other. San Marino goal hero Gualtieri later said he was shocked by the amount of arguing among the English XI.
18'
CHANCE Spain 0-0 Denmark 🧤
Hearts in mouths for Spain, hands of gold from Canizares. With Denmark starting to make their extra man count, Brian Laudrup fed brother Michael for the playmaker to clip in the most inviting cross towards the back post. Flemming Povlsen met it with force from mere yards out, only for Canizares to beat his header away with a defiant double-handed save.
19'
CHANCE Spain 0-0 Denmark 🧤
Hysteria almost repeated itself as farce for Spain. Canizares went to play a pass and miscontrolled it, his lunge seeing him clear the ball just before Michael Laudrup got there. A fraction later and it would have been another red card and a penalty. "We don't have more goalkeepers," the TVE commentator laughed nervously. Denmark were getting more chances, as the elder Laudrup was put through by Povlsen, Canizares holding his firm strike. In the same spell, Spain had detected a Danish vulnerability at set-pieces, with Fernando Hierro heading over. He cursed a rare chance wasted.
22'
GOAL San Marino 1-1 England ⚽️
Some of the English frustration was revealed – and released – by Ince's drive from outside the box. "There's one," Martin Tyler growled on Sky Sports.
31'
GOAL France 1-0 Bulgaria ⚽️
The occasion in Paris had been surrounded by a sense of extreme expectation, and almost a carnival atmosphere that was to become a bit too pronounced. If pre-game front pages like "Qualified!" on Le Sport weren't bad enough, there was the Gallic rooster that escaped onto the pitch. Referee Leslie William Mottram applauded and laughed as it eventually walked off of its own accord, after a number of players had fallen over trying to capture it. There was a symbolism and foreshadowing that was impossible to escape. As much as anything, this was a French generation that had not fulfilled its talent - none more so than Cantona. He had effectively been exiled from his home country after a series of controversies and disciplinary problems, before famously finding his true home at Manchester United. Cantona displayed some of that form here, thundering in a brilliant opener from Papin's knock-down.
32'
GOAL Wales 0-1 Romania ⚽️
GOAL Switzerland 1-0 Estonia ⚽️
The game in a raucous Cardiff Arms Park had already been a classic clash of styles – Wales roaring, Romania probing. It was probably the away side that had the better of it early on, as Dan Petrescu hit the post and Ilie Dumitrescu shot over, but Wales could handle it. Horne had been handling their main force, the mercurial Hagi.
"That was always my job, to mark the playmaker, be it Enzo Scifo or Hagi," Horne says. "Overall, I don't remember him doing that much, until that minute. He came inside onto his left, but we were quite happy for people to shoot from 20 or 25 yards with the best goalkeeper in the world, in Neville Southall."
Not on this occasion. It wasn't one of Hagi's best shots, but it was – of all the nights for it to happen – one of Southall's worst moments for Wales. The ball slipped under his body.
In Zurich, the red flares were ignited as Adrian Knup's header at last put the Swiss ahead against Estonia.
34'
GOAL Switzerland 2-0 Estonia ⚽️
GOAL San Marino 1-2 England ⚽️
The first time one of the tables tangibly changed, as the levee broke for Switzerland. They went ahead of Portugal, by going two up against Estonia. Georges Bregy claimed the fateful goal. Portugal now had to score in the San Siro, but first needed to create a chance. For all their possession, and all their talent, they could barely get beyond that vintage Italian defence.
England finally went ahead through Wright.
37'
GOAL France 1-1 Bulgaria ⚽️
One of the first of Chekov's guns was fired, with the bullet a supreme header. Kostadinov, who should not have even been in the country, made it 1-1 in Paris. Running across goal, the striker powerfully met Krassimir Balakov's outswinging corner to send it through Bernard Lama's hands. The record was starting to scratch at France's party.
38'
GOAL San Marino 1-3 England ⚽️
Taylor's side were just overwhelming San Marino through force by now, Les Ferdinand making it 3-1 after the goalkeeper batted back a punt.
45'
GOAL Switzerland 3-0 Estonia ⚽️
CHANCE Wales 0-1 Romania 🧤
Wales had responded in rousing fashion in Cardiff. Eric Young had one header tipped over the bar by Florin Prunea, Andrew Melville had another cleared off the line.
"We'd recovered," Horne says. "We were putting it up to them."
Christophe Ohrel meanwhile headed in the easiest of goals, to ensure the easiest of passages for Switzerland.
Second half
GOAL San Marino 1-4 England ⚽️
England started the second half in the opposite way they did the first, Wright scoring straight away.
49'
RED CARD Belgium 0-0 Czechoslovakia 🔴
The Belgians were made feel anxious for the first time, as Miroslav Kadlec started slaloming through their half. Just as he was about to burst into the box, Philippe Albert cut him down.
56'
GOAL Poland 1-2 Netherlands ⚽️
England needed Poland to claim another, but they only conceded another. Bergkamp slotted in Bryan Roy's cross.
61'
GOAL Wales 1-1 Romania ⚽️
GOAL Switzerland 4-0 Estonia ⚽️
A chaotic goal to fit the mayhem that was starting, and exactly what Wales deserved. A Ryan Giggs set-piece was diverted on by a series of headers that gradually forced the ball towards goal, before Dean Saunders stabbed it in. The Cardiff Arms Park erupted. Wales were flying, Romania buckling.
"I vividly remember looking at them, and thinking 'we've got these, we've absolutely got them'," Horne says. "I said it to the lads. 'We've got these.'"
Stephane Chapuisat meanwhile curled in Switzerland's finest goal of the night, to ensure their first World Cup place in 28 years. Wales were aiming for their first in 36 years.
62'
PENALTY Wales 1-1 Romania ❗️
Wales sensed history, and so did the BBC, given that this was the moment they chose to switch over from England's game. It endured in the memory alright, but not for the reasons anyone wanted. With Wales fired by the goal, Jeremy Goss immediately surged forward and swept the ball into Gary Speed. He controlled and looked to turn inside, but seemed to play it a touch too far. With Petrescu coming across, Speed went down. Penalty, albeit a soft one. Welsh players punched the air, Romanians – and particularly Petrescu – frantically remonstrated. Their players later admitted they thought they were "finished".
In the midst of all this, Paul Bodin strode forward. A generally dependable penalty-taker, he hit the winning spot-kick in the shoot-out that put Swindon Town into the Premier League mere months before.
"I felt confident," Bodin told the BBC on the 20th anniversary of the night. Prunea was trying to unnerve him. The goalkeeper grabbed the ball and kissed it. Bodin spotted this, and wiped it on the ground.
He wanted to try and take Prunea out of the equation, too. Bodin's technique was to smash penalties so hard that goalkeepers couldn't react in time.
Prunea's movement was irrelevant alright. Bodin only smashed the crossbar. The penalty was hit so hard the ball actually bounced back out of the box.
63'
GOAL Spain 1-0 Denmark ⚽️
The first true twist of the night, although some in the Danish side might have felt a grim sense of inevitability about it all. They had developed a complex about Spain. Many of their players had played in their tournament defeats in 1984, 1986 and 1988. Now, with this side having done what that great Danish Dynamite team couldn't by winning a trophy at Euro 92, they had all momentum and a man advantage. Spain simply focused on a weakness, which they saw at set-pieces. With the Danish defenders apparently unable to deal with Hierro, Schmeichel came out, only for Jose Maria Bakero to impede him. Hierro was left to head it into the empty net. The group had transformed. Spain and Ireland were going through. Denmark were going out. And going mad. "It seemed like the referee regretted sending off Zubizaretta and started to give the Spanish a few favours," Schmeichel said after the game.
70'
SUBSTITUTION France 1-1 Bulgaria 🔁
SUBSTITUTION Northern Ireland 0-0 Ireland 🔁
Houllier decided to take off Papin for Ginola. The striker hugged him, Cantona gave him a fist bump. Papin looked tired, but there was also a flatness to France. Stoichkov had his own inimitable interpretation.
"The French were so scared. They played for a draw and never went looking for a win."
In Belfast, McLoughlin came on for Houghton.
73'
GOAL San Marino 1-5 England ⚽️
Paul Ince claimed his second and England's fifth.
74'
GOAL Northern Ireland 1-0 Ireland ⚽️
Group 3 swung again, with a swing of Jimmy Quinn's boot. The match had been dragged down by tension, both sides battling for every inch. A momentary release came when the ball was teed up for Quinn at the edge of the box, and he volleyed a fabulous looping volley over Packie Bonner.
There was deep relish in the celebrations. The Northern Irish side were emboldened by the crowd, with that also complicated by the cross-community nature of their squad, as well as the fact the players knew each other so well.
One member of the team privately stated he "loves it when those c**ts lose", while assistant manager Jimmy Nicholl shouted "up yours!" and gestured at his counterpart Maurice Setters.
Charlton meanwhile gestured at Tony Cascarino to come on. The striker went to unzip his top – and found he wasn't wearing his white shirt. Charlton fumed. "You fucking idiot!"
As it stood, Ireland were going out, Denmark going through. The psychological stress of the occasion was illustrated by the fact the Danes didn't know this, couldn't take the chance, so were piling forward for an equaliser.
"It was just a garble of information," McLoughlin said.
78'
GOAL Northern Ireland 1-1 Ireland ⚽️
GOAL San Marino 1-6 England ⚽️
McLoughlin himself would provide clarity.
"Denis Irwin's free-kick was coming into the box," McLoughlin says. "I had to get the ball down from my chest to volley quickly, and then it was a matter of relaxing."
Then total release. "I knew Tommy Wright had no chance. It was gone in a flash."
Back in Bologna, Ian Wright claimed a hat-trick to make it 6-1 to England.
81'
CHANCE Spain 1-0 Denmark 🧤
Ireland's situation was still so precarious as any Danish goal would put them out.
"Our staff were trying to find information from supporters, from back home," McLoughlin says. "During the game, I've managed to block a challenge down the line, and I remember turning to the bench and shouting 'what's going in Spain?'"
What was going on was a siege, and maybe the save of the night. Canizares leapt to turn away Bent Christensen's spectacular close-range bicycle kick. It just wouldn't have mattered, at least in terms of score. "The curiosity was my two best saves came from plays that were offside," Canizares said. It did matter in the sense it felt like it really was going to be another of those nights for Denmark against Spain.
83'
GOAL Italy 1-0 Portugal ⚽️
GOAL Wales 1-2 Romania ⚽️
Italy secured their place in the World Cup with a goal from Dino Baggio, although it looked offside. Portugal still never looked like scoring.
That wasn't true for Romania. Dumitrescu had gone close, and Florin Radicioiu had missed an open goal.
"The penalty gave them a massive lift," Horne says. "They just seemed to recover their energy and self-belief." Wales soon saw the play that would enliven the World Cup the following summer, as Dumitrescu sliced through their half and fed Florin Raducioiu for the striker to finish. The Welsh were finished.
"Again, I should have saved it," Southall later said. Dumitrescu later admitted thinking "we are going to the World Cup!"
89'
GOAL Poland 1-3 Netherlands ⚽️
GOAL San Marino 1-7 England ⚽️
RED CARD Italy 1-0 Portugal 🔴
FREE-KICK France 1-1 Bulgaria ❗️
Ronald de Boer confirmed a 3-1 Dutch win, and their place at USA 94. England had failed to make the World Cup, for the first time since 1978.
"We felt from the opening goal it wasn't to be our night," Wright says. It was to be his, in some way, as he hit his fourth - the last player to do so for England.
Elsewhere, emotion was starting to show. Portugal's sense of impotence was seen in Fernando Cuoto jabbing the face of Pierluigi Casiraghi, who went down theatrically to bring a red card. France were meanwhile awarded a free-kick right by the Bulgarian corner flag. With the ball tapped to Ginola, he had the easy opportunity to just run it into the corner.
"We were just waiting for the referee to blow the final whistle at that moment," Yankov said.
"We were convinced it was over.
"Ginola could've done better – to waste some time and it should've been the end of the match. But he probably thought they could win the game." Ginola instead lofted a high wasteful cross right over the box, where only Cantona was waiting. A mere 16 seconds of normal time remained. Emil Kremenliev picked it up and pushed forward…
90'
GOAL France 1-2 Bulgaria ⚽️
… the French midfielders were jogging back, striking a contrast with how quickly Bulgaria were working it up the field. Just inside the French half, Penev collected the ball and lofted a speculative but specific pass forward. Kostadinov seemed too far wide right at the corner of the French 18-yard box, but an attempt at a clearance by Laurent Blanc actually set him up for a good shooting position. Kostadinov's strike flew into the net off the crossbar, its velocity reflecting the speed with which France's campaign had ultimately collapsed. The two players who shouldn't have been in the country combined to put France out, bringing it all together.
It was the goal of the night, the moment of the night, and the climax of the night.
The technician at TFI was so stunned that the station's caption read 'France 2-1 Bulgaria'. One visiting commentator roared "God is Bulgarian!"
As assistant Aime Jacquet held his head in his hands, Houllier walked straight down the tunnel without saying anything. That was to change. Ginola supported himself at an advertising stand, Deschamps was in tears.
There was just disbelief, anguish, shock – and, from the Bulgarians, unbridled joy.
Full-time
Switzerland 4-0 Estonia, Switzerland qualify 🇨🇭
Italy 1-0 Portugal, Italy qualify 🇮🇹
Poland 1-3 Netherlands, Netherlands qualify 🇳🇱
San Marino 1-7 England
Spain 1-0 Denmark, Spain qualify 🇪🇸
Northern Ireland 1-1 Ireland, Ireland qualify 🇮🇪
Belgium 0-0 Czechoslovakia, Belgium qualify 🇧🇪
Wales 1-2 Romania, Romania qualify 🇷🇴
France 1-2 Bulgaria, Bulgaria qualify 🇧🇬
As the final whistles went across Europe, it was easy to see just what the World Cup meant. In Belfast, Kernaghan burst into tears. Roy Keane embraced Andy Townsend and just kept shouting "get fucking in there". Charlton decided to make a point. He went over to Bingham and said "up yours too, Billy". He immediately regretted it, since it wasn't Bingham responsible. He might have regretted a mere point from the game, as that was when it became apparent that the match in Spain hadn't finished. It went on another five minutes, the TVE commentators even referencing the Irish players celebrating on the pitch when a goal would have put them out. Spain were still defending desperately. Schmeichel was going up. The game was eventually up. Ireland went through on mere goals scored. John Sheridan's consolation goal a month earlier in a 3-1 defeat to Spain proved crucial. It was all too much for Denmark.
"I cried with an anger every bit as intense as the joy I'd felt the year before on winning the European Championship," Povlsen said.
Charlton then actually intruded on Bingham's conference to apologise.
"It's alright, Billy, I've not come to flatten you."
"It's OK, Jack, you wouldn't be able to manage it anyway."
Charlton ended up being tasked with presenting Bingham with an award to mark his retirement.
"Some of the people who'd been abusing me all evening are stood there cheering," Charlton wrote in his autobiography. "I think that said it all about a crazy, noisy night."
If the darker realities of life had been allayed in Belfast, they impinged on events in Cardiff in tragic fashion. Retired postman John Hill was killed by a flare. The players had seen it going over their heads as they dejectedly walked off.
Many ended up going to the funeral, and would naturally say to each other this put the defeat in perspective. The truth was it "devastated" them.
"It just brings pain, still, absolutely," Horne explains.
Speed said it affected him "for a long time afterwards". A numb Yorath eventually broke down in tears in his hotel at 4am. Bodin was struck by the distraught expressions on the faces of his family in the bar afterwards, even as teammates told him it wasn't his fault. Southall blamed his own goalkeeping, and constantly made a point of publicly absolving Bodin. The full-back actually faced another penalty in Swindon's very next game, against Ipswich Town. He took it, and scored. Bodin ended up being one of the more philosophical figures about it all, and went to USA 94 as a spectator. Wales were left wondering what might have been.
"I remember thinking it could be our Republic of Ireland moment," Horne says. "It would have been an era-defining moment had we gone. Instead, we went the other way."
Within a year, Wales were getting hammered 5-0 by Georgia.
Romania and Bulgaria meanwhile enjoyed their own era-defining moments. Both were among the teams of USA 94, Romania reaching the quarter-finals, Bulgaria the semi-finals. Hagi illuminated the tournament, Stoichkov took it by storm, ending up as joint top scorer with six.
Stoichkov was as brutal about France as he was with one of his finishes.
"They didn't deserve to qualify and we hit them where it hurt most."
The pain was to be protracted. Houllier soon spoke, and was scathing of Ginola, sparking a feud that lasts to this day.
"He sent an exocet missile through the heart of the team," Houllier told the press. "He committed a crime against the team. I repeat: a crime against the team." He would years later call Ginola a "bastard" and in 2012 told Philippe Auclair "I'll never say anything good about Ginola".
Ginola would attempt to sue Houllier in 2011 for remarks in a book called Coaches' Secrets, but had his case thrown out of court.
Cantona sided with Houllier, resulting in his own feud with Ginola that transversed their brief period as Premier League players together.
"Who is Ginola?' Cantona once said to France Football's Jean Issartel. "If he talks to the press rather than to us, it's because he hasn't got any balls… He's got every quality except this one. He's too weak."
Ginola tried to draw a line under the whole thing in an interview a few years ago.
"We must stop with this, I have children now. It looks like it gives you pleasure. Are there not enough people who cried in 1993?"
Some cried tears of joy. Some cheered. That night had everything. "It meant everything," McLoughlin says.
It meant the world.
Register for free to continue reading
Registration is a free and easy way to support our truly independent journalism
By registering, you will also enjoy limited access to Premium articles, exclusive newsletters, commenting, and virtual events with our leading journalists
Already have an account? sign in
Join our new commenting forum
Join thought-provoking conversations, follow other Independent readers and see their replies