'A blessing and a curse': 10 years on from South Africa's World Cup
A decade on from Africa's first hosting of the global showpiece, Melissa Reddy talks to a panel of South Africa's key voices to investigate the legacy it left behind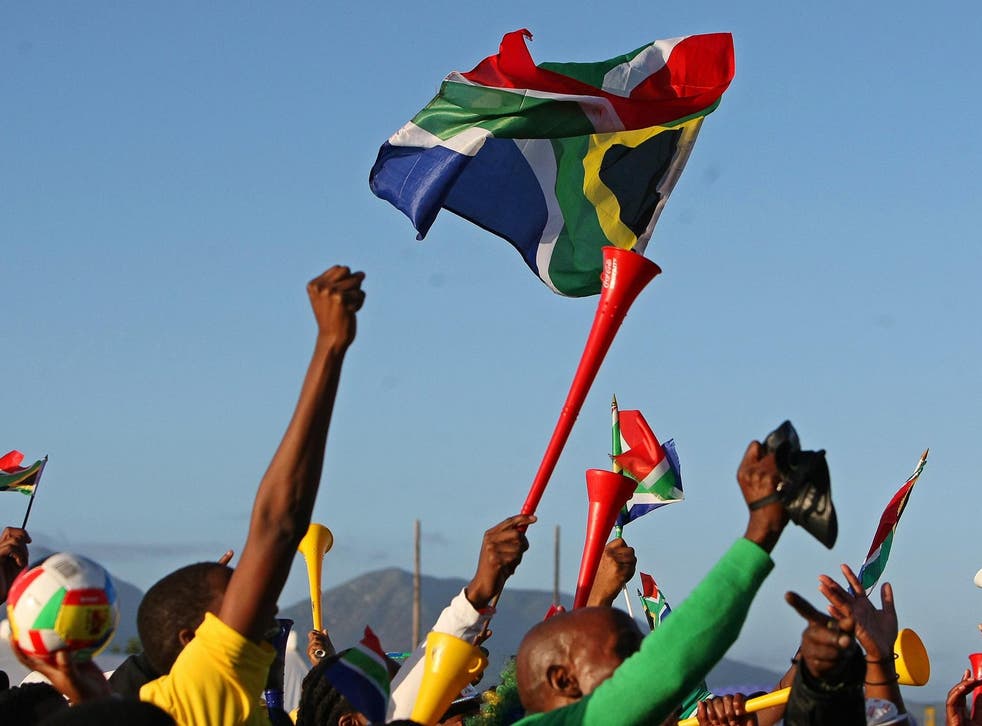 So much has been written about South Africa 2010.
There were the awful mistruths by British tabloids before the tournament: The Daily Star warned it was being staged in a "land of murder" where a "machete race war" awaited those attending while the Daily Mail told of "a string of grisly scenes… involving rituals of extreme brutality: of victims boiled alive, forced to kneel and shot execution style and tortured in ways so unimaginable they are too horrendous to print."
There were the reflections afterwards of the football being colourless: it is the World Cup with the lowest tally of goals since the competition switched to a 64-game format and the only edition where the host nation was eliminated in the first round.
There were the moans around the "supermarket ball" and the monotonous sound of the vuvuzela, which France blamed for scoring a solitary goal and point during a facepalm campaign.
It was, ultimately, a platform of hope and possibilities, inspiration and aspiration - the opportunity for millions to enjoy a once-in-a-lifetime experience, while joyously crushing misconceptions about the country and the continent.
But 10 years on from Africa's first hosting of the global showpiece, what has the legacy been for South Africa?
A staggering £2.4bn was spent on stadia, transport and other infrastructure to welcome the world to its shores.
Tourism is the industry that clearly benefited from the spectacle, with 309,000 visitors flocking to South Africa during the tournament - 59% of which did so for the first time.
The sector was boosted by spending to the tune of £179m and total awareness of the country as a leisure destination increased by 9% following the event.
There was also a spike of 35% of tourists revealing they intended to return.
What of the football, specifically the national team, over the last decade? Bar reaching the African Nations Cup quarter-finals in 2019, there has been continued disappointment.
The South African Football Association unveiled 'Vision 2022' six years ago, but indications are it is more sales pitch, less certified action.
There was a focus on growing the women's game and Banyana Banyana qualified for their maiden World Cup last year, but there is still mountains of work to be done.
A positive was the women's national league being launched in 2019, with all the teams guided by qualified female coaches.
To analyse South Africa's areas of progress, stagnation and regression, The Independent have interviewed a panel of experts, which includes players that have over 270 caps combined for Bafana Bafana.
They assess key factors like development, identity, growth of the local league, the mentality of current stars and shed light on how the six stadiums built for the World Cup are being used now.
The panel are:
Benni McCarthy: Champions League winner. Former Ajax, Porto and Blackburn star. Bafana's all-time top scorer, 80 international caps, returned to play for Orlando Pirates and coached Cape Town City.
Siphiwe Tshabalala: Scorer of the opening goal at the 2010 World Cup. Has 90 national caps, stretching back to 2006 and represented Kaizer Chiefs for 11 years. Last played in Turkey.
Teko Modise: Two-time Premier Soccer League champion and PSL Footballer of the Year. CAF Champions League winner. 66 Bafana caps. Works in administration for Cape Town City and as a TV analyst.
Bongani Khumalo: Scored in the 2-1 win over France in 2010. The youngest captain to lift the PSL title, won three times on the spin. Signed by Tottenham but loaned to Preston and Reading among other clubs. Returned to South Africa in 2015. 42 Bafana caps.
Danny Jordaan: Chief of the 2010 World Cup Organising Committee, now President of the South African Football Association.
Tiyani wa ka Mabasa: Editor of FarPost, covering South African football for 15 years.
Julia Stuart: SuperSport presenter, covering South African football for 14 years.
DEVELOPMENT
In 2004, Stuart Baxter left his role with England's Under-19s to coach Bafana Bafana. His directive was to ensure the country qualified for the World Cup two years later, but after assessing the football landscape he advocated a long-term blueprint. Baxter had drafted a detailed talent identification and youth development plan for the game in South Africa, which the authorities applauded but ignored. "I used to say the aftermath of 2010 should be a golden age for South African football," he said eight years ago.
"All those things depended on talent identification and the youth development plan being implemented. Those plans are gathering dust and because of that there is no golden age. National team coaches will always work with hindsight because they have to work with what they get."
South Africa failed to qualify for the 2006 World Cup and Baxter quit, but returned to the national fold in 2017 until 2019. In all that time, the country had not invested enough into a consistent and structured approach to youth development. It still hasn't.
Carlos Alberto Parreira, Bafana's coach during the 2010 showpiece, warned a year before the tournament that "the problem they have to face comes from the way the game is organised in South Africa. There is no proper youth development system and that is a major problem.
"Young players do not come through in the quality or quantity they should do, the way they do in many other countries."
Panellists highlighted youth development as South African football's biggest blind spot, but Danny Jordaan insists progress has been made.
The 2010 World Cup was a blessing and a curse for South Africa. The expectancy level was so high, but the vision to build up to it and thrive after it was forgotten. Hosting the tournament should have been a way to realise we needed to invest more in the game and we should have kicked on afterwards. Look at how Germany, France and England have ensured solid structures so there is a steady flow of talent that come through together. We should have thought, 'we've got these incredible facilities, let's transform one into a national base.' That's one of the things the country needs - a Clairefontaine, a St. George's Park. We never even thought of that. And we had everything, the availability, everything at our disposal.
We have not done enough. We haven't invested time, money, energy, into developing future generations and strengthening the national team in this way. Without strong foundations like this, we will struggle every time a tournament comes around - not at it, even just to qualify. We need to be creating our own players, giving them access to good coaching, education and also giving them the chance to move overseas early so they get that experience. When you go to a foreign country you get taken out of your comfort zone, get exposed to new ideas and styles and you bring them back and share it with the national team. Look around our African rivals and see how many of their players are in major leagues and enrich them on international duty. In a personal capacity, I'm establishing a program of youth. development because I know how important it is. I want to take our young talent abroad at an early age so they can test themselves against the Liverpool, Manchester United, Arsenal academies and get the experience. We have so many gifted youngsters, but they need to be nurtured and they need to believe in possibilities. If we do not prioritise development in South Africa, our game will never move forward in the way that it can and should.
We need to focus on the youth, because they are the ones who need to carry the national team forward. Young players are not given a chance to get minutes regularly, because coaches feel like their jobs are always on the line so results become more important than development. Even if there are coaches willing to bring kids through, there are clubs that don't believe in it. They buy players and focus on now, but that is not sustainable. It's very difficult to implement these type of processes, but the way things are going with the global crisis and the money lost, it is possible that teams will have to make less transfers and rely more on more promising youngsters. We need to have more consistency in our national youth groups. If you remember, Benni McCarthy, Siyabonga Nomvete, Quinton Fortune, Aaron Mokoena, Delron Buckley all played in the same Under-23 side and got promoted to the senior team. They had that understanding between themselves, a strong relationship and it was very difficult for anybody to break in because those guys had been playing together for so long. We don't have that anymore, there's too much chopping and changing. We need to develop our youngsters in a consistent way.
We don't prioritise youth development and it's so sad. Look at. How many players has the University of Pretoria's Tux academy produced? We're talking about just one structure here: off the top of my head it's Robyn Johannes, George Maluleka, Andile Jali, Lerato Chabangu, Clifford Mulenga, Bongani Zungu, myself… Now imagine if we had one of these kinds of academies in every province. Tuks' development program. is incredible and for the longest time, I've thought 'please, God, can we at least have another five in the country?' Can you imagine the level we would be at if we were producing a stream of talented players before the 2010 World Cup and if were still at it now? Before that tournament, all the advice was to focus on youth development. Carlos Alberto Parreira used to mention it all the time, he would tell us that as a country we can't just think about now, we have to plan for the future. If a World Cup can't inspire such change, I don't know what will. We need to throw everything into improving our structures so that we are prepared for the next golden generation of players and help them and the national team reach maximum potential.
Danny Jordaan:
A lot of investment has been made in development and let us see the results. From 2015, our Under-17s men qualified for the World Cup in Chile. The Under-17 women qualified for the World Cup in Uruguay. The Under-20s men qualified for the World Cup in South Korea and Poland, while the Under-23s, both men and women, qualified for the 2016 Rio Olympic Games. Banyana Banyana have qualified for every Cup of Nations since 2015, and also qualified for their first Women's World Cup last year. The problem has come with Bafana Bafana, but in 2019, the team were two minutes away from the semi-finals of AFCON. One of the things Fifa reported to us in the build-up to 2010 was that you can't succeed if players are getting their first experience of international football in the senior side. You look at some of our young players now - Lyle Foster, Luther Singh - they have lots of caps at junior level for South Africa. By the time they reached the Bafana Bafana set-up, they've had the same development profile as youngsters from France, Argentina and so on. We also have a provincial academy that has a relationship with Portugal and you look at the number of players we have there now. We have the national technical center and we have the Transnet centre. All the clubs have academies, but Mamelodi Sundowns have been doing good work. Of course, we still have to strengthen so that every province has at least one Academy. Normally it's clubs that drive academies, but in this case, we'll have to take that responsibility.
Tiyani wa ka Mabasa:
If we are honest, we are lagging behind in terms of development and I thought the South African Football Association would prioritise this important aspect of the game. I think at some point there was an idea to build a youth academy - similar to the Transnet School of Excellence - in every province. There's none. They talk about Fun Valley in Johannesburg and claim it cost 100m rands - it doesn't even look like it cost R5m. There was also talk of training 10,000 coaches a year. Are we even on 1,000 a year? So you've got to ask questions. What's being done with the Legacy Fund? I expected a lot after the World Cup and here we are, and it feels the intended projects are stagnant. There's no doubt in my mind that we could have done better, but all we have are memories.
IDENTITY
BM:
We need to have our identity and not change with every new foreign coach and trend. We spoke about France, England and Germany, all these national teams have a coach that has played for the national team. Someone that's succeeded, that knows the culture, understands the mindset of the players and has experience of the system so he can improve it. France has Didier Deschamps, England has Gareth Southgate and Joachim Löw is in charge of Germany. That's the route that Africa needs to go. We need to invest in young coaches and also have trust in them and give them time to build something solid. South Africa should be sending our young coaches around the major leagues to absorb information, to learn and improve. We have former Bafana players creating this path for themselves.Quintin Fortune is at Manchester United. Steven Pienaar is at Ajax and has his Uefa A-license. Daine Klate has got his Uefa B-licence. We can't waste these talents. Look at Senegal under Aliou Cisse - we need to encourage our own talent rather than keep paying huge money to people who don't care about the future of our football.
TM:
It would be helpful to have an identity of who we are as a team and how we play, rather than changing every time a new coach is brought in and is given the freedom to implement his style. We should have a clear idea of what we want Bafana Bafana to look like on the pitch and hire coaches who fit in with that picture. It will also influence the players we select - it shouldn't be about the biggest names but what works in the system we've identified. Other countries in Africa have better identified their strengths and have played up to them like Cameroon and Ghana, for example.
DJ:
I think this is an issue. We had a technical seminar and came up with exactly the style that suits South African players. But like most African teams, a lot of the players come from clubs in Europe - they don't play in South Africa. They are exposed to one style 90% of the time and then come and two or three days before a game for the national team. It's not just a challenge for us, look at Egypt who have changed their approach to suit Mo Salah, who is their most dominant player. In terms of coaches, every single one of our teams, men and women, are managed by South Africans.
GROWTH OF THE LOCAL LEAGUE
Julia Stuart:
League football in South Africa is more competitive than ever. The biggest problem has been goalscoring, no player has scored 20 goals in the 30-game season since 2011-12. In continental competitions since the 2010 World Cup, there has been an improvement. Orlando Pirates and Mamelodi Sundowns have been involved in CAF Champions League finals, the latter winning it in 2016. SuperSport United, meanwhile, lost the Confederation Cup showpiece a year later.
TM:
I've seen the level of professionalism improve in the PSL over the course of the last 10 years. Technically and in terms of facilities, with sport science, we have advanced. Teams are sharper at opposition analysis, players understand nutrition better as well as their recovery process better.
LACK OF TALENT THRIVING ABROAD
BM:
It's hurting the national team because you don't have a group of players setting a bar and then the rest of the squad lifting their efforts to reach it. A majority of the African countries we are up against have many stars in Europe that return and strengthen the squad so much. Think of Mohamed Salah's impact for Egypt or Wilfred Ndidi for Nigeria. Our players need to set goals for themselves. They should be thinking 'I want to come up against Sadio Mane or Raheem Sterling or Jadon Sancho. I want to test myself against the best in the world and grow.'
TM:
When I first joined the national team, my goal was to play with the best South Africa had. And at the time, there was Zuma, Pienaar, McCarthy. I loved to work with them, they would drive the best out of me because I wanted to be on their level. I looked up to them and I wanted to follow their path and make my mark in Europe. Now we don't have those reference points doing big things in the major leagues for players to aspire towards.
BK:
A lot of players coming through are not that ambitious anymore. They don't even think on that level of going and making a mark overseas. I understand that the guys don't have the likes of Benni and Lucas Radebe and Pienaar to look up to anymore, but all the motivation is around them - on TV, on Instagram. They have access to the world's best players and can see how they live their lives, how they train, how they maximise their talents, but there's no willingness to do the hard work and make the sacrifices. When I moved to Tottenham, I had to undergo a trial first. And then I only initially signed a six-month deal. It didn't work out there, but at least I took the leap. Then I was desperate to play anywhere in Europe to get the experience, to challenge myself. When I was coming through as a youngster, I would always try and share a room with any of our players from Europe. I would ask them so many questions, which was probably annoying but I was desperate to listen to all their advice and experiences and learn from it. I do not see that happening anymore.
DJ:
We have over 60 young players in Europe, but yes, not as successful and recognised as Lucas Radebe or Benni McCarthy. The recruitment from most clubs in Europe is not by word of mouth any more or sending a video clip. It's a full-time, sophisticated monitoring system that can scan talent from Columbia, Peru, Japan - wherever you can think of. And therefore, the choice is so much bigger for them. It's clear that our players who spend a long time in the PSL will not make it in senior teams in Europe. What we have done is to look at sending younger players to grow up in the technical environment in Europe. And we are seeing now that they are beginning to breakthrough like Lyle Foster and Luther Singh. So there is a generation of players who are now getting into competitive leagues in Europe.
JS:
While there are a number of players abroad now - Lyle Foster, Bongani Zungu, Luther Singh, George Lebese - we are yet to see the impact of players like Benni McCarthy, Steven Pienaar, Lucas Radebe, Shaun Bartlett and Quinton Fortune had on the big stages in Europe from this current generation. In a recent interview, Teko Modise spoke of the politics in local football having blocked his opportunities to move overseas. Keagan Dolly had a highly publicised battle with Mamelodi Sundowns to be allowed to move to France. I also think the top players are paid very well in South Africa and there is a certain level of comfort now. If they are going to earn the same amount or less playing in Belgium or Portugal, for example, many choose to stay at home rather than start afresh.
TWKM:
The truth is South African footballers are overpriced. European clubs can get players of similar quality for less from Ghana, Nigeria and elsewhere across the continent. In turn, these countries benefit from having their players in the most competitive leagues. Local clubs need to realise that the country should have players competing with the best in the world and they must be reasonable in their demands. It's also very important to allow players to move overseas when they are still young, because that would give them enough time to acclimatise. If you look at our history of exporting players, those above 25 either returned home after a single season or didn't make an impact at all.
WORLD CUP STADIA
DJ:
The good thing about our stadiums is they were not built with huge loans so none inherited major debt. For such big venues, the operational cost is quite high and you must have activity with a multi-purpose approach. Cape Town Stadium and FNB have done this well, with rugby and other sport while some even host church services. Some make a profit, others break even, but it's been very difficult to maintain the grounds in more remote areas. Japan and South Korea had to provide 20 stadiums for the 2002 World Cup and had to demolish some, we don't have that problem.
JS:
Some of the venues in more remote parts of the country like Mbombela Stadium in Nelspruit or the Royal Bafokeng Stadium, next to England's base in 2010, have really struggled. Both have lost their PSL teams (Both Mpumalanga Black Aces and Platinum Stars were bought, renamed and relocated to Cape Town) and so football is not a regular fixture in those provinces anymore. There have been a few cup finals and tournaments like the Cosafa Cup hosted at those grounds, but apart from that and the odd fixture where SuperSport United use Mbombela as their home stadium, they are not seeing much top-tier or televised football.
Ellis Park is home of the Lions so that's a rugby stadium in the main. The same goes for Free State Stadium and Loftus Versfeld, with the latter used as PSL champions Mamelodi Sundowns' preferred home stadium for domestic games. Nelson Mandela Bay and Peter Mokaba Stadiums are both used for football and other events, but don't draw big crowds on a regular basis for local matches. Both stadiums have hosted cup finals and both are very well maintained. It's no surprise that the stadiums most used are the three in the main cities – FNB Stadium/Soccer City in Johannesburg, Cape Town Stadium and Moses Mabhida Stadium in Durban. The latter has used the space at the base of the venue to build a number of shops, a gym and even a bar.
FNB Stadium hosts a number of concerts like the Global Citizen event regularly. It is also the home stadium of Kaizer Chiefs, but unfortunately it only usually sells out for the Soweto derby. The biggest game in South Africa will attract crowds of 90,000-plus and sell out weeks in advance. But show up on a Wednesday night for a league game and you may struggle to count 5,000 people at a Chiefs match. Cape Town Stadium is an interesting one as there is often a tug of war with other events taking preference at the picturesque stadium. Although mainly used by Cape Town City and Stellenbosch FC this season, the clubs have been forced to find alternate venues for home games a number of times due to the Cape Town Sevens, concerts or monster wheel truck competitions.
Register for free to continue reading
Registration is a free and easy way to support our truly independent journalism
By registering, you will also enjoy limited access to Premium articles, exclusive newsletters, commenting, and virtual events with our leading journalists
Already have an account? sign in
Register for free to continue reading
Registration is a free and easy way to support our truly independent journalism
By registering, you will also enjoy limited access to Premium articles, exclusive newsletters, commenting, and virtual events with our leading journalists
Already have an account? sign in
Join our new commenting forum
Join thought-provoking conversations, follow other Independent readers and see their replies